Broker Round Table – The Dylan
November 30, 2023 | By Lauren Bozarth
Reading Time: 2 Minutes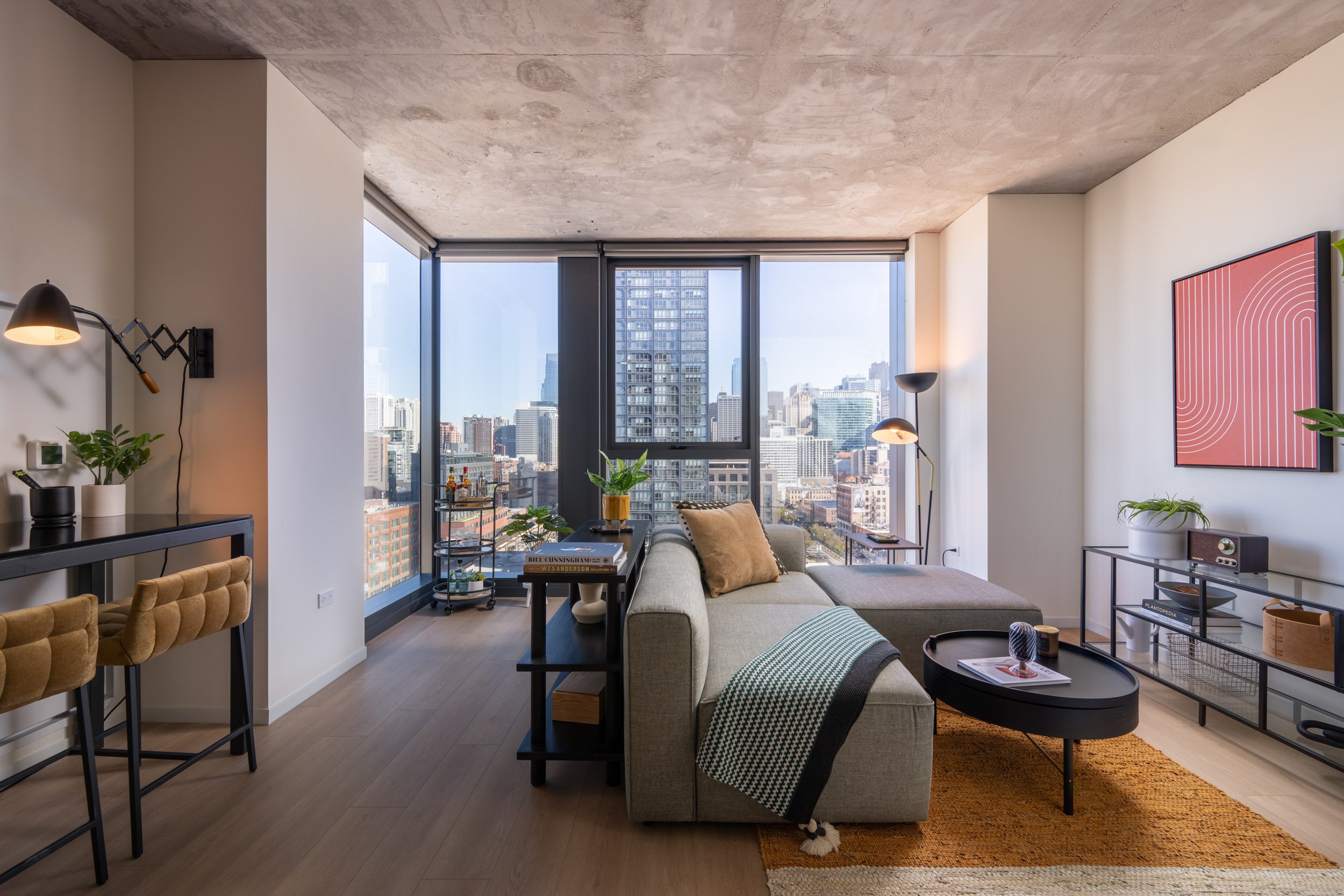 The Broker Round Table Series focuses on a different luxury apartment property each week. Luxury Living Chicago Realty's proficient team of brokers has 84 years of combined experience in downtown Chicago's luxury market. Since 2013, the team has rented 1500 apartments. The brokerage team provides best-in-class service for renters and buyers searching for a new home; each broker has a wealth of knowledge about every luxury property in downtown Chicago. The Broker Round Table series allows the team to play favorites and choose the best part of the week's featured building.  
Introducing The Dylan, a striking 30-story mixed-use marvel nestled in the heart of the trendy Fulton Market neighborhood. This architectural gem offers a collection of meticulously crafted apartments, comprising 282 residences that redefine sophisticated living. Located at 160 N Morgan, The Dylan immerses its residents in the dynamic culinary and cultural tapestry of Fulton Market, granting easy access to renowned restaurants, hip cafes, and chic boutiques.
Boasting private on-site parking and convenient proximity to various CTA options, commuting becomes effortlessly streamlined. The allure of The Dylan extends to its rooftop terrace, providing residents with awe-inspiring views of the city skyline. Elevating the living experience, amenities such as a state-of-the-art fitness center and a communal lounge ensure both comfort and convenience.
Check out what our brokers have to say about what sets The Dylan apart:
Yasia Cherevyk: Here are some of the things I like about The Dylan…
The apartments are spacious, bright, and modern with gorgeous city views you can enjoy thanks to those FTC windows.
The building has a good variety of luxury amenities and friendly staff to welcome you and truly make you feel like home.
LOCATION LOCATION LOCATION!!! Being in a vibrant Fulton Market neighborhood and just steps away from West Loop, there are limitless options of things to do. Enjoy all the hottest new restaurants, bars, shops, fun activities, cute fitness studios, cozy coffee shops, etc. There is something for everyone there!
Overall, The Dylan is a great option for anyone looking for a luxury apartment in a convenient location to elevate their lifestyle.
Christine Carr: The thing that stands out to me about The Dylan in relation to other projects in the area is the elegant simplicity of the design and overall feel of the building.
Tristen Heimnann: Location, Location, Location. If you want to be in the pulse of Fulton Market, then this is THE PLACE. 
Lynn Kummerer: Definitely the walk to everything location in the heart of the West Loop! 
Leasing consultants and property management companies, please contact us to have your building featured in our weekly Broker Round Table series. 
Follow Us on Social
Apartment Experts
Spend less time apartment hunting, and more time living. Luxury Living is a complimentary service to make your apartment search easier, and even fun. Whether you're new to the city or simply in need of a change, we are here to help.