A Historic Chicago Guide Around Hamilton at the PrivateBank Theatre
August 1, 2016 | By Lauren Schechtman
Reading Time: 3 Minutes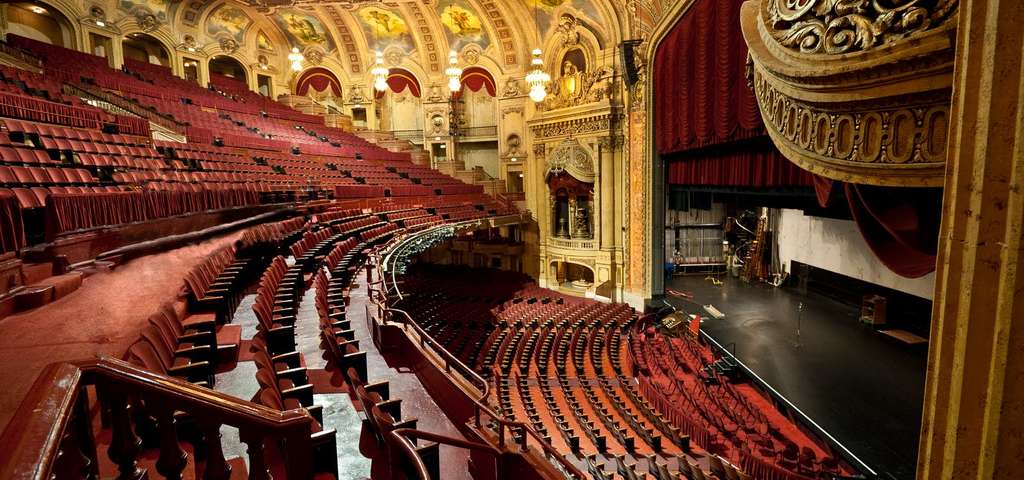 Hamilton, a hip-hop influenced musical play following the life of American Founding Father Alexander Hamilton, is coming to Chicago from September 27, 2016, to March 19, 2017. In addition to a large amount of public hype, this play has been awarded 11 Tony Awards, a Pulitzer Prize for drama, and a Grammy for the best soundtrack album. One song featured in the play, Guns and Ships, stands as Broadway's fastest song with one verse squeezing 19 words into three seconds. If you're lucky enough to have scored tickets to the Chicago stop of this immensely popular Broadway play, we've written a short guide for your time in the windy city. Enjoy the vibrant and historic Chicago destinations listed below before, during, and after your journey to colonial New England.
Theatre: Private Bank Theatre
Hamilton will be performed at Private Bank Theatre on Monroe street in the Loop. When the PrivateBank Theatre opened in 1906 as the Majestic Theatre, it stood as Chicago's tallest and most expensive building. During the Roaring 20's, the Majestic Theatre hosted performances by the famous Harry Houdini and Lily Langtry. After closing for the Great Depression and reopening in 1945 as the Shubert Theatre, the stage was home to a variety of classic musicals such as The King and I and My Fair Lady. Soon to be hosting one of Broadway's biggest hits, Hamilton, this historic and ornately designed theater is the perfect place to view the prize-winning play.
Fun fact: The Majestic Theater was the first fully fire-safe theater in Chicago after a large fire burned down the Iroquois Theatre in 1903.
Hotel: The Palmer House
The original Palmer House was opened by Potter Palmer on September 26th, 1871, just 13 days before it would burn down on October 8th in the Great Chicago Fire. After being rebuilt in 1875, the hotel housed many presidential names such as James A. Garfield, Grover Cleveland, and Ulysses S. Grant, as well as the notable writers Oscar Wilde and Mark Twain. In the 1920's the building was redesigned with plans to expand and still stands today as Chicago's second-largest hotel. Now owned by Hilton, the Palmer House is a beautiful and historic Chicago hotel that sits just blocks from the PrivateBank Theater.  
Fun fact: Wife of Palmer House Owner and Socialite, Bertha Palmer invented the chocolate brownie in 1893 as a snack for attendees of the Chicago World's Columbian Exposition.
Restaurant: The Berghoff
Herman Berghoff opened The Berghoff in 1898 after immigrating to the U.S. from Germany in 1870. The cafe originally sold beer for a nickel and offered free sandwiches, and the upstairs standing bar that only served men remained segregated until 1969. During prohibition, the cafe was expanded into a restaurant, which served low alcohol beer and soda. The Berghoff Restaurant received Chicago's No. 1 liquor license post-prohibition, an honor the restaurant still holds today. The restaurant closed in 2006 but was re-opened in 2007 with a new menu for the restaurant, cafe, and bar. Stop by before the show for classic Wiener Schnitzel and Sauerbraten paired with German beer.
Fun fact: Waiters at The Berghoff used to purchase the meals they were serving directly from the kitchen and then later collect the money back from customers.
If you fall in love with Chicago after seeing Hamilton and want to take a shot at living here, let us help find your new home. Follow the link below to get your search started.

Follow Us on Social
YOUR INSIDE LOOK AT WHAT'S NEW ON IG
View on Social
About Us
At Luxury Living, we define "luxury" as a quality of life. Luxury living may mean having a home-office with breathtaking views from your apartment's floor-to-ceiling windows, or being within walking distance to your favorite restaurants and activities. Whatever luxury means to you, let us help you find it.
Learn More
Contact Us