North Water Apartments 340 E North Water Streeterville
February 12, 2016 | By JD Eaton
Reading Time: 2 Minutes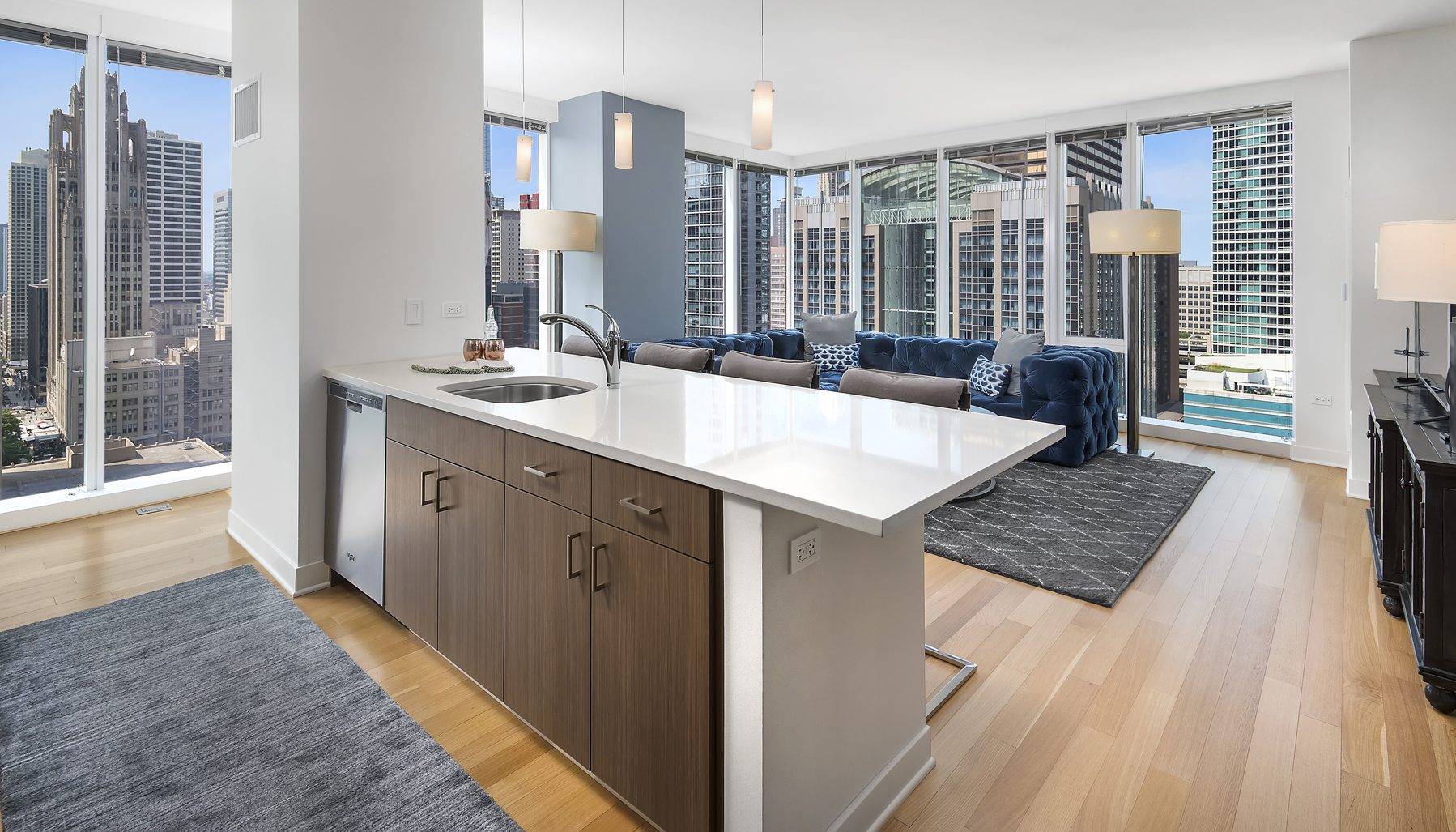 Earlier this week, the architects and developers behind Streeterville's newest luxury property, North Water apartments, and Loews Hotel partnered with the Urban Land Institute and invited a select group of real estate professionals to tour the building before its official opening. Through the event, our team got a glimpse of what's to come at 340 E North Water in 2015, when Chicago developers are expected to bring an additional 3,500 downtown Chicago apartments to market.
Initially named Revel, North Water apartments will stand above most of its competitors at 52 stories, though the multi-use configuration really sets these Streeterville apartments apart.
The Streeterville development houses a 400-room luxury hotel, owned and operated by Loews Hotels, on floors 1 – 14. The Loews Hotel includes an Argentinean steakhouse, Rural Society, on the ground floor and an outdoor rooftop bar, Streeterville Social. The two-story lobby stands opposite Ogden Plaza on Park Drive, offering beautiful views of NBC Tower, Trump Tower, and the Loop. The 3rd floor of the hotel features an outdoor pool, bar, and event space.
Situated above the hotel on floors 15 – 49 is North Water, the rental component of the building with 398 luxury rental units. The Streeterville apartments are a mix of studio, 1, 2, and 3 bedroom offerings, with 3 bedroom units limited to the highest three floors. Jeremy Kerman of Convexity Properties noted that North Water contains more 2-bedroom units than other new Chicago apartments, a nod to the growing demand for space among starter families downtown.
The units have finishes in line with other luxury Chicago apartments, with hardwood floors, quartz countertops, and floor-to-ceiling windows. The finishes, though nice, are overshadowed by some of the best views in the city. Open spaces at Ogden Plaza and Ogden Slip coupled with several nearby low-rise buildings will give North Water residents unobstructed lake and city views that surpass any other Streeterville property. John Lahey of Solomon Cordwell Buenz, the architecture firm behind the project, said that their team paid special attention to the orientation of the building relative to surrounding spaces in order to maximize views.
Unlike Aqua Tower, the city's only other mixed residential-hotel development, amenity spaces are not shared between tenants and hotel guests. The 15th floor of the apartment tower includes an outdoor pool with cabanas grills, along with a cardio fitness and weight-training room. Indoor and outdoor lounge spaces are located on the 51st floor, offering spectacular views rivaled only by the views from the units themselves.
Follow Us on Social
Apartment Experts
Spend less time apartment hunting, and more time living. Luxury Living is a complimentary service to make your apartment search easier, and even fun. Whether you're new to the city or simply in need of a change, we are here to help.