The 2023 Updated Guide to Finding Luxury Apartments in Chicago
February 1, 2023 | By Gabrielle Gresge
Reading Time: 5 Minutes
The city of broad shoulders is ever-changing: considering that Chicago's entire grid system was born of rebuilding the city following the Great Chicago Fire, Chicagoans are a people used to rebuilding. Perhaps this explains why Chicago's skyline is seemingly ever-changing – staples like the Sears Tower (as locals refer to the Willis Tower) and Hancock Building remain permanent pillars, but new structures proliferate each day.
This constant rebuilding is great news for renters looking for a luxury experience in the city. From standbys in classic neighborhoods to up-and-coming high-rises in trendier areas of town, there are plenty of options for every type of lifestyle – and more are always being planned.
What To Look For in a Luxury Apartment in Chicago
Luxury is in the eye of the beholder: different renters, understandably, have different stipulations on what constitutes a luxury apartment. While features, aesthetic and design vary greatly from building to building, there are a few must-haves that we recommend looking out for during your luxury apartment search in Chicago.
Safety: Safety features can take on many forms – and safety is a luxury! From the presence of a doorman to the location of the building, multiple factors combine to make a building safe for its residents. Thankfully, nearly all luxury Chicago apartments

have both a 24-hour doorman and controlled entry, ensuring the highest level of safety for residents.

Amenities: New buildings are increasingly featuring hotel-like amenities meant to wow residents. While any amenities are a wonderful way to get added-value out of your lease, we recommend auditing a building's amenities to see which ones you'd use consistently. The Lydian in Chicago's Medical District, for example, has electric vehicle charging stations and a dog spa – which are incredible amenities if you fall in the groups who will use them.
Design: One of the benefits of living in Chicago is access to gorgeous architecture. For this reason, when it comes to luxury apartments in and around the city, design is increasingly considered an asset for renters. As you begin your home search, consider the interior and exterior design of the building you want to live in. Fullbrix Apartments, for example, in Fulton Market will feature exposed concrete, wood floors and expansive windows overlooking the city. These features all combine to create an enhanced, luxury living experience.
No matter your definition of luxury, the first consideration in your home search is location. as a city of neighborhoods, Chicago has many areas to choose from. From the glamor of River North to the trendiness of Fulton Market, each pocket of the city has its own lifestyle, culture and advantages. Chicago's surrounding towns also make for an excellent balance of urban and community living.
If your commute is an important consideration in where you live, look no further than the centrally-located Loop.
Proximate to most Chicago-based offices and adjacent to cultural institutions like the Art Institute and Symphony, the Loop offers incredible living options like Millie on Michigan, a new-build that features incredible in-unit features and luxury amenities such as an outdoor pool and private party room.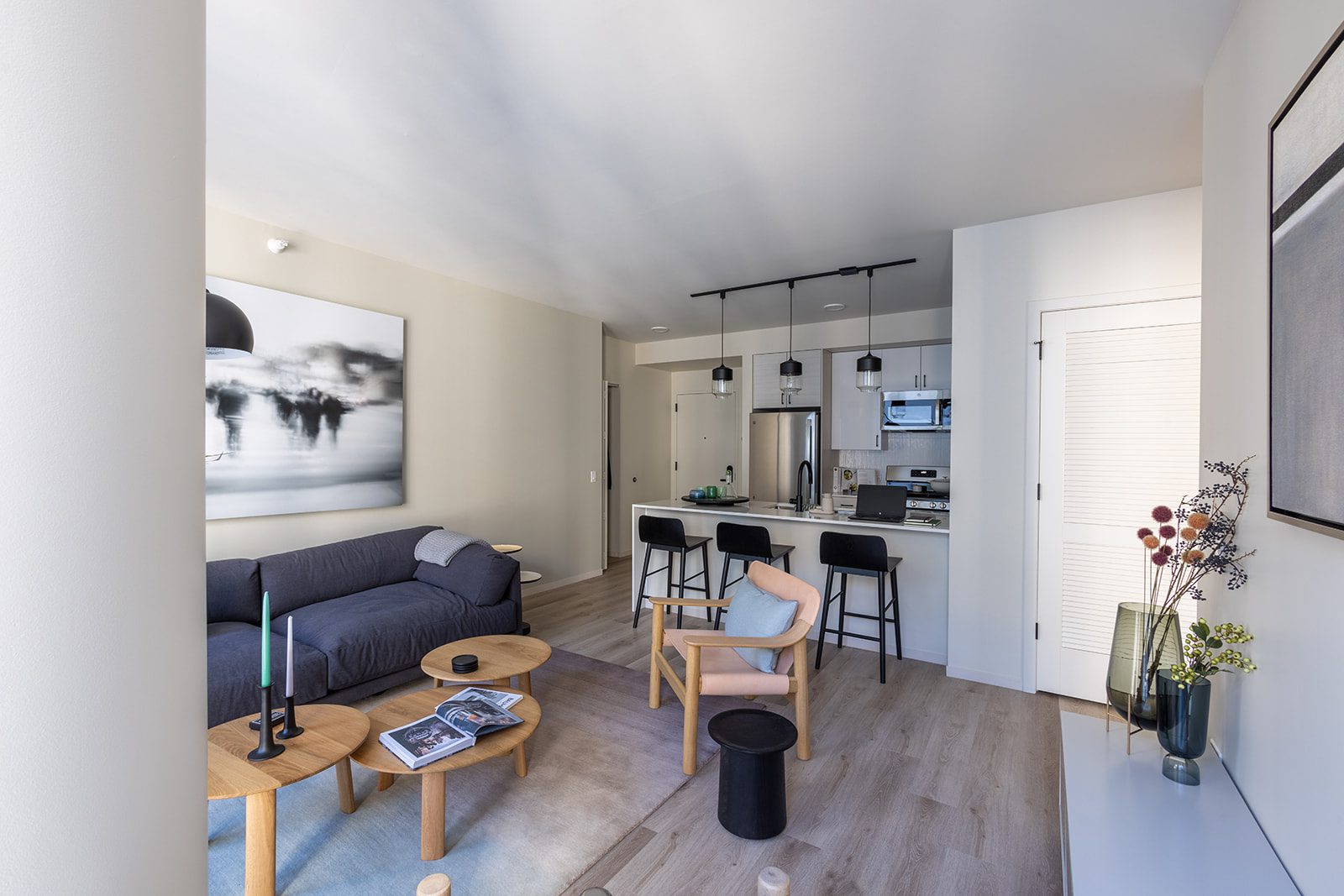 If Carrie Bradshaw lived in Chicago, she'd like in River North. Known as a hotspot for skyline views, lake access and hit restaurants, River North is a great option for renters looking for a true city experience.
AMLI 808 is a great example of what luxury living in River North looks like: cloaked in eco-friendly, modern amenities like a coworking space, bike storage and an outdoor pool, it's an excellent oasis from urban life.
Largely considered Chicago's most trendy neighborhood, Fulton Market is known for incredible restaurants, year-round events and its close-to-everything location.
Additionally, most luxury apartments in this area are brand-new: 166 N. Aberdeen, for example, is due for completion this year and will feature an expansive outdoor space as well as an exercise room and coworking space. Best yet, the building is just steps from the Morgan CTA stop – making a commute to the Loop just minutes away.
As a north-side neighborhood, Lincoln Park is less dense than its Loop-proximate counterparts. Nestled next to the lake with plentiful green space, Lincoln Park is known for its homey feel and tree-lined streets. Soaring above the neighborhood is Norweta, a boutique apartment building with resort-style amenities, including a pool, coworking area, fitness center, and more.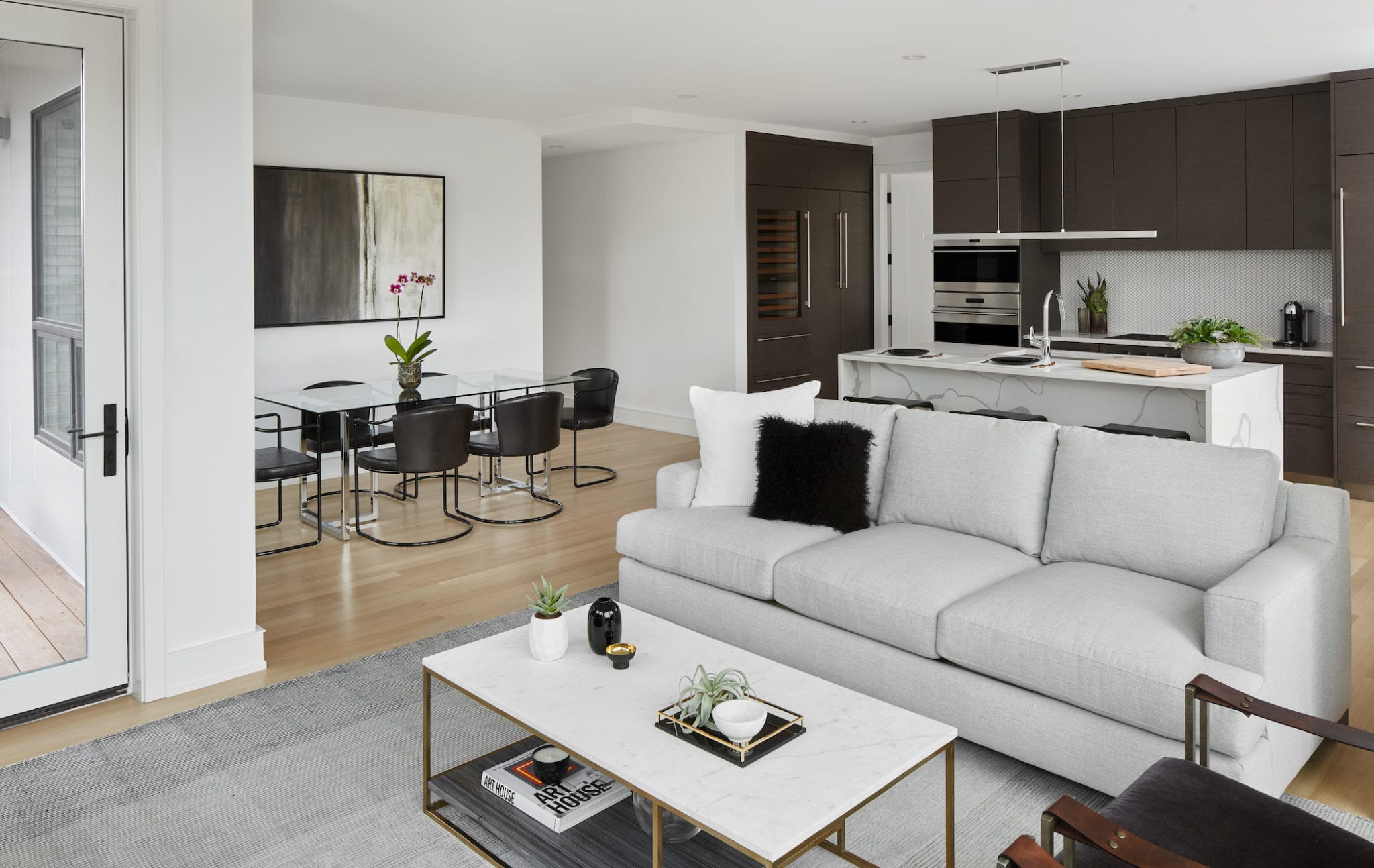 If more space and access to natural areas is at the top of your list, the suburbs could be a fantastic option for you.
With a wide array of options, Chicago's surrounding towns offer a combination of luxury apartment living and the community-oriented feel the suburbs are known for. Highpoint at 8000 North in Skokie, for example, is right next to transit that provides easy access to the city while offering luxury amenities like an expansive rooftop deck and resident lounge.
How to find a Luxury Apartment in Chicago
Finding a luxury apartment Chicago can feel daunting: with so many options and neighborhoods to choose from, it's hard to figure out where to begin. When you're ready to begin your search, we recommend:
Aligning on a budget. Whether you're living by yourself or with a roommate, your budget is the first consideration in your search, as it will guide which buildings and area you look at. Determining a budget looks different for each person, but one method is the 50/30/20 method, which recommends that 50% of your income each month go towards needs such as rent.
Determining your location. Once you know your budget, consider which area or areas of the city are most appealing to you. Is being close to the lakefront or river important? Is commute your top priority? No matter your priorities when it comes to location, this variable will help narrow your search greatly – so it's best to determine your location needs early on in your search.
Consider your non-negotiables. Since luxury looks different to everyone, different amenities will take precedent over others. If you live an active lifestyle, a gym in your building might make more sense than a hybrid worker who craves a coworking space. Making a list of non-negotiables and nice-to-have amenities will allow you to look more intentionally at each potential apartment.
Contact Luxury Living! Our kind and knowledgeable agents would love to work within your budget, location preferences and desires to find your dream apartment that fits your lifestyle.
Whether you're in the middle of your apartment search or are just starting out, our team of experienced professionals are here to help answer any questions you may have about the Chicago apartment finding process.
To explore more Chicago apartments, follow the link below!
Follow Us on Social
Apartment Experts
Spend less time apartment hunting, and more time living. Luxury Living is a complimentary service to make your apartment search easier, and even fun. Whether you're new to the city or simply in need of a change, we are here to help.