Broker Round Table: Aurelien Luxury Gold Coast Apartments
April 18, 2017 | By Luxury Living Chicago Team
Reading Time: 3 Minutes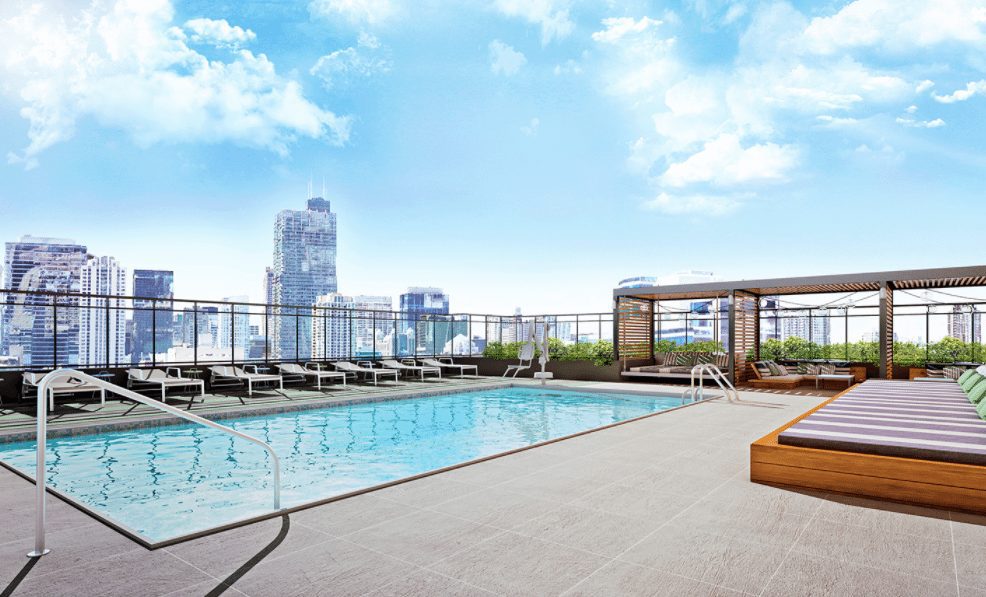 The Broker Round Table Series focuses on a different luxury apartment property. Luxury Living Chicago Realty's proficient team of brokers has 85 years of combined  experience in downtown Chicago's luxury market. Since 2013, the team has rented 2500 apartments. The brokerage team provides best-in-class service for renters and buyers searching for a new home; each broker has a wealth of knowledge about every luxury property in downtown Chicago. The Broker Round Table series allows the team to play favorites and choose the best part of  each edition's featured building.  
Right in the heart of the Gold Coast neighborhood, Aurelien luxury Chicago apartments is an exciting new addition to the area. With 368 apartments, the building offers tremendous amenities featuring a show stopping outdoor garden terrace with bocce ball. Other property highlights include hotel-like lobby with library, pet-friendly living with dog run and pet spa, resort-inspired sundeck and outdoor pool, and 2,600 square foot health club.
Luxury Living Chicago is one of four exclusive brokerages with access to these Gold Coast luxury apartments. Here's what each of our brokers highlighted as their favorite part of Aurelien:
Sam Kahn: My favorite thing about Aurelien are the amenities. The group that designed Maple & Ash is leading the charge in the common spaces at Aurelien. With so much room for amenities, the setup is going to be high-end and unmatched throughout the city. The outdoor pool with cabanas, fitness center, men's and women's spa/lounges will mark that of a luxury hotel but in a rental property.
Sean Holland: I'm excited for a few things! Only about half of the brand new buildings have actual rooftop amenities and Aurelien has really put a lot of care, effort and thought into theirs. I'm also a huge fan of green spaces and the bocci court is a nice touch. The ability to "take a trip to the park" without actually leaving your own building is truly a top-notch amenity and makes the summer months that much more special.
Travis Smith: It's hard to pinpoint the feature I am most excited about so I'll list my top three. Since there are thirteen different layouts (not including the penthouse apartments) ranging from studios to two bedrooms there is something for everyone. Gold Coast has also been lacking in new construction and it is definitely one of a kind for the neighborhood. The amenities are also going to be unbelievable. There is a fourth floor terrace where you can escape the hustle and bustle of the city with a bocce ball court, grills and fire pits. Then there is the rooftop where you will find the resort-style pool, cabanas and fitness center.
Jill Casey: Location, location, location! Also, the units have great closet space and large balconies.
Axel Cohen: Im most excited about Aurelien's social club rooftop pool. Nestled in the heart of the Gold Coast, expect amazing views from that rooftop deck.
Darrell Scott: Phenomenal location in the Gold Coast that's been lacking newer, luxury apartment options. The floor plans are laid out extremely well, and the kitchens are very sleek. You can choose from a gray-tone or white-gloss cabinetry to compliment the nice tile detail in the bathrooms. The rooftop pool and amenity spaces are going to be over the top. They've tapped into great interior designer, who has done a number of restaurants in the neighborhood such as Maple & Ash to create a truly unique, luxury product.
Tristen Heimann: Location, location, location! Great neighborhood vibe. Walking distance to everything you need in life, but not right on top of all of the hustle and bustle. Their layouts also provide a great use of efficient (but not small) use of space.
Julie Tuncsiper: I love Aurelien's Gold Coast location and the apartment's layouts are all phenomenal.
To learn more about Aurelien and the other 32 Chicago apartment buildings delivering in 2017, follow the link below.
Follow Us on Social
Apartment Experts
Spend less time apartment hunting, and more time living. Luxury Living is a complimentary service to make your apartment search easier, and even fun. Whether you're new to the city or simply in need of a change, we are here to help.