Broker Round Table – The Lofts at River East
March 25, 2016 | By JD Eaton
Reading Time: 4 Minutes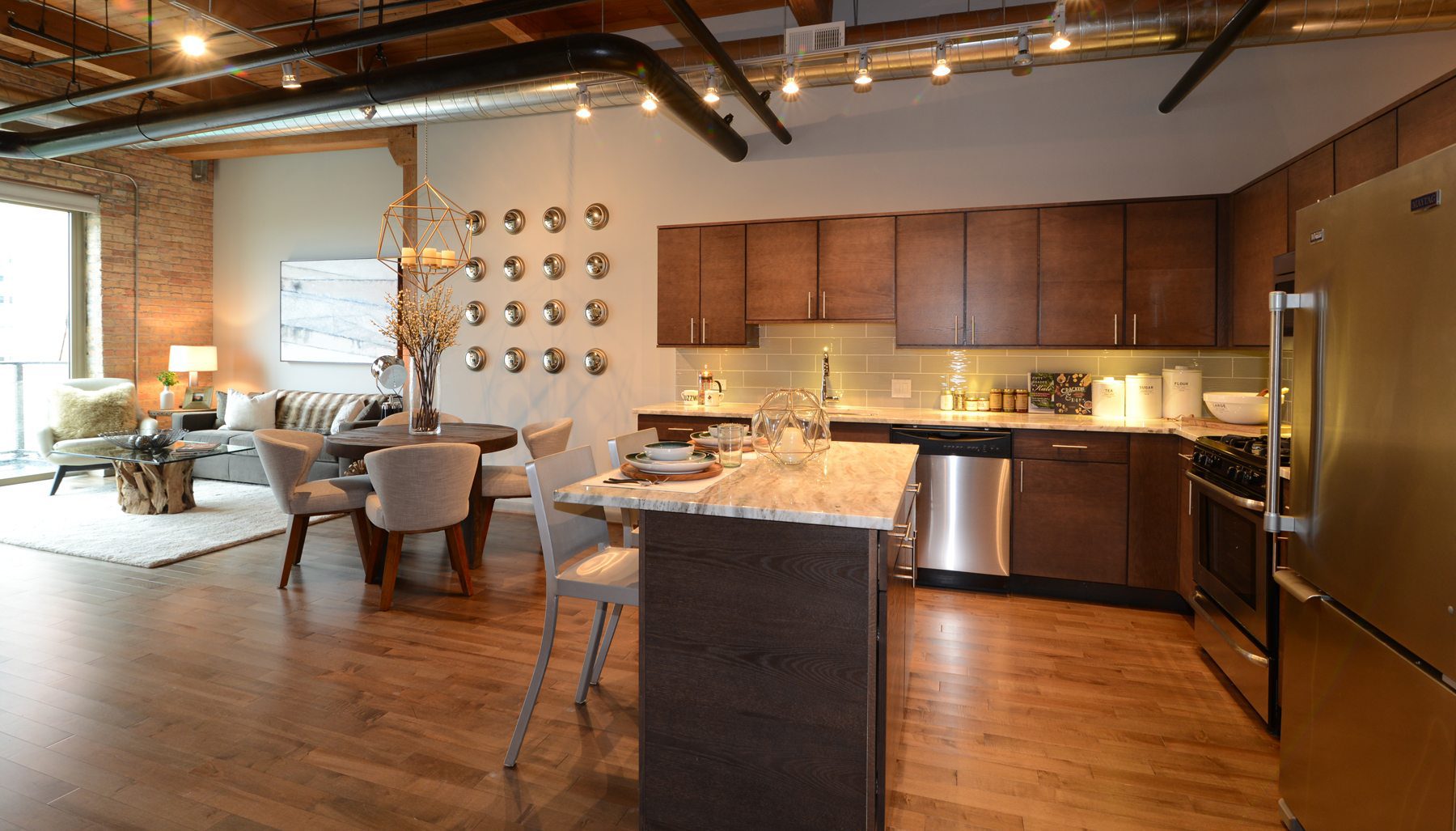 The Broker Round Table Series focuses on a different luxury apartment property each week. Luxury Living Chicago Realty's proficient team of brokers has 84 years of combined experience in downtown Chicago's luxury market. Since 2013, the team has rented 1500 apartments. The brokerage team provides best-in-class service for renters and buyers searching for a new home; each broker has a wealth of knowledge about every luxury property in downtown Chicago. The Broker Round Table series allows the team to play favorites and choose the best part of the week's featured building.  
The Lofts at River East is now leasing in the Streeterville neighborhood, but the building was originally part of the Pugh Terminal Warehouse, which was built between 1905 and 1920. Residents will fall in love with these luxury brick and timber lofts with balconies overlooking the Chicago River and an expansive roof deck with grills, fire pits, and an outdoor theatre. At 445 E. Illinois Street, the property features high-end finishes and beautifully unique amenities.
Here's what each broker spotlighted as their favorite part of The Lofts at River East:
Sam Kahn: I've yet to see a true rental managed building in Chicago with the attention to detail in their layouts as the Lofts at River East.  The bathrooms that have a bathtub and a shower right next to each other is what you'd see in a new contraction owned condo.  The sliding glass floor to ceiling windows on the balconies as well as in-unit laundry rooms are one of a kind for a rental property.  Not to mention its loft-style exposure is very difficult to find in the city of Chicago.
Julie Markowitz: Most unique building of all the rentals in the city. The amenities are beautifully designed. Great for someone who is concerned about being on a high floor but still wants the high rise feel.
Jill Casey: From the swanky amenities to over 80 different floor plans, there's definitely something for everyone at Lofts at River East. But my favorite feature is definitely the nano walls (bi-folding glass doors and windows). In each south facing unit, the back wall of windows (and door)  slide open creating an indoor/outdoor space that's never been seen in any other building.
Axel Cohen: The style and feel of the amenities. You can tell by the decor, furniture, the lighting, fixtures, etc., that there wasn't a single expense spared — it is very Soho Chic. Whether you are in their lounge area, their screening room, or the gym, the feel is very inviting. And since the bulk of the amenities are in the basement, the lack of natural light adds to this warm/welcoming feel, but yet feels exclusive at the same time.
Tristen Heimann: If you are looking for a luxury loft rental property in Near North, this is pretty much your only option. I love that it's the oldest building in Streeterville, but yet the newest residential building in Streeterville at the same time! The south facing Nana Wall accordion style door systems is the first of its kind in a rental property. Truly spared no expense.
Elise Kaufmann: The bathrooms of these Streeterville apartments are amazing- especially the one bedroom floor plans with double vanity sinks. These spaces are perfect for couples, especially with the ample closets and laundry rooms.
Darrell Scott: The Lofts at River East is the first, true luxury loft, apartment building to hit the market with full-service amenities: gym, movie theater, game room, riverfront lounge, roof deck, and outdoor movie theater.  It's an adaptive reuse project restoring the old River East Art's Center, which has added new life to a previously underutilized structure.  Not only do you have over 70 unique floor plans, but you have exposed brick, timber, old elevator shafts, exposed lintels, tall ceilings, and other loft-like features.  Every floor plan looks and feels different.  It's truly a unique project, and people looking for a loft will fall in love with it!
Tamara Hirsch: Lofts at River East is one of my favorite buildings because of their modern design that they incorporated into the history of the building with the wood beams and brick walls. The floor plans are spacious enough that you could grow into them and live there for a couple of years without feeling cramped.  Lofts in Streeterville are rare but even if you're not a super-fan of "loft-style living" this building may just win you over – it's a must see!



Leasing consultants and property management companies, please contact us to have your building featured in our weekly Broker Round Table series. 
Follow Us on Social
Apartment Experts
Spend less time apartment hunting, and more time living. Luxury Living is a complimentary service to make your apartment search easier, and even fun. Whether you're new to the city or simply in need of a change, we are here to help.