Find Your Home at Landmark in West Loop Chicago
July 28, 2020 | By Lauren Bozarth
Reading Time: 3 Minutes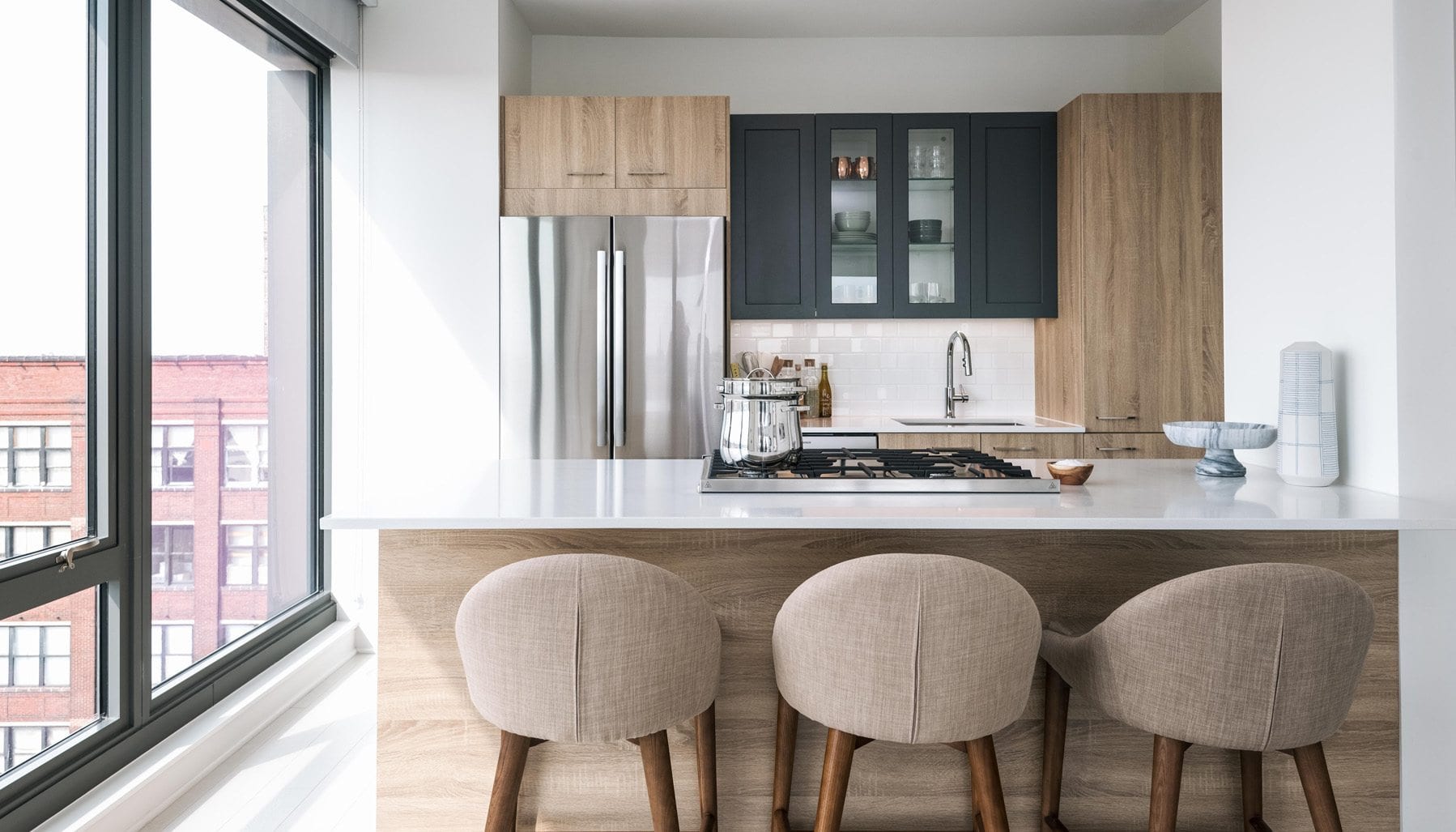 If you are looking for the ultimate living experience and unprecedented luxury, consider making Landmark in West Loop, Chicago, your new home.
This stunning high rise offers an array of rentals in one of the most desirable Windy City neighborhoods.
Landmark West Loop Apartment Building
The 30-story tower was built in the spring of 2017 and opened its doors to renters that fall.
Since then, Landmark has captured the attention of many for its striking aesthetics and prime location.
Landmark sits on the Southern edge of the booming West Loop neighborhood at 1035 West Van Buren Street. The building is also located just steps away from the Illinois Medical District.
While the outside facade features a dark and industrial look, Landmark boasts a colorful place to work and live. Once you step inside the building, you will quickly notice the inviting and playful exterior, with splashes of color throughout.
Landmark offers unique communal spaces for residents to share, including a living library, state-of-the-art fitness center, and year-round game room. The outside space provides a gorgeous pool deck and terrace to take advantage of during the sunny seasons.
Residents can also expect 24/7 concierge services and valet dry cleaning.
The Apartments and Amenities at Landmark
Landmark features 300 modern and roomy rental units.
Prospective tenants can choose from studios, 1-bedrooms, and 2-bedrooms, all with a wide range of layouts.
You can expect spacious rooms, walk-in showers, and customized closets with built-in organizers.
Each unit boasts 9' floor to ceiling windows designed for maximum light, views, sound attenuation, and energy efficiency,
Additionally, every apartment is complete with a Nest thermostat, and in-unit GE washer, keyless fob entry, and complimentary Google Chromecasts.
The building has an expansive amenities such as a swimming pool, sundeck, hot tub, and private cabanas, outdoor fire pit, grilling, and lounge areas. There is a state-of-the-art fitness center and a yoga studio. The library lounge is the perfect place to work, study, or spend quiet time outside of your apartment. There is hi-speed Wi-Fi throughout all common areas. The community kitchen hosts cooking demonstrations and private events for residents and guests. There is also an onsite dog run and full pet services for your furry friend.
Landmark is currently offering two months' complimentary rent for those who sign a lease.
How to go About Getting a Tour or Applying
If you are interested in seeing Landmark for yourself or considering applying for a rental unit, the first step involves connecting with one of our experienced team members.
Each Luxury Living Chicago Realty's licensed brokers can walk you through the entire process to ensure that you find exactly what you are looking for.
We can set up a convenient tour of Landmark so that you can have a better feel for the building and units offered. If you like what you see, then we will help you submit an application and ultimately secure your dream rental property.
For the ultimate luxury living, don't miss out on making Landmark in West Loop, Chicago home!

Follow Us on Social
Apartment Experts
Spend less time apartment hunting, and more time living. Luxury Living is a complimentary service to make your apartment search easier, and even fun. Whether you're new to the city or simply in need of a change, we are here to help.