The New Resident's Guide to the Old Town Chicago Neighborhood
March 9, 2021 | By Luxury Living Chicago Team
Reading Time: 4 Minutes
Old Town is one of Chicago's hottest area with endless dining, shopping, and entertainment options. This historic neighborhood is a classic Chicago landmark. We've put together a list with a wide array of options for activities and dining in Old Town.
Old Town is filled with a wide variety of activities ranging from nightlife and dining to comedy and entertainment. Whether you're new to Chicago or new to Old Town, there's never a dull moment in this exciting neighborhood.
Check out Second City for a comedy show and then head to The Vig for drinks after. If you're craving a bite to eat, go to Broken English for a wide assortment of tacos.
Old Town has some of the best shopping boutiques in the city with wonderful stores such as Sara Jane, Greenheart Store, and Handle With Care. With so many activities and entertainment options, this lively and historic Chicago district isn't one to be missed.
With its exciting vibe and foodie culture, Old Town is home to some of Chicago's best restaurants, making it the perfect place for you to grab a weekend bite.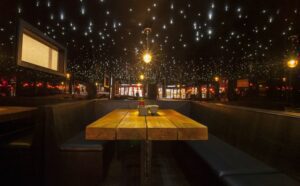 For some new-age sophisticated food, try steak frites at SteakBar or authentic Italian pasta at Topo Gigio. Try one of Chicago's best happy hour spots, Happy Camper for amazing pizza pies and cold brews.
More casual choices include Forastero for Korean tacos and Woodie's Flats for a casual sports bar with burgers. With a wide assortment of cuisine options and price ranges, Old Town has the perfect restaurant for everyone's night-time cravings.
Old Town is the perfect place to enjoy Chicago at its finest in a luxury high-rise apartment building. This area offers amazing boutiques on North Wells Street, entertainment at Second City, and some of the best brunch spots in the city.
Living in an Old Town apartment allows you to enjoy Chicago's best summer festivals and activities just steps away from your door.
1225 Old Town is close by with breathtaking skyline views and urban sophistication this building is the ideal Old Town high ride. Other wonderful buildings central to Old Town include Old Town Park, The Scott Residences, and Xavier.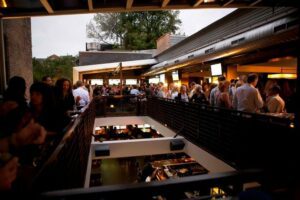 Old Town is one of Chicago's best areas for grabbing a drink on the weekend. From casual breweries to bars that play danceable music, Old Town has it all.
For a trendy gastropub with a young vibe and extensive cocktail list, head to The Vig. Benchmark is the perfect place for a summer weekend night with lively outdoor deck space.
Other great options include Old Town Social or grabbing a cocktail at Happy Camper. For a more casual vibe, check out Old Town Ale House for great deals and a laid-back dive bar vibe.
North Wells Street is home to some of Old Town's best finds. As the central street in Old Town for shopping, dining, and entertainment, there isn't a dull moment in this area. From bars to restaurants to comedy clubs, North Wells Street has it all.
For a healthy and active afternoon check out Pure Barre and then head to Real Good Juice Co. for a post-workout snack. For a weekend night, Broken English has a wide assortment of tacos and great margarita pitchers for a Second City show meal.
For those with a sweet tooth, La Fournette offers traditional French pastries such as chocolate croissants and beignets and also savory classics such as quiche lorraine and Croque monsieur.
The Old Town Triangle is the quintessential area of Old Town and is one of the most historic and hip areas in Chicago. Standing as one of the only places in the Chicagoland area to survive the Chicago Fire, the architecture is authentic to old Chicago.
The Old Town Triangle is home to popular restaurants, bars, and comedy clubs. Second City is a world-renowned comedy club and is just one of many improv and comedy clubs to take residence in Old Town. Alumni include famous comedians such as Tina Fey, Amy Poehler, and Steve Carell.
This area is also home to many boutique fitness studios and clubs such as Orangetheory, Flywheel Sports, and Equinox. Fun nightlife options include The Vig, Benchmark, and Old Town Pour House.
Old Town is a classic Chicago neighborhood with rich history and culture. It's home to some of Chicago's oldest buildings, including St. Michael's Church which is one of seven buildings to survive the Great Chicago Fire.
A majority of the streets and alleyways, especially in the Old Town Triangle area do not adhere to the Chicago Grid system as that area is one of few that survived the Chicago Fire.
During WWII, the streets that form the Old Town Triangle (North, Clark, and Ogden avenues) were designated as a neighborhood defense unit. After the war, the residents of this area started annual art fairs named "Old Town Holiday." The tradition of arts and culture in Old Town has stood strong for many decades.
If you're in the market for a new Chicago apartment or condo and want to explore the lively Old Town more, click the link below!

Editor's Note: This post was originally published in January 2018 and has been updated for freshness, accuracy, and comprehensiveness.
Follow Us on Social
Apartment Experts
Spend less time apartment hunting, and more time living. Luxury Living is a complimentary service to make your apartment search easier, and even fun. Whether you're new to the city or simply in need of a change, we are here to help.