What is a Convertible Apartment?
March 20, 2019 | By JD Eaton
Reading Time: 2 Minutes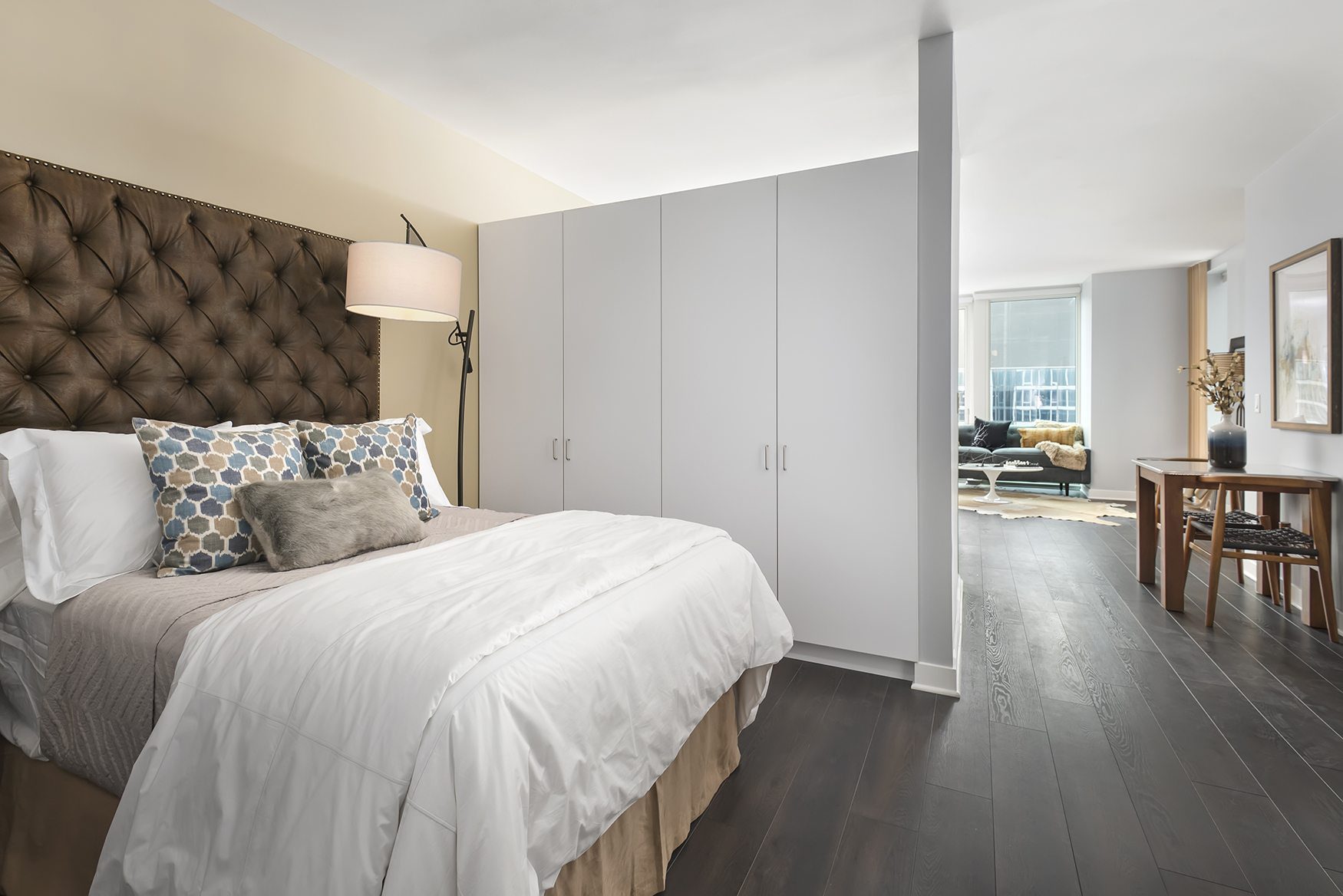 One of the first questions asked by any apartment locator will be, "what size apartment are you looking for?" but Chicago's terminology can be different from other cities. Floor plan types include studio, convertible, junior one-bedroom, one-bedroom, and one-bedroom plus den.  So what's the difference between a studio and a convertible? Or a junior one-bedroom and a standard one-bedroom? What qualifies as a den?
Different properties can define and label floor plans in different ways. Fortunately, Luxury Living Chicago's consultants are here to help and walk you through various layouts and styles. There are some basic guidelines to remember and use when considering which floor plan works best for your lifestyle.
A studio floor plan will be the smallest square footage- usually ranging from 400-550 square feet. The kitchen is usually smaller and open to the rest of the apartment. The key to a good studio floor plan is storage space and most of Chicago's newer luxury studio apartments include a walk-in closet.
When a studio has an additional alcove for bedroom space or even an obviously allocated spot for a bed, it can then be labeled a convertible. When a property offers a convertible layout, it usually means space is larger than a studio and has a separation between the main living area and the sleeping area. This separation can simply be an alcove for the bed, a partial wall, a  separate room with a sliding door, or it can be extra space like a hallway that creates a buffer between the sleeping alcove and kitchen/living area.
Convertibles and junior one-bedrooms are often very similar layouts and the terms are sometimes used interchangeably. Usually, junior one-bedrooms are smaller versions of a property's one-bedroom floor plan without a bedroom door.  The price-point for a junior one-bedroom tends to be close to a convertible, with studios slightly below that range.
If you'll need a little more space, standard one-bedrooms in Chicago range from 650-800 square feet. Most one-bedroom floor plans in Chicago feature an open kitchen and living space, with many including a large kitchen island for seating. The one plus den floor plan is usually sought out by those who work from home or would like an additional separated space for guests or dining. Not all one plus den layouts are created equally; most dens are not large enough to be used for guest bedrooms. But that's why two-bedroom floor plans exist.
Ready to start searching for a Chicago apartment? Follow the link below to look through our luxury listings of downtown Chicago apartments. Please remember our team is always available to help and answer any questions about your search for a new luxury apartment!

Interested in learning the difference between a one-bedroom + den apartment? Read our blog post.
Editor's Note: This post was originally published in November 2015 and has been updated for accuracy. 
SaveSave
SaveSave
SaveSave
Follow Us on Social
YOUR INSIDE LOOK AT WHAT'S NEW ON IG
View on Social
About Us
At Luxury Living, we define "luxury" as a quality of life. Luxury living may mean having a home-office with breathtaking views from your apartment's floor-to-ceiling windows, or being within walking distance to your favorite restaurants and activities. Whatever luxury means to you, let us help you find it.
Learn More
Contact Us