What New Residents Need to Know About Streeterville, Chicago
April 30, 2019 | By Lauren Bozarth
Reading Time: 6 Minutes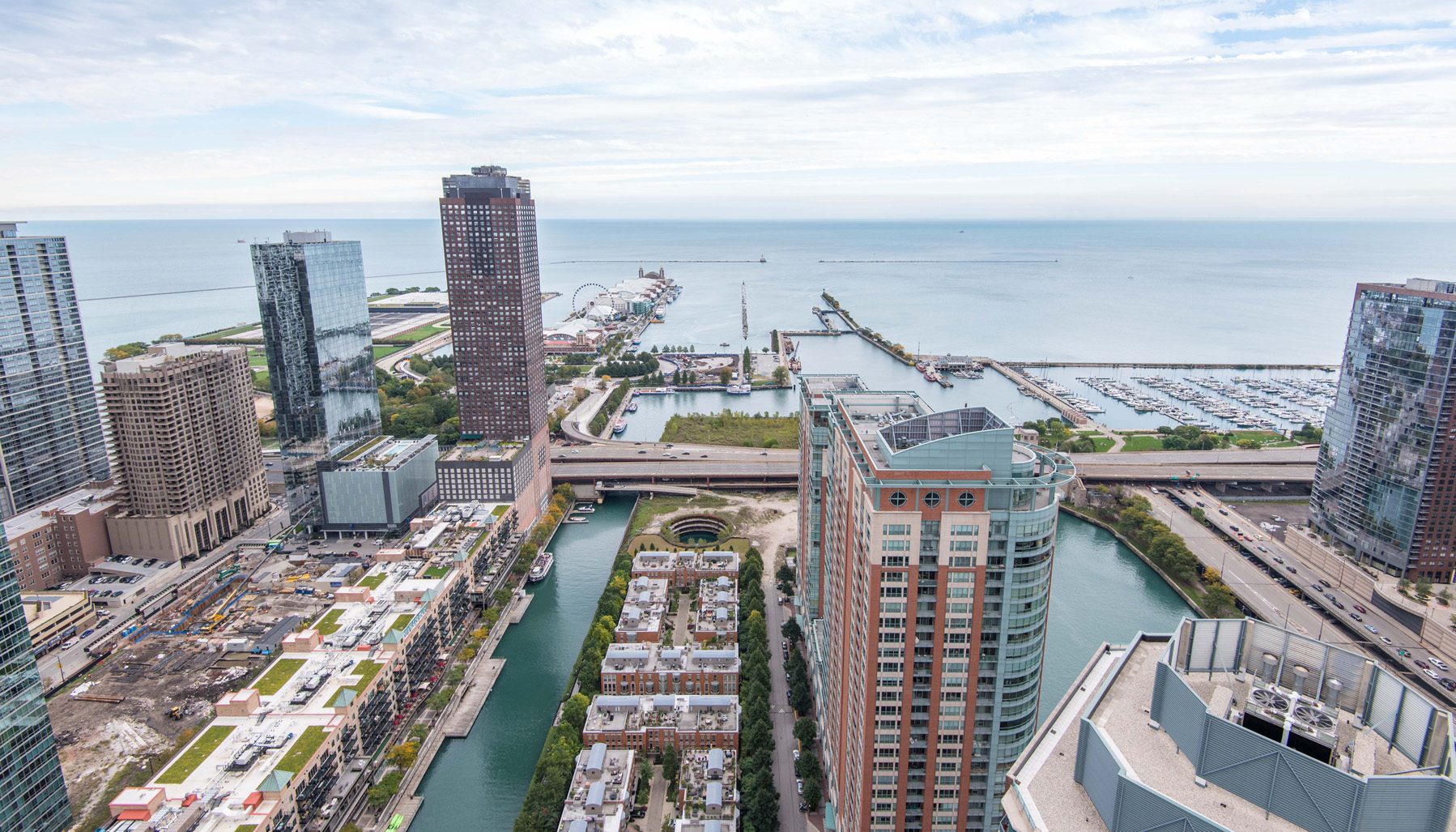 Streeterville, Chicago boasts one of the city's premier neighborhoods. Residents have the opportunity to experience unbeatable convenience, incredible views, and stunning architecture. If this sounds like the ideal living situation, discover all of the features that make Streeterville the perfect place to live.
What New Residents Need to Know About Streeterville, Chicago
If you are looking for a happening spot to call home, Streeterville, Chicago will not disappoint- just ask one of the 30,000 current residents.
Situated right between Magnificent Mile and Lake Michigan, this neighborhood truly offers the prime living location. Regardless of which property you choose, you are guaranteed easy access to some of the city's best shopping, dining, and attractions.
Anywhere you chose to live in Streeterville guarantees proximity to an amplitude of activities, making the neighborhood extremely walkable.
Getting to neighborhoods outside of Streeterville is a breeze with multiple bus and train routes, as well as Divvy bike sharing stations serving the area.
Streeterville is also actively working to become the city's "greenest" neighborhood, with an increased focus on environmentally conscious plans.
What's it Like Living in the Streeterville, Chicago Neighborhood?
Streeterville residents can expect a vibrant neighborhood full of energy and convenience.
Many residents agree that one of the best parts of living in Streeterville is the proximity to some of the state's most well-respected establishments. This booming neighborhood is home to Northwestern University Downtown Campus, University of Chicago Gleacher Center, NBC Tower, Northwestern Hospital, and Lurie Children's Hospital.
Streeterville also offers an incredible social scene. With so many beautiful high rises throughout the area, residents frequently take advantage of the rooftop restaurants and bars.
On a beautiful Chicago day, head up 96 floors to Signature Room to enjoy stunning panoramic lake and city views while indulging in a hand-crafted cocktail and gourmet meal. Or make your way to Raffaello Hotel's rooftop to check out Drumbar, the speakeasy-inspired bar, complete with a beautiful outdoor terrace and intimate lounge inside.
Things to Do in Streeterville, Chicago
Living in Streeterville, you will never have to worry about running out of activities on the agenda. This neighborhood guarantees any resident an exciting weekend itinerary.
Spend a summer day checking out Chicago's iconic Navy Pier. Here you can soak up a unique view of the city from the Centennial Wheel, enjoy a scenic river cruise, or wind down to live entertainment. Once the sun goes down check out the impressive fireworks show, which runs from Memorial Day through Labor Day.
If you are looking for some nature and green space, take a stroll around Lake Shore Park, complete with tennis courts, a track, and playground. Afterward, soak up some sun at Ohio Beach.
After a busy day outside, treat yourself to a refreshing cocktail and yummy bites at Beatrix or indulge in some of the city's best deep dish at Gino's East original location.
Learn About the History of Streeterville
Not only does Streeterville provide residents with convenience, but this neighborhood also offers a unique and quirky history. While variations of this story exist, they all revolve around the infamous Captain George Streeter.
Streeter and his wife Maria made their way up to Chicago in the late 1800s. While taking their boat out on Lake Michigan, a bad storm hit and drifted them to a sandbar off the Chicago harbor, 450 feet east of Michigan Avenue. Streeter then decided to live on his boat and attempt to claim the sandbar as his own.
Shortly after this decision, Streeter found an unusual way to make some profit by turning the sandbar into a public garbage disposal. All of the waste pile up lead to the establishment of a shantytown leaving wealthy neighbors angry and concerned that their property values would decline.
Eventually, the real owner of the land, millionaire Kellogg Fairbank, intervened and filed a suit against Streeter. Despite his legal obligation to leave the sandbar, the captain refused to relinquish the land. Instead, he raised an army and set up a blockade in a final attempt to save what he believed was rightfully "his property".
While Captain Streeter's efforts were unsuccessful and quickly terminated by the police, his legacy remains in the neighborhood's name and in the form of an eight-foot-tall bronze sculpture just a few blocks from the river.
Looking to Move to Chicago? Check Out These Streeterville Apartments
If you are ready to experience the high rise views and enjoy all the amenities that this neighborhood has to offer, then consider living in one of these luxury Streeterville apartment buildings:
One Bennett Park– Located at 451 E Grand Avenue, One Bennett Park is part privately owned condos and part apartment rentals. The property features luxurious amenities and services including an abundant fitness center with Pilates studio and indoor lap pool, a sun terrace with an outdoor pool, and a 1.7-acre park. Residents can enjoy the community spaces for dining, entertaining, and relaxing. Luxury apartment floor plans range from one to four bedrooms. Each unit features hardwood flooring, expansive windows with roller shades, spacious customized closets with built-in shelving and storage, and Nest thermostats for resident-controlled heating and cooling. The designer kitchens feature dark quartz countertops with a waterfall edge. For more information, we highlighted One Bennett Park on a blog post.
465 North Park– The property features a luxury amenities including the sun deck, pool with cabanas, a lounge area with a fireplace, club room including billiards, 38th-floor sky deck lounge, private dining room, outdoor grilling areas, fitness center with spin & yoga room, demonstration kitchen, dog run, a pet spa, and an on-site retail. 465 North Park apartments feature wood plank flooring, elegant quartz countertops, Bosch stainless steel appliances, french door refrigerators, slide-in gas ranges, cabinets in dark or light finish, Kohler under-mount sinks, 500 mbps internet service, floor-to-ceiling windows, spacious balconies in select homes, gracious open layouts and roomy walk-in closets.
The Streeter– The Streeter is located at 345 E Ohio Street. This 50-story luxury apartment complex offers exceptional living to its residents in one of the most vibrant areas of the city. Property highlights include: indoor and outdoor pools, sun deck with grilling areas, surround sound media room, robust business center, and state-of-the-art fitness center and basketball court. The Streeter apartments feature floor-to-ceiling windows with sweeping views of the city, full granite countertops, in-unit washer/dryer, and upgraded finishes.
If you are in the market for a condominium, Streeterville offers some of the city's most upscale options. Here is one of our favorite buildings in the neighborhood:
One Bennett Park – This luxury Streeterville tower, located at 451 E Grand Avenue, offers both apartment rentals and privately owned condos. The property boasts luxurious amenities and services, including onsite garages, full-service valets, a state-of-the-art fitness center, entertainment centers, and a landscaped sun terrace complete with an outdoor pool. A 1.7-acre private park, designed by a world-renowned landscape architect, Mark Van Valkenburgh, also encompasses the building.
Each residence features unique designs and layouts along with expansive floor to ceiling windows, gourmet kitchens, lavish marble bathrooms, and spacious walk-in closets. Sign a lease with Bennett today and receive a $1,500 MasterCard gift card.
View more Streeterville condos for sale on our sales site here.
What You Need to Know About Safety in Streeterville, Chicago
Streeterville, Chicago is a busy neighborhood, so naturally, safety is a pressing priority.
Along with an increased police presence, a large part of the Streeterville community is also coming together to promote neighborhood safety. Streeterville Organization of Active Residents (SOAR), diligently serves the community in various capacities, including the implementation of a Safety and Well-Being Task Force, which secures public safety for the entire neighborhood.
Prospective residents can also check out Trulia, which provides current crime data and relative safety trends in Streeterville based on police crime reports.
Take the local experts' advice and join one of the city's most vibrant neighborhoods by making a move to Streeterville, Chicago. Find an experienced broker to help with the process or click the button below to search apartments.
*This blog content was refreshed from its original published date of September 4, 2018.
Follow Us on Social
Apartment Experts
Spend less time apartment hunting, and more time living. Luxury Living is a complimentary service to make your apartment search easier, and even fun. Whether you're new to the city or simply in need of a change, we are here to help.