3 Apartment Living Room Decorating Ideas
February 6, 2019 | By JD Eaton
Reading Time: 3 Minutes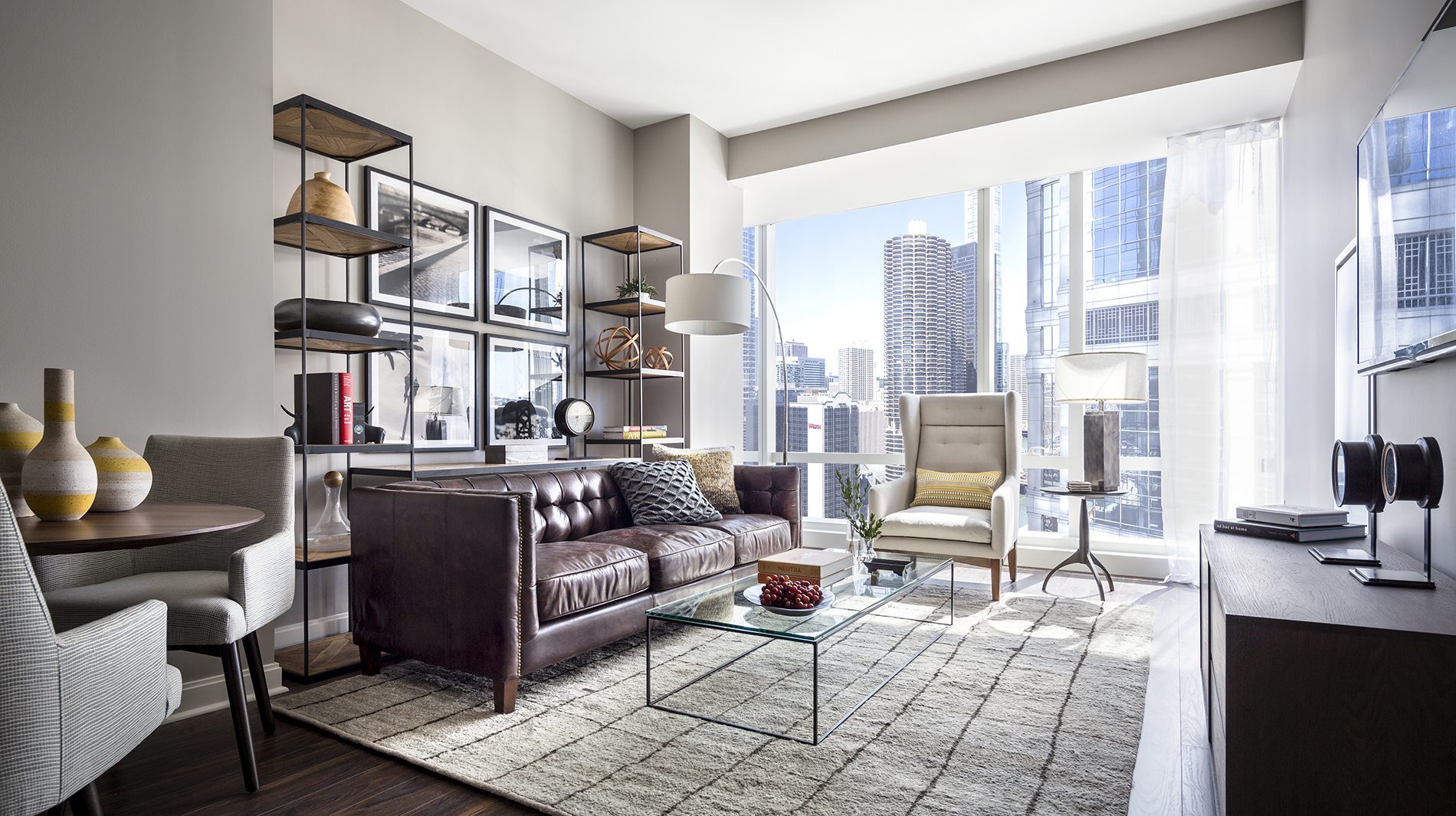 Your apartment's living room is one of the most important rooms when it comes to making interior design decisions. In most new downtown Chicago apartments, the kitchen and living room is an open space that the home's floor plan revolves around. Living in a city almost always means means smaller square footage and less room, so making smart choices with your furniture and decor will go a long way in creating a stylish space that you're happy to come home to at the end of the day. Pinterest can only get you so far, especially when you're working with a rental that won't allow for major updates, but we've got three simple apartment living room decorating ideas to help you get started:-
#1) Consider Acrylic Furniture
Acrylic or lucite furniture is a modern way to add functional pieces to your space without adding visual weight. The translucent pieces have been around since the 70's and the trend isn't going anywhere soon. Many downtown Chicago model apartments utilize acrylic coffee tables, bar stools, or side tables in the open living room and kitchen space, in order to create usable surfaces that don't clutter the room.
#2) Handling Floor-to-Ceiling Windows
Downtown Chicago apartments love to boast about their floor-to-ceiling windows that open up the living space and offer stunning views of the city, lake, and river. While many renters appreciate these views and windows on tour, they aren't quite sure how to arrange their furniture around the windows once they move in. Placing your couch against the window, facing away from the view can defeat the purpose and block lovely natural light, but having the media console there can have a similar effect. The best solution is usually to place your sofa perpendicular to the window wall, with lighter pieces in front of the window, like an accent chair or slim writing desk. Those who abstain from television in the living room will have a much easier time creating a focal point around their stunning view.
#3) Find Multipurpose Pieces
In city apartments, you want flexible pieces that can adapt to different situations. "Living room spaces need to be a hybrid between just you relaxing at the end of the day and entertaining ten people," advised Devon Wegmen, of Devon Grace Interiors. One way to achieve this is with convertible couches, where designs can range from couch-bed to sectional sofas that break into a variety of formations. Another adaptive piece is an adjustable lamp, which won't take up floor space and can be moved around by clamping onto different surfaces.
Luxury Living Chicago Realty's experienced team will be a thoughtful partner during your apartment tours. Our brokers have walked countless floor plans throughout the city and in addition to their real estate market knowledge, they can offer advice on arranging furniture, find the right layout for your priorities, and help you narrow down your choices based on your criteria and preferences. If you're looking for a new apartment in Chicago to decorate, click the button below to browse listings and start exploring availability throughout the city.

Follow Us on Social
Apartment Experts
Spend less time apartment hunting, and more time living. Luxury Living is a complimentary service to make your apartment search easier, and even fun. Whether you're new to the city or simply in need of a change, we are here to help.