Best Ice Cream in Chicago
May 12, 2017 | By Luxury Living Chicago Team
Reading Time: 3 Minutes
Ice cream is always in season, and with so many shops in the city, it can be hard to decide where to go. Whether you are in the mood for creamy gelato with macarons on top, an exotic bacon-flavored ice cream, or some fresh frozen yogurt, we've put together our suggestions for the best ice cream shops in Chicago.
Must Try: Fragola Camarosa
This boutique gelato shop off State Street in Chicago's Gold Coast neighborhood boasts exotic, European flavors. They serve gelato in ice cream sandwiches, cones, and there are even dishes where the ice cream is scooped and molded into the shape of a rose served with a mouth-watering macaron on top. This popular spot just opened a brand new shop in Water Tower Place making gelato a perfect snack to grab after an afternoon of shopping along the Magnificent Mile.
Must Try: Banana Split
If you are a chocolate lover, look no further than the Ghirardelli Chocolate Shop located just steps from Michigan Avenue. Moments after entering, you will be offered samples of the fine chocolates to get your taste buds ready for the decadent dessert you are about to indulge in. Here, they serve ice cream sundaes large enough for four to share with toppings like hot fudge, caramel sauce, fresh strawberries, and homemade brownies.
Must Try: Wildberry Lavender
Jeni's is always adding new and exciting ice cream flavors to the line-up in their Wicker Park and Lakeview store. From Goat Cheese and Cherry to the Whiskey Bacon Gelato Bar, you will not be short of delicious choices at Jeni's Splendid Ice Cream. Jeni's has a unique recipe with a smooth texture and buttercream body. They love their customers and artfully craft all of their flavors to bring people together in their stores. Keep an eye out for their brand-new store opening in Old Town!
Must Try: Mexican Hot Chocolate
Black Dog Gelato has some of the most inventive and interesting ice cream flavors in Chicago. They make their gelato fresh every day in small batches with simple ingredients. They love to create new flavor combinations to keep up with the modern palate. If there is a flavor you are looking to try, don't wait because the menu is constantly changing! Some of the recent flavors include Blueberry French Toast, Butterscotch Bourbon Pecan, Maple Cayenne Bacon and Rosemary Irish Cream! If your office is in The Loop take a break from the office, and grab a scoop.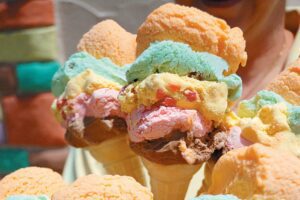 Must Try: Original Rainbow Cone
This iconic store can be found in Millennium Park. If you often find yourself not be able to decide which flavor to get, this may be the ice cream shop for you. Their famous Rainbow Cone stacks Chocolate, Strawberry, Palmer House (New York Vanilla with cherries and walnuts), Pistachio, and tops it all off with Orange Sherbert.
When living in downtown Chicago apartments, there are so many options to choose from when it comes to ice cream. We hope you enjoyed our pick of the best ice cream in downtown Chicago. Now it's time to treat yourself and enjoy a scoop in this beautiful city.
With all the construction, many new ice cream shops are popping up around the city. To view all of the new apartment buildings going up around the city, take a look at our 2017 Building Guide below.
SaveSave
Follow Us on Social
Apartment Experts
Spend less time apartment hunting, and more time living. Luxury Living is a complimentary service to make your apartment search easier, and even fun. Whether you're new to the city or simply in need of a change, we are here to help.