Browse Luxury Fulton Market Apartments in Chicago
November 29, 2022 | By Gabrielle Gresge
Reading Time: 5 Minutes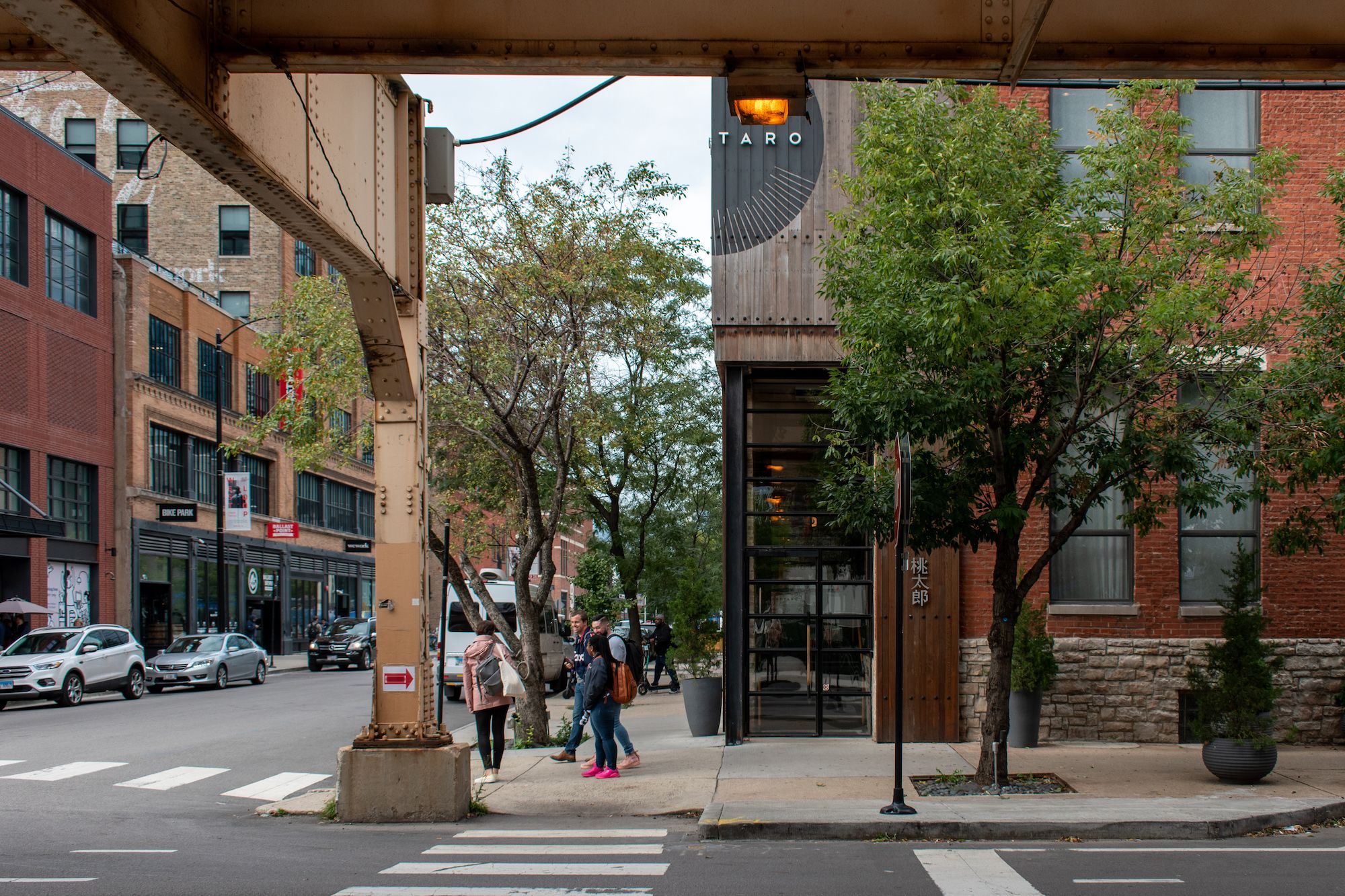 Nestled next to the West Loop and River North neighborhoods, Fulton Market is known both to Chicagoans and visitors as a center for culture, food, trends and, most recently, beautiful high-rise buildings. As this area continues to develop, more options for apartments that keep you close to the action are proliferating; there's never been a better time to consider moving to this vibrant part of town.
While Fulton Market is currently associated with luxury, its roots are much less glamorous.
The History of Fulton Market
Today, Fulton Street is peppered with new restaurants and high-rise luxury hotels. Historically, though, this area was a meat-packing district: home to the Fulton Street Wholesale Market Company, Fulton previously teemed with wholesale and local meat sellers, who provided meat and other food products to many businesses in the city. The neighborhood modernized over time, but continued mostly as an area for industry – not a place where people were drawn to live.
That began to change when Oprah opened Harpo Studios on Randolph and May streets in 1989. According to WTTW, Chicagoans consider this as a catalyst for change in the neighborhood; many restaurants soon followed, and the area continued to morph into the cultural center it is today. Though some meat-packing wholesalers still remain!
It's always worth knowing the history of your city and neighborhood, as it can help you contextualize and appreciate where it stands today.
What To Do in Fulton Market
The 'best things' to do in Fulton Market change seemingly every day as new restaurants, hotels, gyms and venues open. Life in this district is vibrant and full of options for both work and play.
Where to eat
Where to work out
Where to play
Soho House has a location in the West Loop, adjacent to Fulton Market, that caters to its members through exclusive events, dining experiences, and – perhaps most importantly – a rooftop pool.
The United Center, home to the Chicago Bulls and Blackhawks teams, hosts big-name concerts and comedians in addition to basketball and hockey games.
Union Park is one of the public green spaces near Fulton Market, and has multiple sport courts in addition to a playground.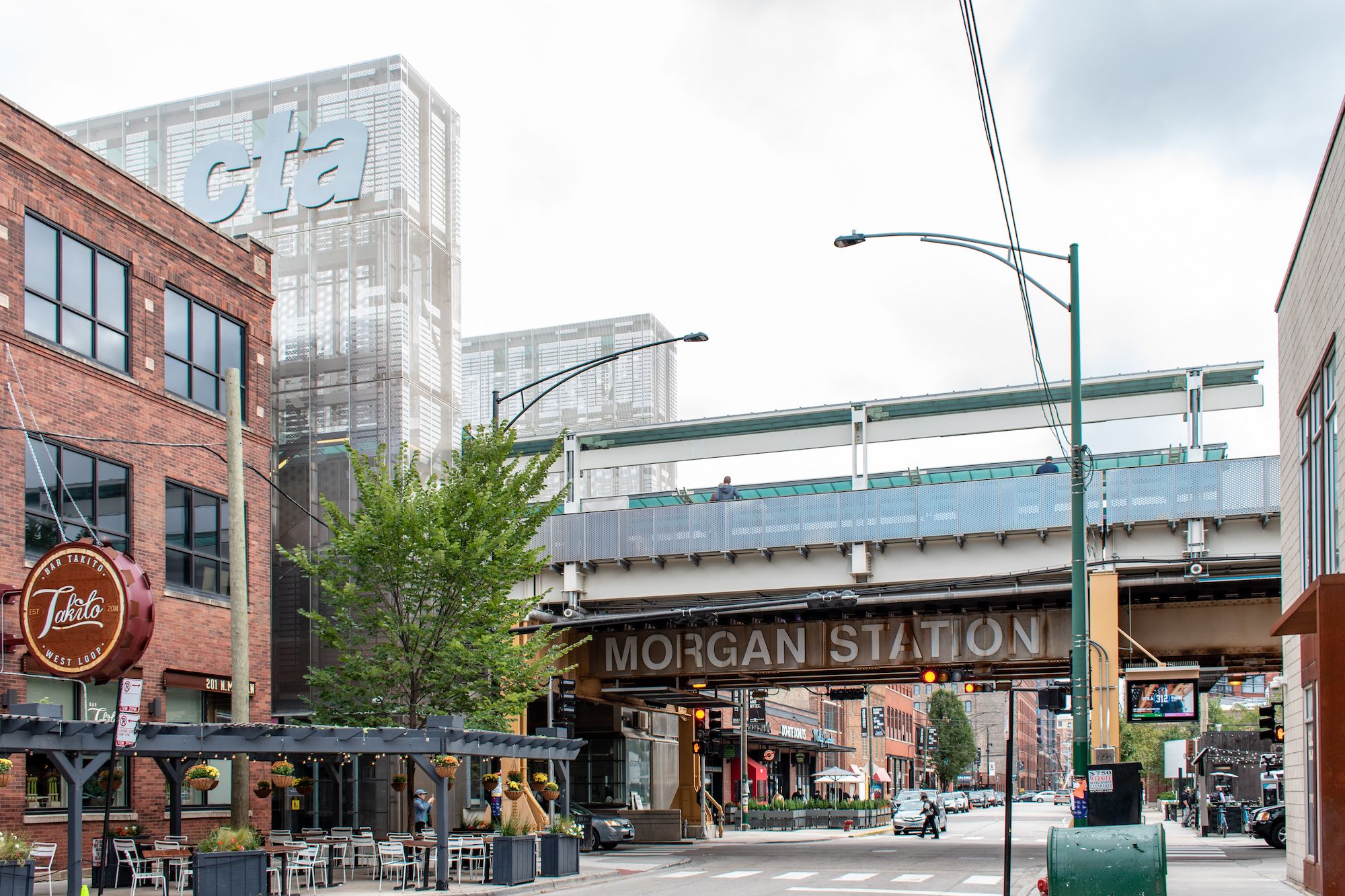 Where to Live in Fulton Market
The skyline of Fulton Market seems to change every day as new, high-rise apartment buildings take shape. The introduction of these new living options is great news for those looking to move here: with new apartments consistently entering the market, there are plenty of ways to get exactly what you're looking for out of a new home.
Some of the area's newest options include:
Currently under construction at the intersection of the Fulton Market and River West neighborhoods, 354 N Union will feature gorgeous exterior glass, luxury finishes to each unit, and an expansive rooftop deck.
Designed with the highest luxury finishes in mind and currently in construction, Fullbrix Apartments will boast multiple floor plan options that are each adorned with high-end finishes like wood floors, impressive closets, quartz countertops and stainless steel appliances. Shared spaces include a sprawling amenity deck as well as a gym with a yoga studio.
One of Fulton Market's newest luxury living options includes 1353 W. Fulton, which is due for completion in 2024. The beautifully-designed building takes notes from the industrial heritage of the neighborhood in its aesthetic, and includes space for dining and retail options that are sure to be convenient options for future residents.
166 N. Aberdeen is due to be completed in Spring 2023, and emphasizes amenities in its offerings to residents – with a pool and outdoor lounge, exercise room and coworking space, the building aims to provide a luxury home for work and play.
The Dylan Apartments offer the pinnacle of urban luxury living in Chicago's vibrant Fulton Market neighborhood. With floor-to-ceiling windows, designer finishes, and a prime location amidst world-class dining and cultural attractions, The Dylan redefines contemporary city living.
With a jaw-dropping industrial design, 900 W. Randolph will be a gorgeous addition to the Fulton Market skyline right on the famed Restaurant Row when it completes construction in 2024.
The brand-new Parq Fulton building is situated on Randolph and Ogden, and is an excellent option for those looking to move into the neighborhood right away. With a co-working space, private party room, lounge and courtyard, this building was made for a holistic, luxury living experience.
354 N Union
354 North Union Avenue, Chicago, IL, USA
Fulton Market apartments
Fullbrix
160 North Elizabeth Street, Chicago, IL, USA
Fulton Market apartments
1353 W Fulton
1353 West Fulton Market, Chicago, IL, USA
Fulton Market apartments
166 N Aberdeen
166 North Aberdeen Street, Chicago, IL, USA
Fulton Market apartments
The Dylan
160 North Morgan Street, Chicago, IL, USA
Fulton Market apartments
900 W Randolph
900 West Randolph Street, Chicago, IL, USA
Fulton Market apartments
Parq Fulton
1400 West Randolph Street, Chicago, IL, USA
Fulton Market apartments
No matter where you choose to live in Fulton Market, the options for housing, dining and experiences have never been more numerous. To take advantage of this fantastic part of Chicago, reach out to a Luxury Living agent today!
Follow Us on Social
Apartment Experts
Spend less time apartment hunting, and more time living. Luxury Living is a complimentary service to make your apartment search easier, and even fun. Whether you're new to the city or simply in need of a change, we are here to help.