Co-Living at L Offers Unique Logan Square Apartments Opportunity
June 5, 2017 | By JD Eaton
Reading Time: 2 Minutes
Development of Logan Square apartments is booming, but only one property is offering co-living, an innovative extension of the growing sharing community. Individual rooms are now available for rent within spacious three bedroom floor plans at L, 2211 N. Milwaukee Avenue.
The co-living lifestyle provides residents with furnished shared spaces and full access to the building amenities, including a fitness center, resident lounge, and outdoor sundeck with grills, fire pit, and L car lounge. The transit-oriented development also features a bike kitchen, with private access off Milwaukee, personalized bike racks, a work bench, and washing station. For many of those moving to L from neighborhoods along the Blue Line, one of L's best qualities is the advancement of technology; the building utilizes keyless entry, a video intercom at the front door, and a secure package room with lockers that send a text notification to residents when they have something to pick up.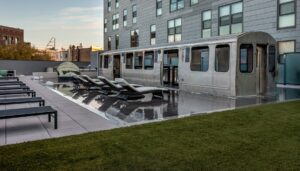 In a recent post on Illinois Realtors, Managing Broker, Aaron Galvin, acknowledged that one key audience for co-living was millennials, but it also works for anyone willing to be part of a "shared cultural and living experience at a tremendous value."
Renting by the room means that residents can move into L at a lower price-point than other units, starting at $1095/month. Pricing depends on the floor height, bedroom size, and the en-suite bathroom option. Each Logan Square apartment features wide-plank flooring throughout, custom closets, and washer/dryer in-unit. The kitchens include stainless steel appliances, quartz countertops, a built-in wine rack, and garbage disposal.
Additional co-living perks guarantee the shared common spaces are fully furnished and kept clean by bi-monthly housekeeping. Co-living residents don't need to pack pots and pans or silverware, as it's all provided by the property. Any utilities not included in the rental price will be divided three ways for co-living residents, regardless of the number of occupants.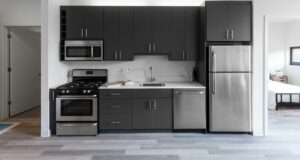 As Galvin commented to Curbed Chicago, "We've been blown away by the people who are moving in from the Logan Square neighborhood and this is justifying the need for this type of development," Galvin said. "What's exciting about this co-living situation is that we're taking the idea of community and bringing it into the units now."
To schedule a showing of a room for rent or any other floor plan at L, please follow the link below.
Editor's Note: This post was originally published in June 2016 and has been updated for freshness, accuracy, and comprehensiveness.
[wpgmza id="1″]
Follow Us on Social
Apartment Experts
Spend less time apartment hunting, and more time living. Luxury Living is a complimentary service to make your apartment search easier, and even fun. Whether you're new to the city or simply in need of a change, we are here to help.