Guests Experience Life Elevated at the ELEVATE Lincoln Park Grand Opening Event
August 3, 2018 | By Talia Abrams
Reading Time: 2 Minutes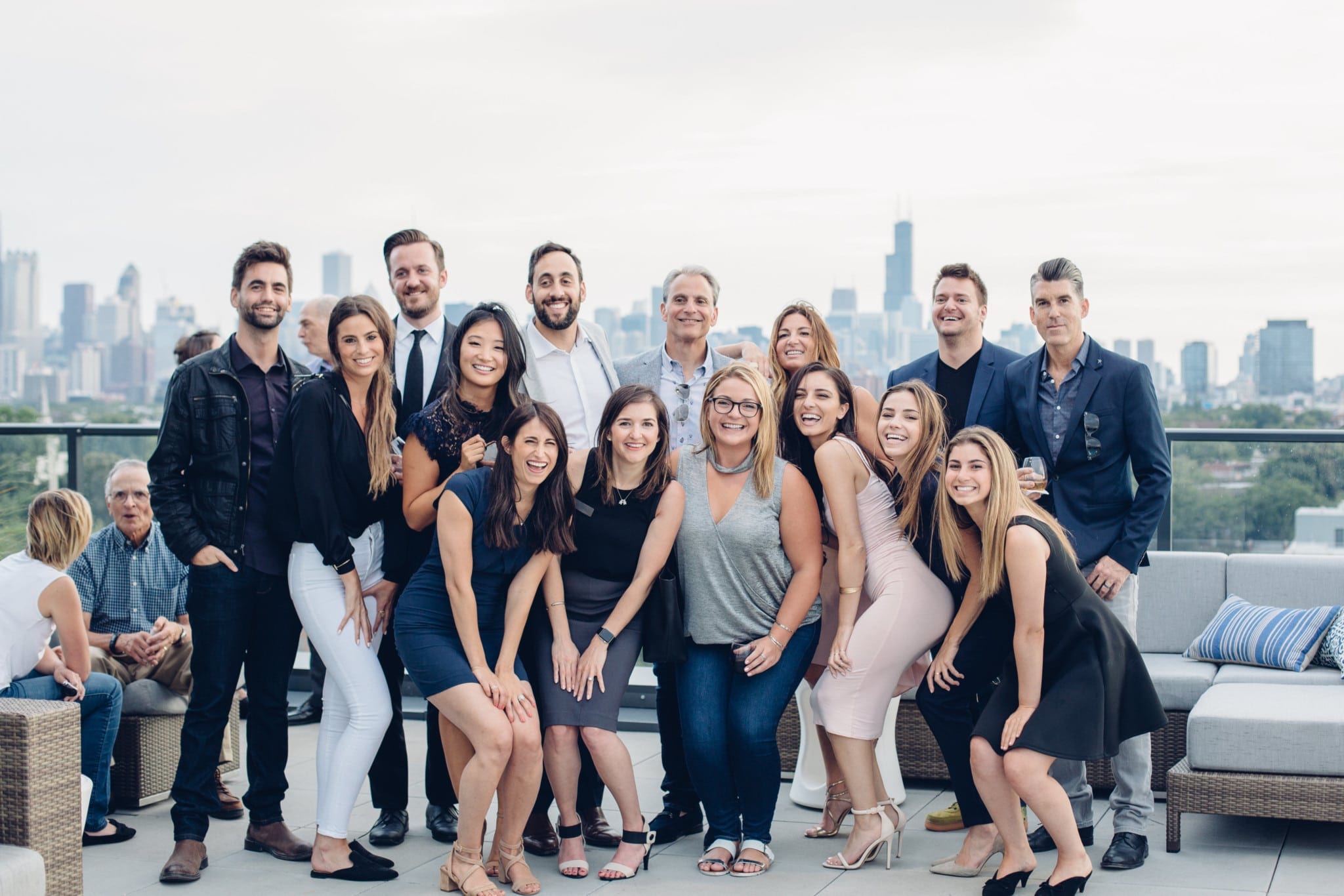 On the evening of July 19th, guests gathered at 930 West Altgeld Street to celebrate the formal grand opening of ELEVATE Lincoln Park's brand new luxury apartments. The opulent delights of the penthouse floor and rooftop amenity spaces struck a chord with attendees, as they toured the different areas of the building with sparkling eyes.
The formal grand opening of ELEVATE was all about celebration – a time to enjoy the magnificent space. Those who contributed to ELEVATE's development and watched it evolve into what it is today were especially blown away by the final outcome.

This memorable night was pure fun. Ice-blue shots were passed out by the developers dressed in cool colors to match the cutting-edge "ELEVATE" motif. The relaxed guests gathered around the Miami-style dip pool with their shot glasses raised.
Daniel J. Slack, principal at Baker Development Corporation, shared words of appreciation in a speech to the committed team of individuals who made ELEVATE such a success. He explained the pride he felt as a result of the ELEVATE team's genuine care, hard work, and belief in this project that went far beyond expectations.
Everyone clinked their glasses.
The mood on the rooftop was heightened by an amazing live band, and guests even enjoyed a surprise appearance by Adam Lee, who played Johnny Cash in the musical, The Million Dollar Quartet, which just finished its six-year run at ELEVATE's neighborhood theater, The Apollo.
It was especially gratifying for everyone involved in ELEVATE's success to see the completed building filled with residents and amenity spaces serving as beautiful places to come together.
The thoughtful interior design at ELEVATE is above and beyond. Luxury details within every aspect of the building complimented by the breathtaking skyline views give residents and guests the perfect opportunity to experience all the marvels of Chicago.
Penthouse tours occurred sooner than anticipated because guests couldn't wait to see the thoughtfully designed two level penthouse in real life.  The best part of the grand opening party was watching the guests' faces as they stepped inside a completed two level penthouse for the first time. Physically existing in the space and walking through each room is quite different from seeing virtual renderings.
Although almost completely leased, ELEVATE Lincoln Park still has a variety of expansive floor plans available on select floors, including the penthouse level which comes with a multitude exclusive upgrades.  View available listings:
Are you looking for a luxury apartment in Chicago to call home? Do you want to learn about the ELEVATE experience and the ELEVATE Lincoln Park penthouses? Contact our team or schedule a showing by clicking the button below.  
Follow Us on Social
YOUR INSIDE LOOK AT WHAT'S NEW ON IG
View on Social
About Us
At Luxury Living, we define "luxury" as a quality of life. Luxury living may mean having a home-office with breathtaking views from your apartment's floor-to-ceiling windows, or being within walking distance to your favorite restaurants and activities. Whatever luxury means to you, let us help you find it.
Learn More
Contact Us