Luxury Living Chicago Wins Onni Group 2018 BRAG for Top Chicago Brokerage
November 9, 2018 | By Amy Galvin
Reading Time: 3 Minutes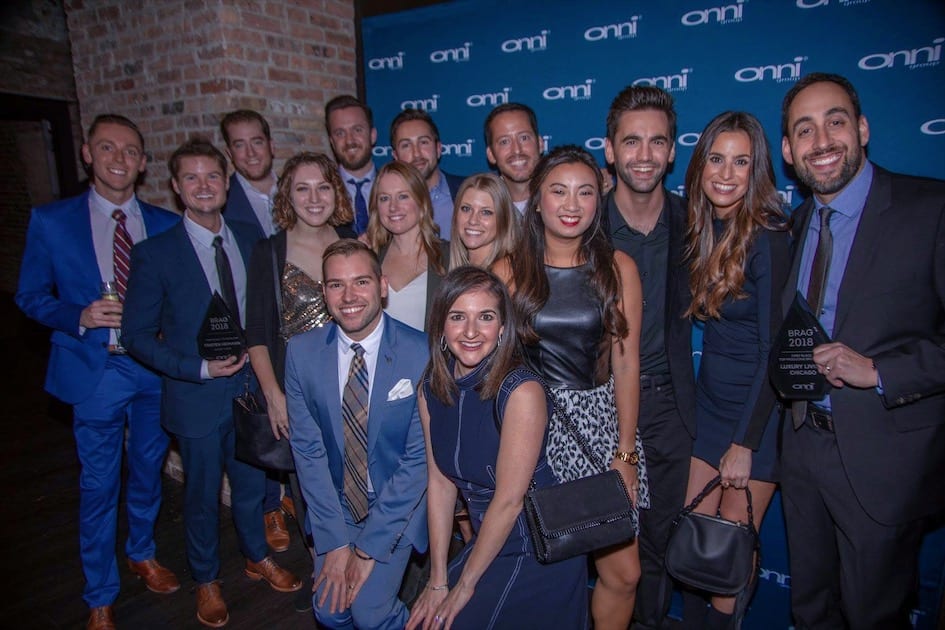 Luxury Living Chicago Realty is excited to announce our team was awarded the 2018 BRAG for Top Chicago Brokerage by Onni Group.
At an exciting event held at TAO Chicago, Luxury Living Chicago Realty (LLCR) was presented with the award by leadership from Onni Group. LLCR received this designation for being the number one brokerage at Old Town Park, Onni Group's newest Chicago development. This is a proud distinction for our brokerage that other shops have laid claim to, but LLCR has won for two years running.
About Old Town Park
Standing tall at 32-stories, Old Town Park boasts condo-level finishes and stunning city views. Kitchens were designed with European cabinetry, fully-integrated Blomberg & Fuller Milano appliances, chef-inspired layouts, and granite slab waterfall countertops. There are expansive windows with roller shades, in-unit laundry, and gorgeous 7.5" wide-plank flooring throughout the space. The community amenity spaces include something for everyone, while the impressive outdoor escape offers a hot tub, heated pool, loungers/daybeds, fire pits, BBQ stations, and even a rooftop basketball court. In addition, there is a kid's indoor and outdoor play space, a bocce ball court and an outdoor projector screen for summertime movies.
Top Producing Chicago Brokers
In addition to being the top brokerage for the building, two Luxury Living Chicago real estate team members received individual recognition at the event. Tristen Heimann, Director of Residential Rentals, was the number one broker at Old Town Park in 2018. "The Vancouver based developer has exclusively done luxury condos for the past 65 years, though have recently made their entrance into the Chicago rental market," said Heimann. "With Onni's wholistic approach, every little detail is thoughtfully designed and my clients can certainly tell that difference as soon as they walk into the lobby. Their attention to detail, efficient layouts, higher end finishes, and the 'they didn't need to do, but they did it anyway!' approach, residents take notice. The Onni Group continues to help push the benchmark within a city full of rental options."
Riely Joosten, Broker Associate, was recognized as the third overall broker. "Onni has done an incredible job with their first two buildings in Chicago," said Joosten. "Old Town Park (OTP) has been a favorite of both mine and my clients this year and for good reason. The finishes are condo quality and unlike any other rental building in the city. The built-in refrigerator and waterfall island are very sharp. The amenities are incredible, it seems like ONNI thought of everything. There's a pool, basketball court, dog run, game room, chefs kitchen, spa with sauna, steam and massage room and a gym. The cold towels in the gym are a nice touch. Lastly, the location is what makes OTP such a popular option. It's next to all of the awesome restaurants and bars in Old Town, a block from multiple grocery stores, close to public transportation and very easy to get to River North, Gold Coast and the lake. It's no surprise that OTP leased up so quickly."
About the BRAG
For over half a century, Onni Group has been building communities for people to live, work, and play. The company is dedicated to quality construction, innovation, sustainability, and customer satisfaction. Onni has properties all across North America including Los Angeles, Seattle, Chicago, Phoenix, Toronto, and Vancouver.
Onni believes in creating strong relationships with the local real estate brokerage community. Because of this, they created the BRAG to recognize top producing real estate teams.
Follow Us on Social
Apartment Experts
Spend less time apartment hunting, and more time living. Luxury Living is a complimentary service to make your apartment search easier, and even fun. Whether you're new to the city or simply in need of a change, we are here to help.