Luxury Living Chicago Realty Receives CAMME Award for Best Property Website
November 2, 2018 | By Luxury Living Chicago Team
Reading Time: 2 Minutes
The Chicagoland Apartment Marketing And Management Excellence (CAMME) held their annual awards event on Friday, October 26th at Chicago Marriott Downtown Magnificent Mile.The CAA represents more than 5,000 apartment professionals who own and/or manage more than 200,000 apartment units throughout the Chicago area. At the 2018 CAMME Awards, more than 300 entries were submitted for 52 different award recognitions.
Luxury Living Chicago Realty was honored to receive the award in the Property Website category for the design and development of Seven 10 West's website. The 105-unit building began pre-leasing at the start of 2018 in River West, with a full website launch in January.
The building's brand and website design was created by Kaitlin Brewer, Creative Strategy Manager. "The Seven 10 West logo took direct inspiration from the unique grid-like shelving in the unit kitchens, as well as the patterned exterior facade," said Brewer. "From there, we developed a flexible and transitional identity system based on 'balanced' rectangular shapes."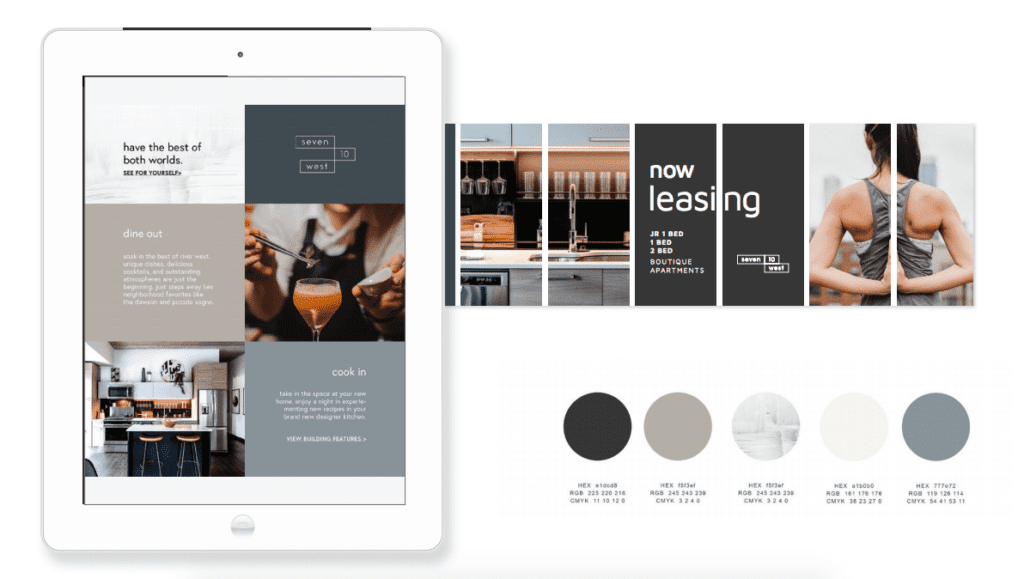 When developing the Seven 10 West website, our team's main objective was to drive sufficient traffic for a high-velocity lease-up. The team focused on conversion rate optimization throughout the design process, which includes a strong call-to-action for scheduling a tour and a simplified contact form. In addition, we researched search terms and keywords in order to write copy that would benefit the website's search engine optimization (SEO) in a condensed period of time. The website structure offers a variety of video and interactive opportunities to ensure strong session duration amongst users.
"The web traffic and conversions on Seven 10 West website over six months were extraordinary for a boutique building without an existing web presence or brand awareness," said Elise Kaufmann, Marketing Manager. "In this short time period, the website had over 24,000 sessions with more than 40% of traffic coming from organic search- proving that our SEO efforts more than paid off. We're also pleased to note that Seven 10 West saw an average session duration of 02:18 and 35% bounce rate."
To explore Luxury Living Chicago Realty's full suite of multifamily services, including branding, marketing and leasing, click the button below.

Follow Us on Social
Apartment Experts
Spend less time apartment hunting, and more time living. Luxury Living is a complimentary service to make your apartment search easier, and even fun. Whether you're new to the city or simply in need of a change, we are here to help.