Luxury Small Apartments Design Trends You Should Know
February 11, 2019 | By JD Eaton
Reading Time: 2 Minutes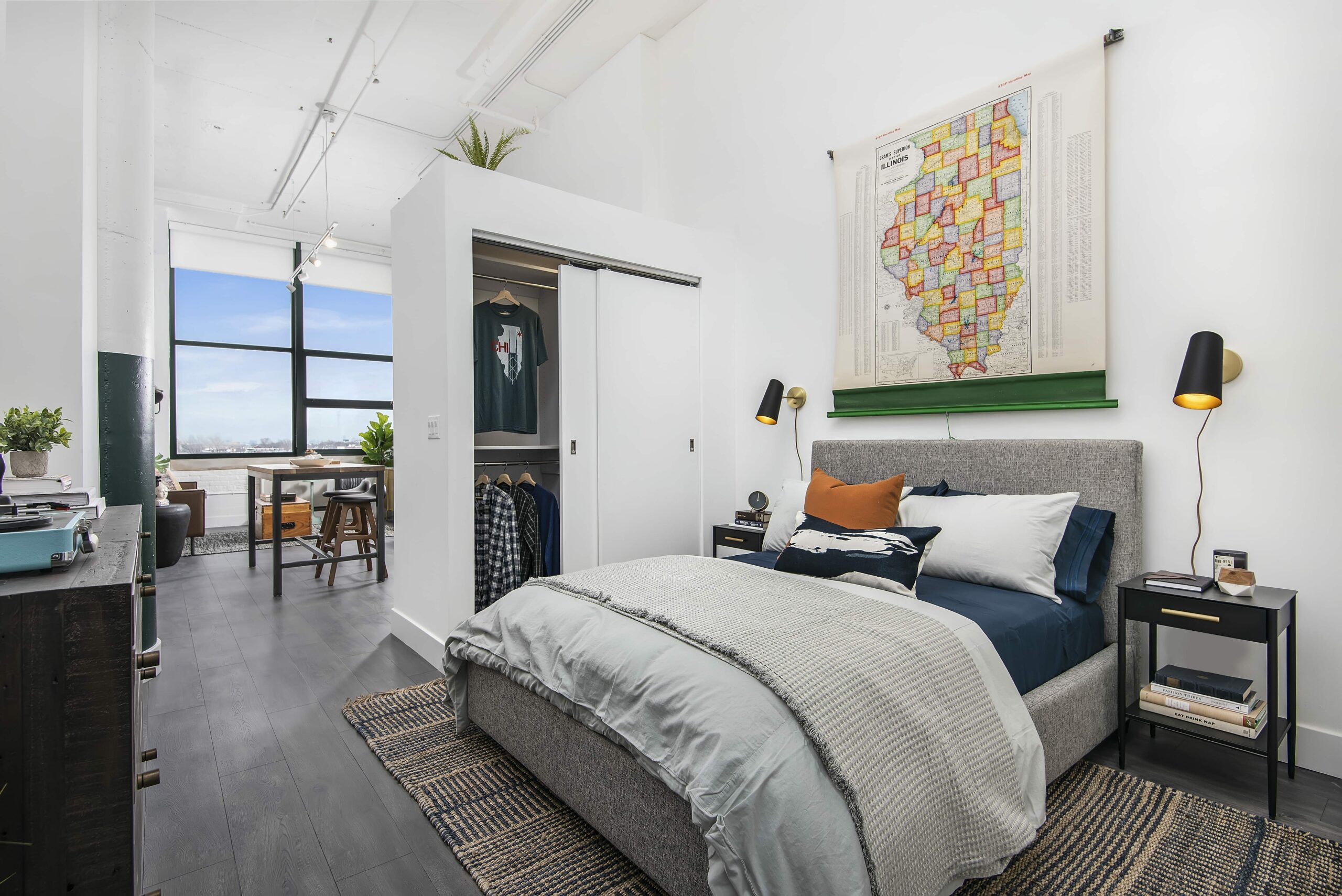 Moving into a small luxury apartment often means downsizing on square footage, but that doesn't necessarily mean that residents need to sacrifice style or functionality. Downtown luxury Chicago apartments have continued to become more compact, as developers dedicate more space to amazing community amenity spaces. (While we're on the topic of average square footage, always remember that it's not a number that should make or break your search.) When planning out the details of a small studio apartment interior design, keep these trends and tips in mind:
Create Separation
Even if you're working with a 500 square foot studio apartment, it's in your favor to create separation between spaces. Add hooks, a mirror, and shoe racks near the door to designate a well-rounded entry way. Some studio floor plans have an alcove or defined sleeping area for a bed, but if not, you can use furniture to accomplish this. An open bookshelf provides storage and separation without feeling too closed in or placing the couch or loveseat against the foot of the bed can draw focus to the living space.
Furniture Should Be Flexible
"If you're in a small space, everything needs a purpose- you can't really have any arbitrary pieces," said Devon Wegmen, of Devon Grace Interiors. "You want things that can perform double duty." Consider furniture that is flexible and can convert to your needs, like a set of nesting tables that can expand when you have guests or a kitchen cart on wheels that can be moved around for different situations. Furniture can also be a great way to add curves in a boxy space, like a rounded lamp stand or this sofa from Anthropologie, which also checks off the trend box for rich jewel tones.
Avoid Clutter
Storage is your friend when living in a small space. Many Chicago studio floor plans include large walk-in closets and most buildings offer storage lockers for rent in the building, which can be convenient for large items like Christmas trees or golf clubs. While open storage can help contribute to your design aesthetic and allow you to display keepsakes, it's important to balance it with hidden storage for stuff like charging cords. So embrace the floating shelf trend, but also take a visit to Ikea to stock up on under-the-bed bins and stacking boxes. Find your tidying inspiration with Marie Kondo and try to keep up with regular decluttering sessions.
Whether you're looking for a small or large space in Chicago, the Luxury Living Chicago Realty team can help.  Click the button below to browse listings and explore renting in the city.

Follow Us on Social
Apartment Experts
Spend less time apartment hunting, and more time living. Luxury Living is a complimentary service to make your apartment search easier, and even fun. Whether you're new to the city or simply in need of a change, we are here to help.