Ready to Move? Find Out What It's Like Living in West Loop, Chicago
April 16, 2018 | By Lauren Bozarth
Reading Time: 7 Minutes
Are you looking for a contemporary spot with character and convenience? Well, look no further.
Living in Chicago's West Loop, you'll get all of the above with a unique contrast between old and new. Over the years this neighborhood has evolved from an industrial manufacturing hub to Chicago's residential hot spot and restaurant haven.
Situated between Ashland Avenue and the Chicago River, the West Loop is saturated with old manufacturing warehouses converted into contemporary lofts, trendy restaurants, and hip new office spaces, offering a new look to Chicago neighborhoods.
While the revitalized urban area is full of energy, the West Loop is far less chaotic than living right downtown.
So you're interested in learning more about this city's booming neighborhood? Here's some insight into all the hype over Chicago's West Loop.
Safety Measures in the West Loop
With all of the neighborhood's recent growth, it's important to note the simultaneous focus on West Loop Chicago safety. The huge wave of people moving to this area has initiated new safety measures
Chicago's West Loop repeatedly ranks as one of the city's most walkable neighborhoods. With residential properties, grocery stores, restaurants, and retail shops all so close to each other, getting where you need by foot is a breeze.
However, as a part of a community effort lead by the City of Chicago, the West Loop is adopting new design guidelines to improve pedestrian safety and ease, while preserving the neighborhood's urban feel. Some of these changes include adding more lighting and reconstructing street corners. The city also wants to develop underutilized public spaces to offer more plazas and streets for people.
Living in the West Loop offers opportunities to get involved with other community members and improve the neighborhood. Neighbors of West Loop, a neighborhood organization, actively promotes local safety efforts. Various members of the organization serve as local Chicago Alternative Policing Strategy (CAPS) coordinators to keep other residents up to speed with public safety alerts and crime patterns in the neighborhood.
Of course, there's alway safety precautions you can take on your own when living in the West Loop.
If you have a car never leave valuables in your vehicle, and make sure always to lock your doors and roll up the windows. When walking around the neighborhood after hours, it's smart to stay on well-lit paths, remain attentive to your surroundings, and leave your earbuds at home. You can also check out these apps designed to help keep you safe when walking home at night.
The Bar Scene in the West Loop
West Loop bars offer the ideal spot to unwind and enjoy a drink. The surplus of trendy neighborhood bars boasts sophistication, great happy hours and fantastic patios. When the workday ends, the hustle and bustle of the West Loop does not cease.
Bar Siena is always a crowd favorite. Whether it's the post-work crowd or the late night owls, the bar scene here is alway happening.  Not only is the menu complete with an extensive beer list and signature drinks, but each food item is made from scratch and served late. The beautiful two-story space, complete with an outdoor patio and impressive furnishings, delivers the perfect atmosphere.
If you're looking to enjoy an elegant night on the town, enjoy a nice glass of bubbly at RM Champagne Salon. Of course, champagne is not the only item on the menu. This elegant bar also offers a wide selection of beer, wine ,and handcrafted cocktails. The impressive late night menu also offers mouthwatering flatbreads and small plates just in case you find yourself in need of a bite.
One of West Loop's newest bars, Punch Bowl Social is the place to go if you want to take winding down and letting lose to a whole new level. With crafted beverages, arcades games, and a bowling alley, this is the perfect spot for any adult to forget about work and unleash their inner kid.
Chicago's Top Restaurants in the West Loop
From top-rated spots to small hidden gems, this neighborhood has it all. Strolling down Randolph Street, referred to as  'restaurant row', you'll find some of the hottest West Loop Chicago restaurants.
The infamous Girl and the Goat has gained praise from Chicago residents and tourists alike. Executive chef, Stephanie Izard, opened her acclaimed restaurant after winning Bravo's hit show 'Top Chef'.
In the restaurant's eight years of business, Girl and the Goat has received an impressive list of awards and nominations. So it's no surprise that reservations should be made extra early if you're trying to secure a dinner spot here.
Au Cheval, another praised West Loop Chicago restaurant located on Randolph Street, has earned its hype thanks to its infamous burger. You need to try this burger for yourself to understand all the hype..
From the prime beef patty to the thick-cut peppered bacon, and the infamous fried egg on top, this burger is pure perfection.
A couple pieces of advice before heading over to Au Cheval:
Don't show up to the restaurant completely starving

Come prepared with ways to kill some time before your meal
There's almost always a guaranteed wait at Au Cheval so it doesn't hurt to plan ahead. Plus, we promise it'll be worth the wait.
When it's time to celebrate and splurge for that special occasion, Oriole is the perfect reservation. This fine dining, Michelin-rated restaurant offers much more than a delicious and unique cuisine. The intimate dining room, elegant decor, impeccable service and an extended tasting menu make for an unforgettable dining experience. For 190 dollars per person, you'll find a meal that really does provide you the bang for your buck.
If you're on a time crunch in between work, don't worry because there's plenty of speedy alternatives. Honeygrow is just one quick and healthy option.
This brand new location right off Lake Street is quickly gaining popularity. The unique restaurant offers customizable stir-fry bowls, salads, cold-pressed juices and a fully honey bar. To save even more time, you can order your meal in advance using the honeygrow app.
The Best Brunch Spots to Hit on the Weekend
The brunch scene may arguably be one of the best parts of living in the West Loop. With some of the greatest menus and patios in the city, a sunny Sunday brunch in this neighborhood is hard to beat.
If your brunch spot comes down to popularity, Federales may be the move. Word of mouth has put this restaurant on the map for brunch.
It's a combination of breakfast tacos, booze and the incredible patio that has people talking. In fact, Federales' 15 dollar brunch special gets you a meal and morning cocktail. Just be prepared to wait a little bit for a table on a nice weekend afternoon.
Now if you're looking for a classy place to impress your weekend visitors, The Madison Bar and Kitchen is the recommendation. With a creative flair to brunch classics and a wide selection of freshly squeezed juice, you can't go wrong here. Not to mention, the 20 dollars bottomless mimosa bar is always a hit.
The Allis is another fun and fancy brunch option. As a part of the exclusive Soho House, this upscale lounge provides the perfect setting for an indulgent breakfast complete with an expansive art collection and views of Green Street from floor-to-ceiling windows.
If your taste buds are craving some hearty, southern comfort food, Wishbone is the place to check out. After serving breakfast for over 28 years, this classic joint knows what they're doing; especially when it comes to their famous biscuits and gravy.
Best Spots to Live in the West Loop
Chicago West Loop rentals are on the rise as the neighborhood experiences a rapid influx of residents. Over the years old warehouses have been transformed into residential lofts and new developments have been popping up.
If you're looking for a unique property complete with all the bells and whistles, then it's time to find your perfect Chicago West Loop rental.
This neighborhood is home to some of the city's hottest boutique buildings.
Ashland Place, the newest addition to the West Loop Luxury Apartments Portfolio, offers spacious condo-style apartments, complete with upscale finishes, impressive features, and an indoor parking garage.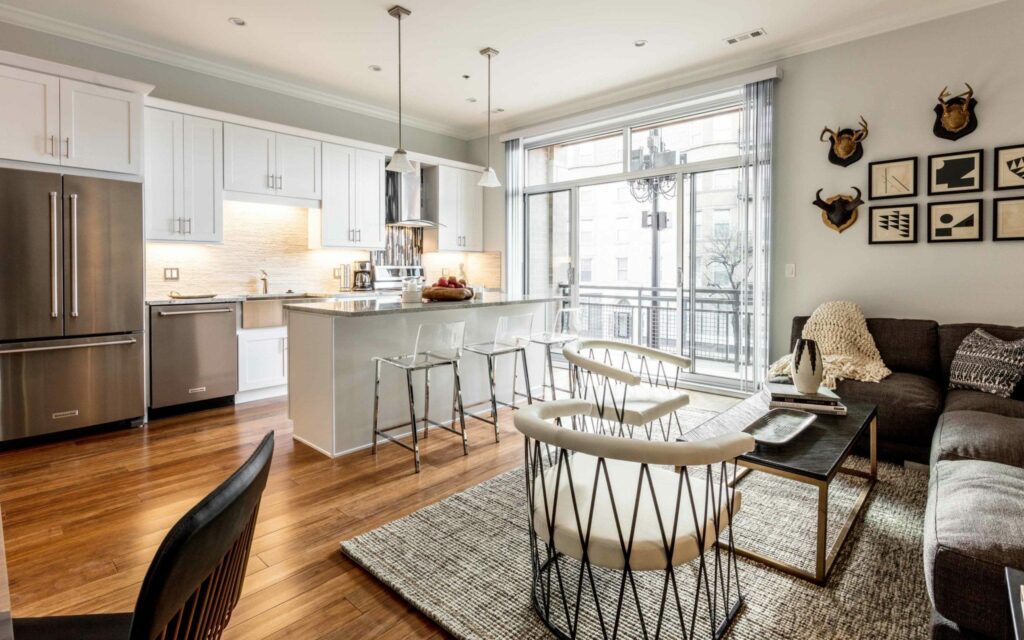 If you're set on finding the perfect apartment, but feel a little overwhelmed beginning the search, starting with a qualified broker is your best move. Luxury Living Chicago can provide you with an experienced broker, who has the expertise and time to help find you your upscale dream rental, making the process a breeze.
If you want to do your own property research beforehand, click here to check out Chicago West Loop luxury apartments.
Moving to West Loop Chicago opens the door to great culture and great community. Start your search for the perfect dream home today.

Follow Us on Social
Apartment Experts
Spend less time apartment hunting, and more time living. Luxury Living is a complimentary service to make your apartment search easier, and even fun. Whether you're new to the city or simply in need of a change, we are here to help.