The 5 Best Places to Eat Outside in Wicker Park This Summer
June 8, 2018 | By Talia Abrams
Reading Time: 3 Minutes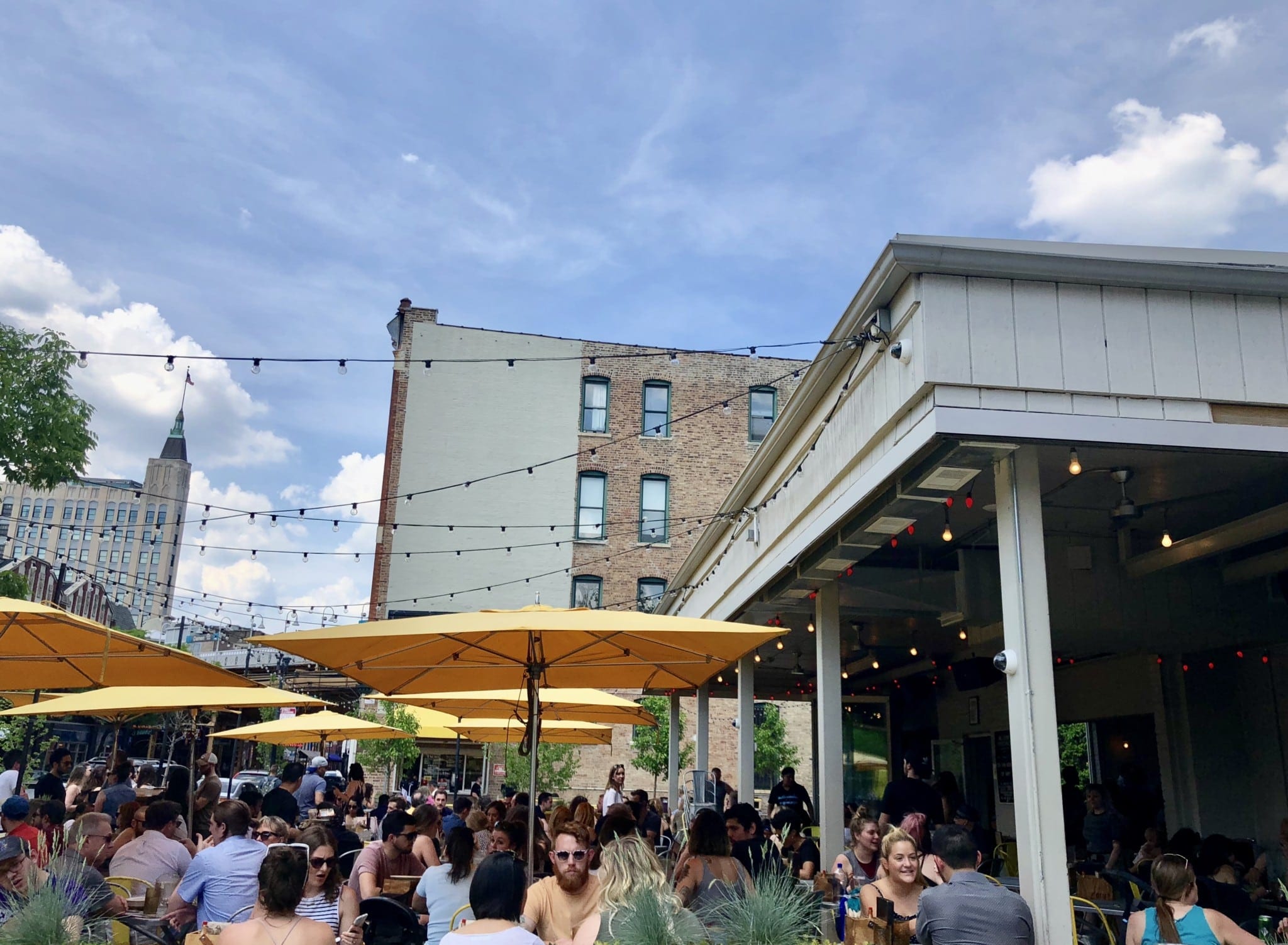 Even though we love hanging at home and cooking in our kitchens, the Chicago restaurant scene is too good (and affordable) to ignore. These outdoor restaurants in Wicker Park allow us to fully enjoy the warm weather in Chicago. From simple hamburgers to elaborately flavored margaritas, Chicago has a food match for everyone — all just a walk away from your Wicker Park apartment.
It takes time to curate a list of the best places to eat, so we've compiled 5 of our favorites for you — all with outdoor seating in Wicker Park.
1531 N Damen Ave
All of their tacos are great, but if you have to choose just one, go for the Taco de Pescado. The limey, crunchy, beer-battered tilapia with chipotle mayo just melts in your mouth. If you don't feel like sitting down, or you're running low on time, just grab a taco or two at the to-go window. There are 3 options at Big Star: dine in, carry-out from to-go window, or even get your tacos delivered to the comfort of your luxury Chicago apartment. 
1501 N. Milwaukee Avenue
The indoor/outdoor restaurant brightens up Milwaukee Avenue with the colors and flavors of tropical Hawaii. Our favorite thing to get here is the poke bowl! It's huge and so fresh. Eat outside on a warm day, inside on a cooler day, or ubereats it to your luxury Chicago apartment on a lazy day. The neon signs, pineapple wallpaper and bright upstairs patio give this Wicker Park cocktail bar and restaurant a tiki-hut feel, plus it's just so #instagrammable.
1732 N Milwaukee Avenue
The West Loop's "Au Cheval" is notorious for having 3-4 hour waits to be seated, even in the most random hours of the day. Luckily for hungry Chicagoans, Small Cheval is the next-best thing to sink your teeth into. Some like it even better than Au Cheval. The spacious outdoor patio is perfect for the warmer Chicago months. Nestled in the trees behind the restaurant, lies a string-lantern lit back patio with plenty of space to sit down and enjoy one of the best pair of burgers and fries in the city. Get ready to smile the second these crazy-good flavors hit your tongue at Small Cheval. 
This cash-only gem is going to be one of your new go-to's if you live in a Wicker Park apartment. There are a couple things you must try when you're here: The horchata iced coffee and absolutely anything with plantains. While Irazu serves many yummy beverages, the alcohol is BYOB. Summer nights with friends just got better and boozier.
1360 N. Milwaukee
Featured in Time Out Chicago, Good Housekeeping Magazine, American Airlines Magazine and more, it's clear that Antique Taco is a favorite amongst Chicagoans. The trendy taco-joint is the go-to place for a healthy, satisfying and mouth-watering meal in Wicker Park. The outdoor patio allows guests to continue enjoying the space into the summer. My personal order is the Antique Taco salad (Kale, fruit, red pepper, onion, queso, spicy peanuts, cranberries, sesame, tortilla crisps and pomegranate vinaigrette — served in a biodegradable berry carton). The salad is perfectly filling and surprisingly energizing.
I always pair my meal with a the house rosemary margarita, which comes in a glass with fresh lime juice, orange juice, rosemary simple syrup, fresh rosemary and ice. The husband and wife duo, chef (Rick Ortiz) and creative director (Ashley Ortiz), have created an food experience different from the rest in their kid and adult friendly space, Antique Taco. Some of the most influential bloggers, like Naomi Davis, from Love Taza, have been known to stop here whenever they travel to Chicago. The healthy family-friendly restaurant in Wicker Park is perfect for eating in, sitting on the patio or carrying out for a meal at the kitchen table of your luxury Chicago apartment.
If you love dining outside, check out our apartments with luxury outdoor amenities by clicking the button below. 

Follow Us on Social
YOUR INSIDE LOOK AT WHAT'S NEW ON IG
View on Social
About Us
At Luxury Living, we define "luxury" as a quality of life. Luxury living may mean having a home-office with breathtaking views from your apartment's floor-to-ceiling windows, or being within walking distance to your favorite restaurants and activities. Whatever luxury means to you, let us help you find it.
Learn More
Contact Us