Want to Live in Streeterville, Chicago? This is What You Can Get for $2,000/Month
May 31, 2018 | By Lauren Bozarth
Reading Time: 2 Minutes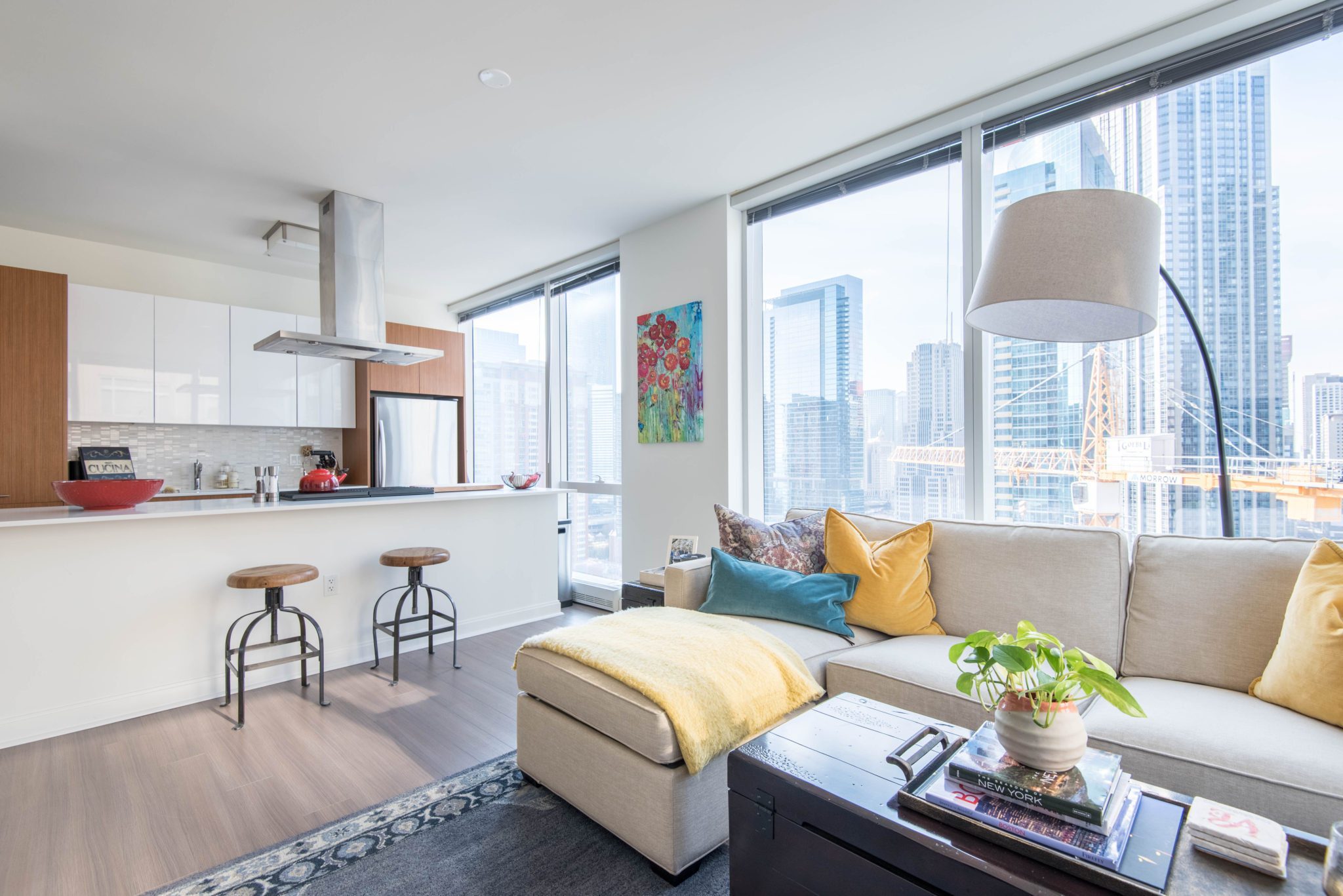 Nestled between the lake and Michigan Avenue, Streeterville offers a phenomenal location and wonderful neighborhood to call home. Find out what it's like to rent in Streeterville, Chicago:
Living in Streeterville
If you're looking for a happening spot to reside, Streeterville does not disappoint. The lakefront neighborhood's abundance of premier high-rises, incredible shopping, and fantastic restaurants attract plenty of diverse residents and visitors alike.
Anywhere you chose to live in Streeterville guarantees proximity to an amplitude of activities, making the walkability of the area extremely impressive. Multiple bus and train routes serve the area for convenient public transportation.
What To Do in Streeterville
Located right along the Magnificent Mile, it's no surprise that Streeterville boasts some of the city's best shopping. Visit the abundance of designer stores and boutiques on Michigan Ave or stop into Water Tower Place, for an impressive indoor mall.
Spend a sunny day checking out Chicago's iconic Navy Pier. Here you can soak up a unique view of the city from the Centennial Wheel, enjoy a scenic river cruise, or wind down to live entertainment.
Take a stroll around Lake Shore Park where you'll find beautiful green space complete with tennis courts, a track, and playground.
After a busy day outside, treat yourself to a refreshing cocktail and yummy bites at Beatrix or indulge in some of the city's best deep dish at Gino's East original location.
Available Streeterville Apartments for $2,000/month
With so many living options in the area, renting in Streeterville Chicago may feel daunting. Thankfully we've narrowed down the perfect luxury living options in the neighborhood for the ideal price:
500 Lake Shore Apartments boast luxury living with every feature and finish. The entire property offers floor-to-ceiling windows for outstanding Chicago views, cellular reception enhancement, and pet-friendly apartments. Every unit includes gourmet kitchens with Snaidero cabinetry, top-of-the-line appliances and quartz counters, custom designer bathrooms, wide-plank wood flooring, in-unit washer/dryer and spacious closets. Select a convertible apartment, priced between $1,895 and $2,400 or a studio at $1,940 to $2,250 per month.
Atwater, located at 355 East Ohio Street, puts you right in the heart of Streeterville. Along with an incredible location, the property features extensive amenities at Club 355 with a fitness center, media center, and outdoor pool with a sun deck. Spacious studios run from $1,855 to $1,953 while one-bedrooms start at $2,111. All units have been recently renovated and offer high-end features, expansive views, stainless steel appliances, and in-unit washer/dryer. Custom incentive packages are now available for select apartments.
Find your new home new Lake Michigan and explore listings for Streeterville apartments by clicking the button below.
Pricing and availability are subject to change. This was pricing as of May 31st, 2018 when this post was originally published. Contact Luxury Living Chicago Realty for real-time information.
Follow Us on Social
Apartment Experts
Spend less time apartment hunting, and more time living. Luxury Living is a complimentary service to make your apartment search easier, and even fun. Whether you're new to the city or simply in need of a change, we are here to help.