The 7 Neighborhoods of Downtown Chicago
January 6, 2020 | By Lauren Bozarth
Reading Time: 3 Minutes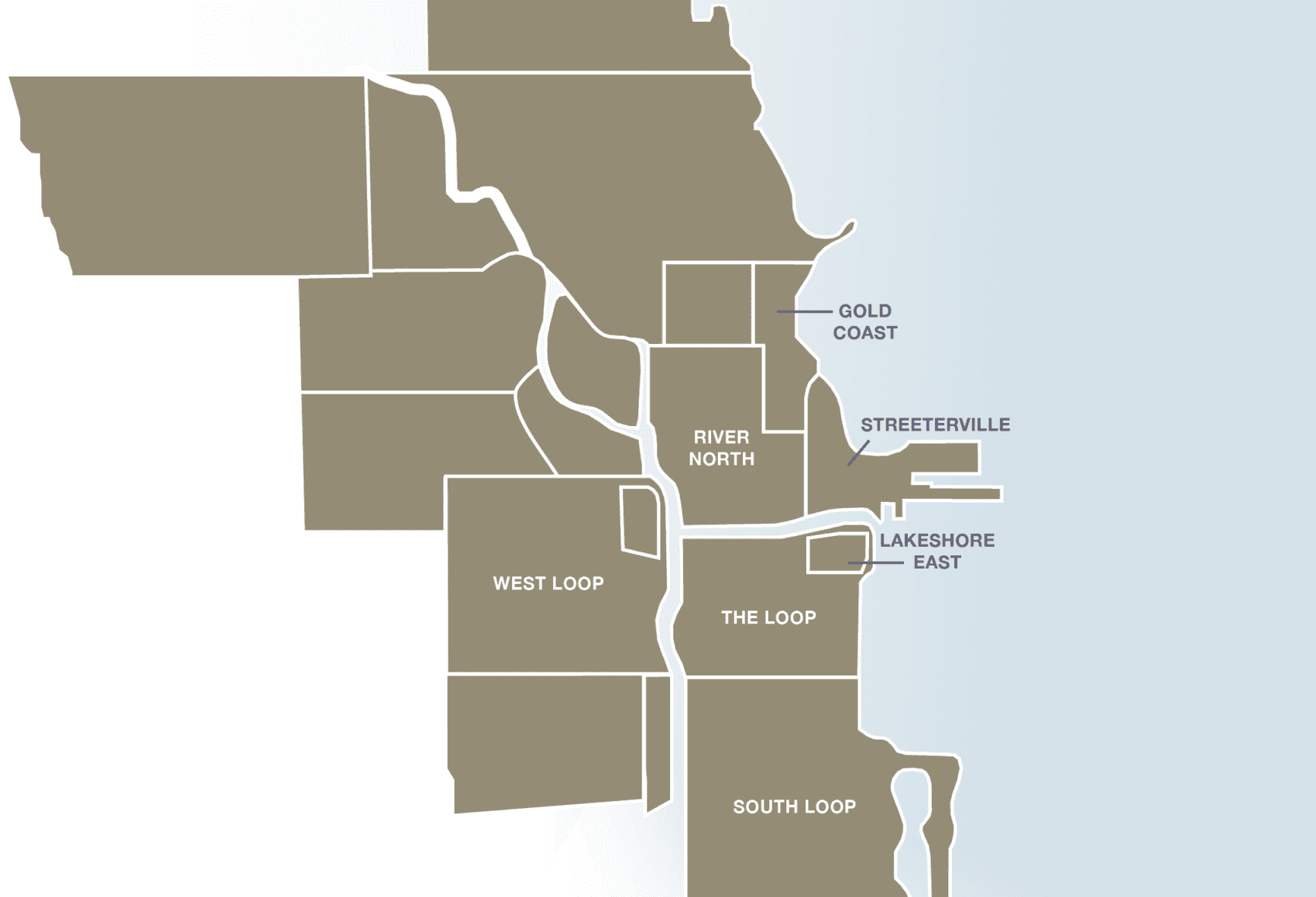 A question we're often asked is "what neighborhoods make up downtown Chicago?"
Chicago is an ever-growing hub of business, nightlife, and world-class dining, so it can be easy to lose track of which neighborhoods encompass the downtown Chicago area.
Home to many popular attractions such as the Magnificent Mile, Millennium Park, and The Art Institute of Chicago, the perks of living in downtown Chicago are endless. With easy public transit and endless opportunities, these downtown Chicago neighborhoods are some of the best places to fully experience the city.
Since we're frequently asked what it's like to live in each of the downtown Chicago neighborhoods, we've provided some key features to consider. Are you thinking about calling downtown Chicago your new home? Get more details about each neighborhood by exploring below.
River North
Chicago's fastest-growing neighborhood is ideal for keeping a social and professional life in close proximity. River North is home to world-class dining and nightlife as well as the gallery, design, and apparel district. Try pasta at Siena Tavern, and then stop by the trendy Three Dots and a Dash for a post-meal specialty tiki cocktail.
Gold Coast
Gold Coast apartments have one of Chicago's most popular downtown locations. Nearly every attraction is within walking distance of these established luxury homes, from premium shops along Michigan Avenue to award-winning restaurants on Rush Street. Take a stroll along the Lakeshore Path or enjoy live entertainment at Zebra Lounge, the neighborhood's historic piano bar.
Streeterville
Nestled between the lake and Michigan Avenue, Streeterville apartments are located in some of the newest luxury buildings.  Boasting premier attractions and conveniences, including weekly firework displays at Navy Pier, gourmet grocery stores, and downtown's most popular movie theater and entertainment complex, Streeterville is perfect for quiet weeknights and lively weekends. Grab a homestyle Italian meal at Volare or happy hour cocktails at Drumbar.
Lakeshore East
Lakeshore East is Chicago's hidden gem, tucked away where the river meets the lake. The perfect neighborhood for those looking for a little peace and quiet in a relaxed urban setting, Lakeshore East includes the beautiful Lakeshore East Park as well as great dining, cultural, and entertainment opportunities. Try Chicago Cut for an upscale steakhouse or spice it up at Mezcalina Mexican Restaurant.
The Loop
Once known only for its business district, the Loop has quickly become home to brand new Chicago apartments and condos. Just steps away from the Chicago Merchandise Mart, the Chicago Theatre, and Millennium Park, apartments in the Loop are the perfect place for busy professionals. Switch up your morning routine with a cupcake and coffee from Magnolia Bakery and try out new cuisines for dinner at Revival Food Hall.
West Loop
Industrial meets chic in West Loop. Offering luxury living in a dynamic and rapidly growing neighborhood, the West Loop is home to some of Chicago's most popular and trendy restaurants, plus a blossoming gallery district. Explore Randolph Street (a.k.a. "Restaurant Row), dine on innovative small plates at Girl and The Goat, and sip champagne at RM Champagne.
South Loop
Just south of Chicago's business district and featuring some of the city's newest high rises is South Loop. With both Museum Park, the sprawling lakeside community, and the artistic, urban Printer's Row, living in South Loop provides the full Chicago experience. Take a stroll through the museum campus and end the night with drinks and karaoke at Brando's Speakeasy.
If you are in the market for a new Chicago apartment or condo and want to learn more about the neighborhoods in Chicago click the link below!

Follow Us on Social
Apartment Experts
Spend less time apartment hunting, and more time living. Luxury Living is a complimentary service to make your apartment search easier, and even fun. Whether you're new to the city or simply in need of a change, we are here to help.