The Benefits of Living in Apartments
December 9, 2019 | By Luxury Living Chicago Team
Reading Time: 4 Minutes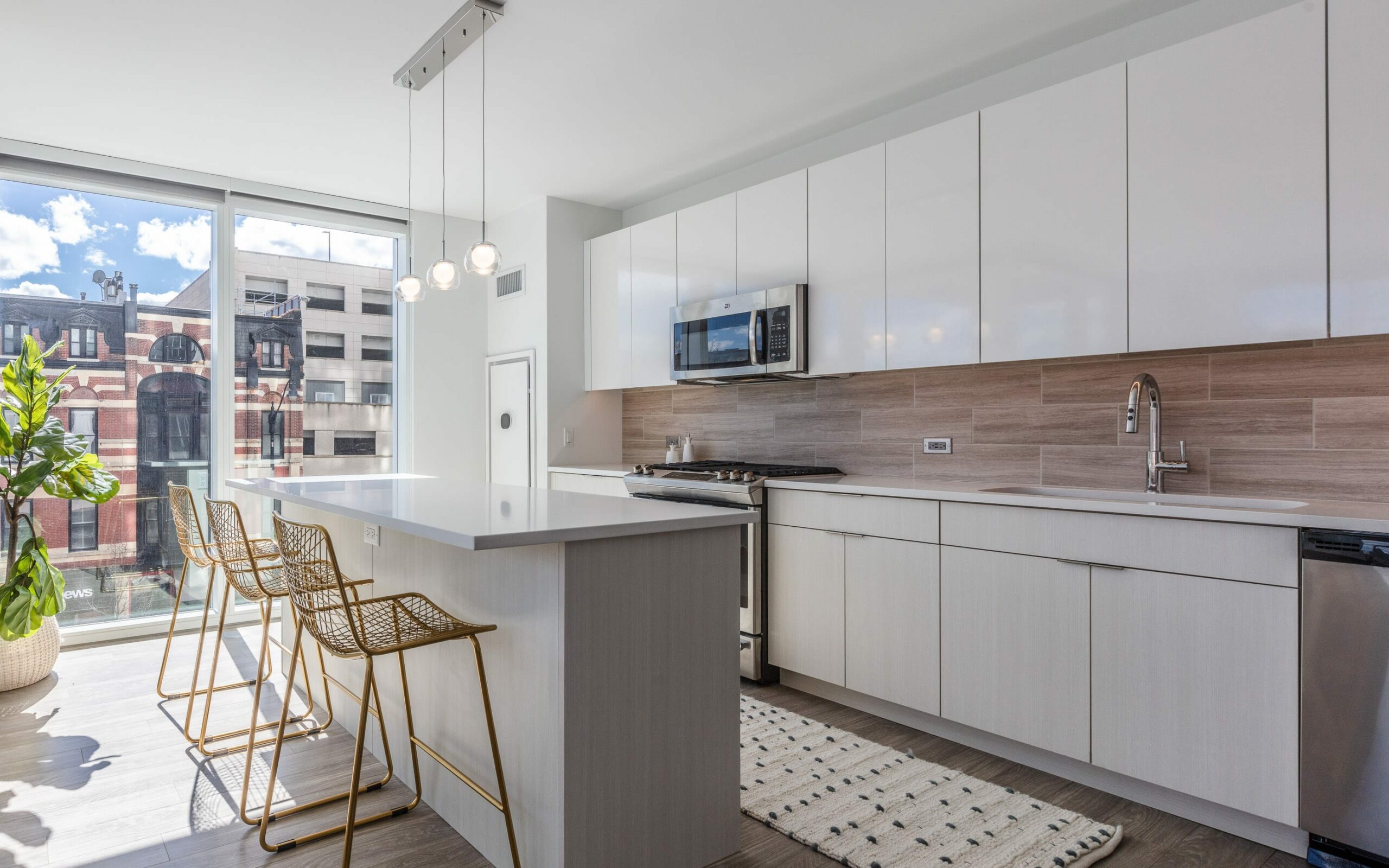 Apartment rentals are a popular living option for many people, especially city dwellers.
This living arrangement allows people to take full advantage of the urban culture and convenience.
Discover some of the other unique benefits of living in an apartment that homeowners may not get to experience.
Low Maintenance
The easy maintenance of apartment living is easily one of the most considerable incentives for current and prospective residents.
Imagine not having to worry about mowing the lawn or pulling weeds, but still getting to enjoy a beautiful landscape when you return home? Or imagine not having to deal with shoveling snow after a big storm?
When renting an apartment, property management shoulders a wide range of services that generally fall on homeowners.
Apartment maintenance typically includes services such as plumbing, HVAC, appliance repair, security, groundskeeping, and pest control.
When you run into a maintenance problem, all you have to do is relay the information to property management, who most likely will have a handy-man on site to promptly resolve the issue.
Flexibility
If you are not quite ready for a long-term move or commitment, then renting an apartment may make more sense. This type of housing arrangement provides greater flexibility and alleviates some of the pressure to stay put.
Many apartment leases are relatively short-term- generally between six months and year. This is a huge incentive for prospective residents who still don't know what their future holds and would prefer a shorter time commitment.
Some apartments allow tenants to break their lease early or find someone to sublet the unit for the remainder of the lease. These options offer relief if residents find themselves with an unexpected need to move.
Once people do move out of an apartment at the end of their lease, they don't have to worry about finding a new tenant.
Otherwise, if tenants do decide they're not ready to leave after their lease is up, resigning a property lease is often an easy option.
Homeowners, on the other hand, don't have the same ease when it comes to moving. If they're ready to leave, owners are responsible for selling their property before finding a new place. This process can end up being much more extensive and costly than leaving a rental apartment.
Amenities
Amenities may be one of the most exciting luxuries of apartment living.
Many apartment communities provide tenants access to desirable shared facilities, including resort-style pools, rooftops, gyms and yoga studios, lounges, parks, and more.
Some apartments also provide unique services such as valet, room service, and dry cleaning.
Amenities can save residents from the hassle and money involved in finding these included spaces and services outside of their apartment.
Financial Advantages
Not only can amenities save tenants money, but there are other ways that apartment living can help cut costs.
Generally, when you move into an apartment, the only expenses you're responsible for is monthly rent and possibly utility bills.
Many apartments may also offer controlled utility bills as an added convenience for residents.
You don't have to worry about additional costs that many property owners may incur, such as down payment, appraisal fees, inspection and closing costs, and HOA fees.
While tenants leasing an apartment may still pay renter's insurance, these monthly dues are often much cheaper than those of homeowners.
Convenience
Apartments typically place residents within easy access to everything they may need. If you live in an apartment, chances are you're within walking distance of restaurants, grocery shops, schools, and other popular spots in the area.
Additionally, Chicago apartments are often centered near public transportation options, making travel more convenient.
For those who have cars, private parking in apartments can also make getting around easier for residents. Many properties offer either private garages or lots for tenants to park, providing an extra level of security and alleviating some of the stress big-city drivers may face.
It's also common for apartments to provide guest parking spaces, making it easy for people to visit or stay the night.
Sense of Community
Apartment living offers an excellent opportunity to gain a sense of community.
Residents are in closer proximity to each other than when living in stand-alone properties. This may mean more chances to interact and meet those around you.
Taking advantage of the shared amenities is also a great way to get to know other residents in your building.
Many apartment residences host annual community events, such as meet and greets or holiday parties
Extra Security
Many luxury apartments have several safety measures in place to ensure tenant's safety, at no extra cost.
There are often 24/7 surveillance cameras outside of the property, as well as throughout the common areas of the apartment, including hallways and stairwells.
Many apartment residences will staff a security guard or doorman to monitor who enters the building and what goes on in the common areas.
Neighbors can also help keep an eye out for any out-of-the-ordinary occurrences.
LLCR Offerings
Luxury Living Chicago Realty offers unique luxury apartment options in the Chicago area.
Whether you're looking for an apartment in the heart of the Windy City, or you'd prefer a bit more peace and quiet, our brokerage features an array of premier properties throughout the eclectic Chicago neighborhoods.
If you're interested in taking advantage of the benefits of apartment living, browse our current listings online or connect with one of our experienced team members today!
Follow Us on Social
Apartment Experts
Spend less time apartment hunting, and more time living. Luxury Living is a complimentary service to make your apartment search easier, and even fun. Whether you're new to the city or simply in need of a change, we are here to help.