Your Guide to Staying at Home in a Chicago Apartment
January 21, 2021 | By Lindsay Smith
Reading Time: 6 Minutes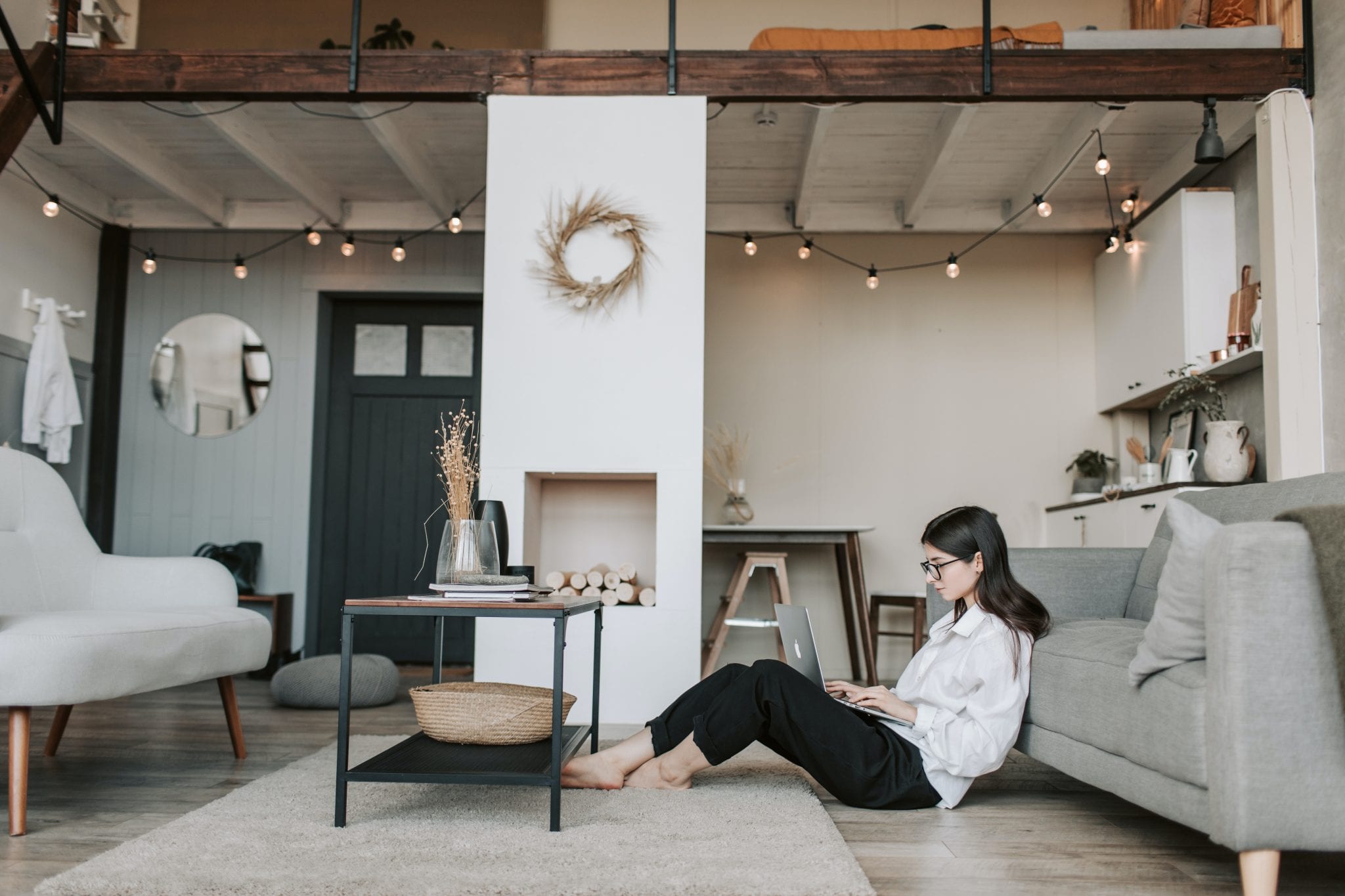 There's no doubt that COVID-19 has made an impact on all of us, as the shift to home-based living has been more apparent than ever. We've created a guide to help you navigate the transitions for living and working at home in a Chicago apartment — during COVID-19 and beyond.
Living at Home
This past year has dramatically shifted the way we go about our day-to-day activities, from working at home to keeping up with your home fitness routine and everything in between. Thankfully, there are still many things to do during your time at home.
Moving During the Pandemic
If you're wondering if you can still move during the pandemic, you've come to the right place. The real estate world has shifted dramatically since March of 2020, but some of it for the better.
With the shift to a more remote way of doing things came new advancements and opportunities to the way renters explore apartments. This online shift has made remote tours an option, which has allowed renters to explore apartments from the comfort of their own home. Since the pandemic, there have also been various other newly implemented types of tours such as self-guided and socially-distanced in-person tours with safety precautions in place.
For more information on moving during COVID-19, check out our blog about everything you need to know about moving during the pandemic.
Apartment Re-Decoration
Spending more time at home comes with wanting to create an aesthetic home-base for you to live, work, and play all day.
Before looking to re-decorate and design your space, consider creating a mood board of your ideal style and what pieces reflect your personality. Are you into the neutral minimalist aesthetic, or the cozy eclectic vibes, or even the sophisticated modern look? From there, take note of the furniture and decor pieces you already have and see where you can repurpose them in different spots. After you've repositioned your current items where you like them, then it's time to find those new pieces and get to decorating.
If your apartment needs a big overhaul but you have no idea where to start, you may find yourself asking should I hire an interior designer for my apartment? And the answer is yes! Working with a designer when you don't know where to turn can actually end up saving you money and headaches by not running into issues like ordering a couch that doesn't fit or choosing the wrong pattern on a non-returnable chair.
For more information on designing and decorating your apartment, head over to our blog for tips on how to make your apartment your own, our 3 top tips for apartment bathroom decorating, 8 of the best bedroom decorating ideas, and 3 different living room decorating tips.
Staying Fit
Staying fit at home is not as easy as it sounds. From the lack of motivation of not being in a group class setting to missing the change of scenery at a gym, keeping up your workout routine has been a major challenge for all of us. Thankfully though since the pandemic, the fitness world has accommodated all things life at home.
Amping up your daily movement while staying at home could be as simple as taking a break every few hours to go on a 5-10 minute walk around the house, playing with a pet, or walking to a nearby coffee shop to grab a midday pick-me-up. In addition to the small movement breaks throughout the day, there are also various different ways for getting in your sweat sesh at home pre- or post-work. Weather permitting, get a breath of fresh air and take your treadmill runs outside. Relieve some stress with a YouTube yoga class. Crush a circuit workout you found on Pinterest. And if you really miss the group fitness classes, consider investing in a Peloton for on-demand classes and instructors to help you stay motivated.
Working at Home
Working from home is ever more apparent these days, so it's inevitable that you've created some sort of work-from-home zone and walked the fine line of work-life balance over these past few months.
Designing a Home Office
Whether you have a 2-bedroom apartment or are living in a studio, there are ways to create space for a home office.
Ideally, if you have the space for it, consider creating a workspace in your guest room or in another room that can serve as a dual-purpose space. Having a room where you can close a door is especially useful if you have a work-from-home co-worker or you're on meetings all day.
If you're working with limited space, creating a home office may take a little more creativity. First, take note of all the empty spaces in your home where you could possibly set up your workspace and then decide where you'd like to position it. If there's a small inlet in your living area, consider fitting a desk in there. If you have great window space, you could set up your desk in front of a window to soak in the natural light and give your eyes a break every now and then with some city views. And if you plan to put it up to a wall, consider finding a spot where you could create a gallery wall above it to help define the space.
For more information on designing your small-scale apartment and home office, head over to our blog about small space interior design trends and tips.
Work-Life Balance
Achieving a work-life balance is something most of us learned rather quickly this year. Here are just a few helpful tips when it comes to weaving together work and life.
Setting boundaries with coworkers, clients, and yourself is the number one priority when looking to achieve a work-life balance. Deciding on a set time to log off for the night not only lets you enjoy time off with family, but it also lets you get a few hours of mental clarity and relaxation so you start the next day with a clear head.
Another way to achieve work-life balance is to incorporate some form of self-care every day. This could be doing things you enjoy such as reading a book, practicing mediation, or getting in a workout. Taking time for yourself during off-work hours helps you focus and tune-in better when it's actually time to work.
It's also important to remember to take breaks throughout your day when working from home. When you were in the office, you had coffee breaks and small chit chat to break up your day. When working from home, you can lose sight of those smaller breaks that made the day more manageable. Consider carving out 5-10 minutes every few hours to take a stretch break, grab a cup of coffee, or chat with one of your new work-from-home coworkers.
Check out our blog post all about more ways on how you can achieve work-life balance.
Coworking Amenities
One thing you may miss about working in the office is getting a change of scenery for part of the day. And that's where coworking amenities come in.
Apartments across the city offer all kinds of work-friendly amenities such as quiet spaces for you to focus, closed-off rooms for group meetings, and common rooms with coffee-shop-level chit chat. From coworking studies and breakout rooms, to large conference rooms and resident lounges, luxury Chicago apartments were designed with your work-from-home needs in mind.
Ready to enhance your at-home lifestyle? Let our experienced team of leasing professionals show you around some luxury Chicago apartments made for live, work, and play at home.
Follow Us on Social
Apartment Experts
Spend less time apartment hunting, and more time living. Luxury Living is a complimentary service to make your apartment search easier, and even fun. Whether you're new to the city or simply in need of a change, we are here to help.