3 Apartment Bathroom Decorating Ideas
February 21, 2019 | By JD Eaton
Reading Time: 2 Minutes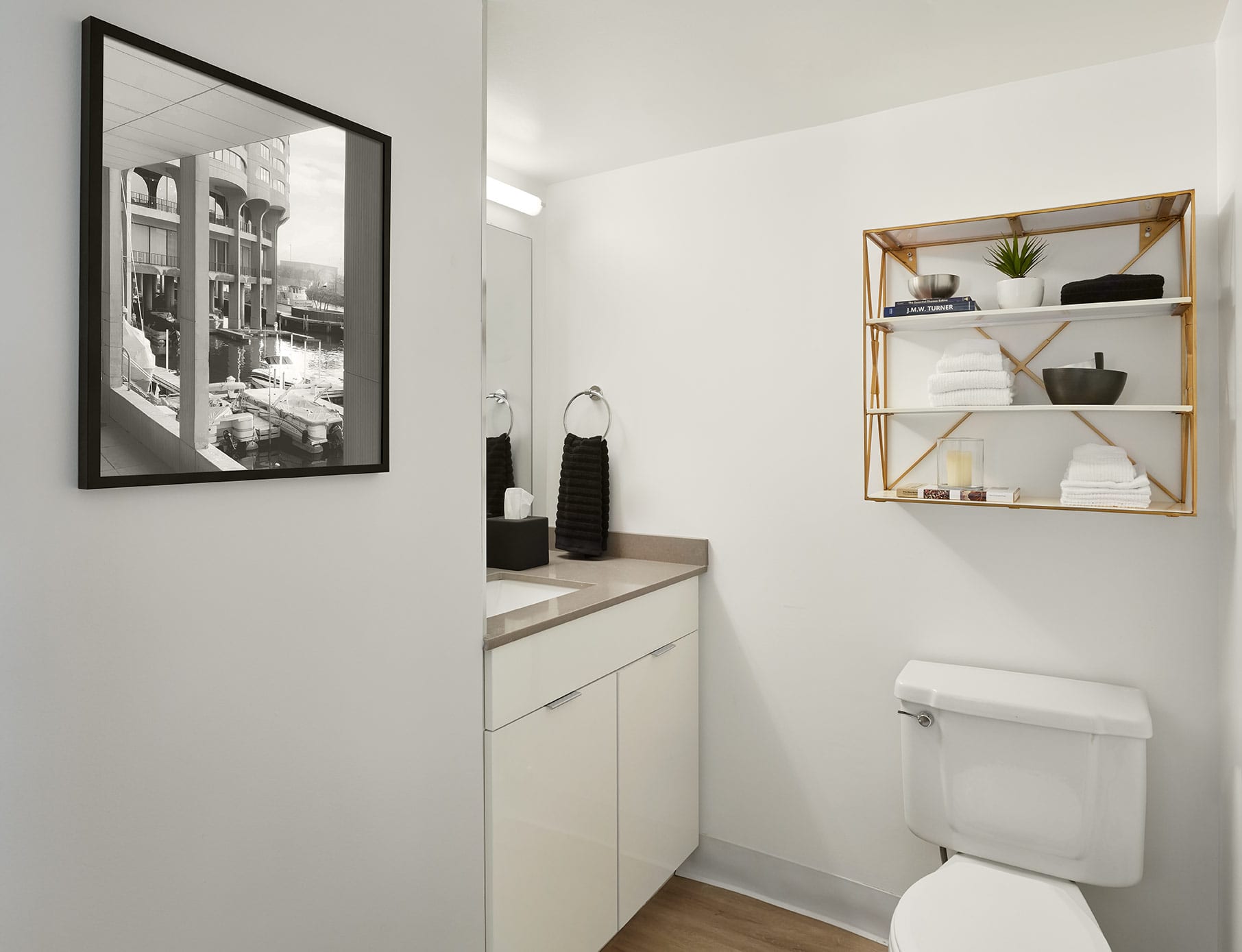 The smallest room in an apartment floor plan is often the most overlooked. Decorating the bathroom space in a rental apartment does come with limitations, but there are plenty of small or temporary changes you can make that deliver a big impact. We have 3 simple apartment bathroom ideas to create a refreshed aesthetic.
#1) Add Natural Elements
Devon Wegmen of Devon Grace Interiors suggests using natural elements. "A bathroom is usually a hard space without windows, so people don't want to bring in plants or things like that," she said. "We like to bring in wood elements and greenery, even if it's faux to break up the starkness of the tile, metal, and glass." If you're trying to decide what type of low-maintenance plant to buy, try a spider plant, mother-in-law's tongue, or aspidistra. Natural textures can be added with a woven rug, teak floor mat in the shower, or wooden frames for art on the wall.
#2) Utilize Temporary Products
Renters who aren't a fan of their bathroom's flooring or finishes will love the dramatic results delivered by removable products. There are countless peel and stick options for you to add wallpaper or cover up the floor with a temporary color or texture, such as temporary tiles or a cut-to-fit vinyl floor cloth covering. The same strategy can be applied for a peel and stick mirror frame and adding or layering over an existing backsplash, which all can be easily removed by applying heat from a hair dryer. Products like vinyl faux wood flooring are popular for renters and doesn't need any glue or nails for installation.
#3) Bring in a Pop of Color
Many luxury Chicago apartment bathrooms are sleek and modern, but don't be afraid to bring bold colors into the space. Just because bathroom mats need to have a nonslip backing doesn't mean it needs to look like a bath mat. Options that look more like miniature living room rug will add a stylish splash. If your apartment bathroom comes with an older shower stall, pick up a tension rod and add a colorful shower curtain in front of the door for a more pulled-together look. When choosing art for the bathroom, consider sculptures that won't be damaged by moisture or inexpensive pieces on canvas or without glass.
Whether or not bathroom elements are high on your apartment search list criteria, our team can help you find the perfect new home to make your own. From separate soaking tubs to double vanity sinks, our experienced brokers will match you with an apartment that checks off all of your bathroom priorities. Ready to get started? Click the link below to search listings.

Follow Us on Social
Apartment Experts
Spend less time apartment hunting, and more time living. Luxury Living is a complimentary service to make your apartment search easier, and even fun. Whether you're new to the city or simply in need of a change, we are here to help.