8 Apartment Bedroom Decorating Ideas
February 19, 2020 | By Luxury Living Chicago Team
Reading Time: 2 Minutes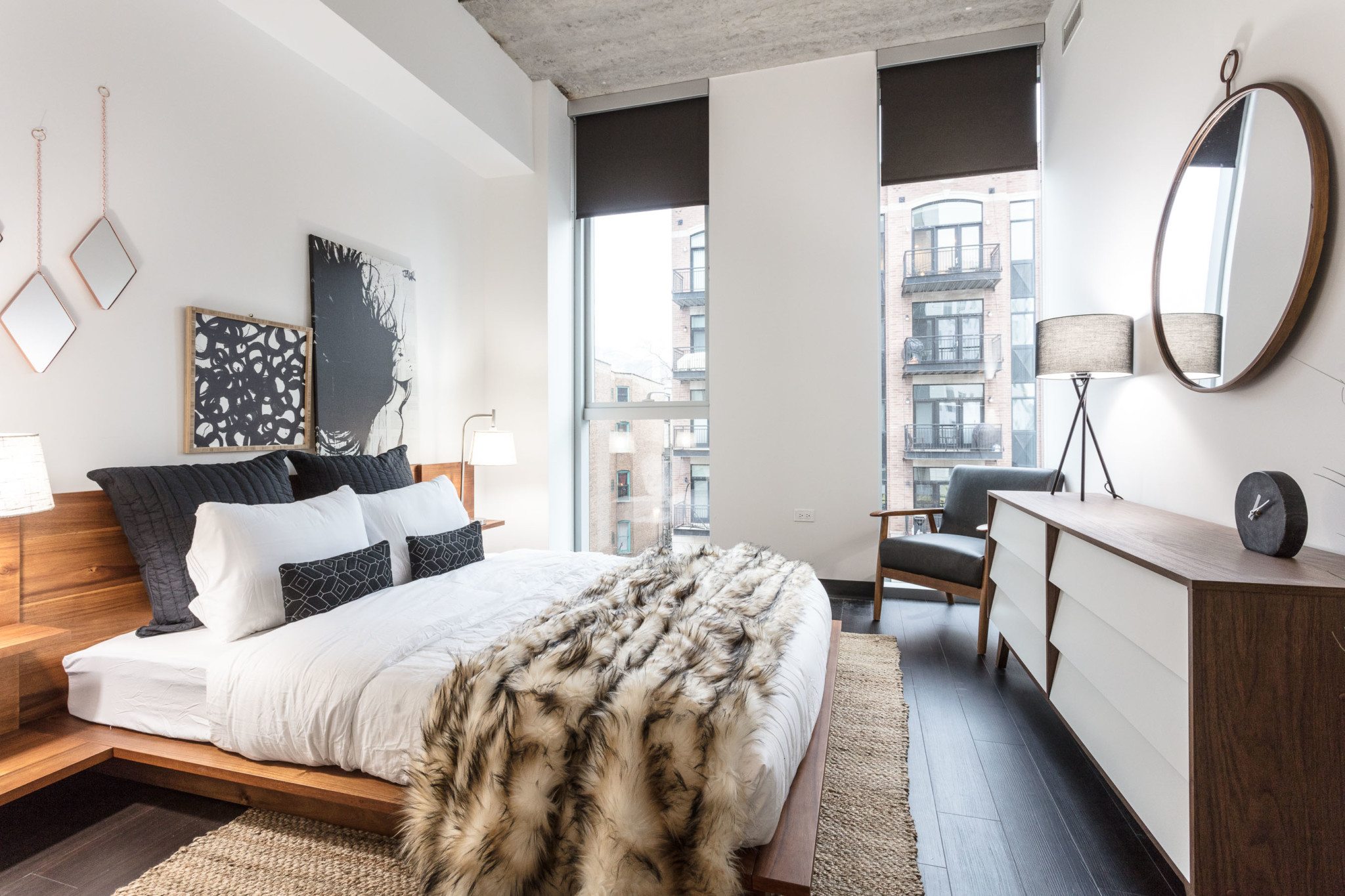 When decorating for apartment bedrooms, you'll want to create a serene space where you feel happy ending and starting every day. Some of the best decorated apartment bedrooms utilize these ideas and advice:
#1) Choose Soothing Textures
"For bedrooms, you want to create a calm presence," said Devon Wegmen of Devon Grace Interiors. "I try to bring in a lot of soft texture and not a lot of pattern. Textures should be soothing and calming." This can mean avoiding blankets and pillows with bold patterns and choosing tone-on-tone colors, to eliminate strong contrasts.
#2) Layer Lighting Options
Most Chicago apartments don't have built-in ceiling lights but include an outlet connected to the light switch by the door. That can be perfect for a floor lamp or nightstand light, and then you can add ambient lighting for flexibility between soft and bright lighting.
#3) Embrace Drapes
Not only will drapes help control the temperature, but the fabric can also soften your bedroom. The majority of downtown Chicago apartments feature built-in roller shades, most of which are black-out in the bedroom. This base allows for weight and style choices to create your perfect aesthetic.
#4) Make the Most of Your Nightstand
Living in an apartment with less space and small bedrooms can mean making the most of every inch. While it may seem counterintuitive, sizing up your nightstand to a small dresser allows you to utilize the top surface area and hidden storage room.
#5) Designate a Workspace
Most designers would advise against working in the bedroom, but it's often necessary when living in an apartment. Choose an area as far away from the bed as possible, where you can feel comfortable finishing work or checking email to keep your bed technology-free.
#6) Add a Cozy Rug
Many apartment buildings feature plank flooring throughout, which is beautiful and easy to clean but can feel harsh on your feet when getting out of bed in the morning. Find a soft rug that's stylish and timeless, so your feet can be gently greeted each new day.
#7) Find Your Throw Pillow Number
Your bed should include enough throw pillows to look lavish and inviting, but not so many that getting into bed requires a long removal routine. That number is usually somewhere between two to six, though it can depend on the size of your bed and bedding choices.
#8) Utilize Out of Sight Storage
Eliminate clutter and over-stuffed drawers by using the space under your bed. If the bed frame is too low, you can buy pieces to raise it up. Out of season clothing and other extra items can be packed into sealable bags or stackable tubs, then slid under the bed.
If you're ready for a new apartment in Chicago to decorate and call home this year, click the button below to browse listings and start exploring availability throughout the city.

Follow Us on Social
YOUR INSIDE LOOK AT WHAT'S NEW ON IG
View on Social
About Us
At Luxury Living, we define "luxury" as a quality of life. Luxury living may mean having a home-office with breathtaking views from your apartment's floor-to-ceiling windows, or being within walking distance to your favorite restaurants and activities. Whatever luxury means to you, let us help you find it.
Learn More
Contact Us