8 Technology Companies Headquartered in Chicago
October 28, 2021 | By Lindsay Smith
Reading Time: 5 Minutes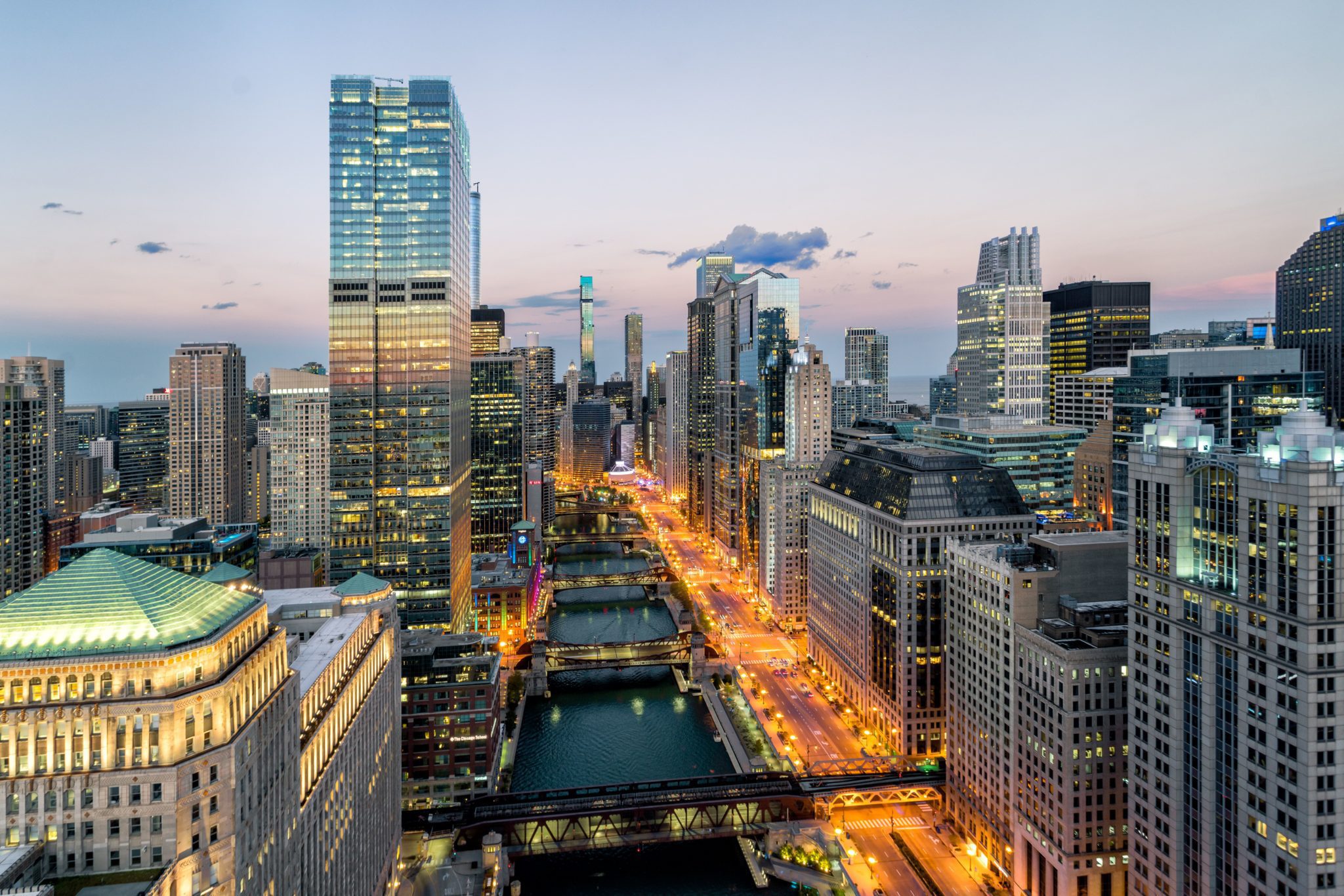 Chicago may be one of the best cities to find a tech job, as the city recently placed an increased focus on driving over 100,000 tech professionals to Chicago. The Windy City's recent tech momentum has been fueled by many local companies raising record amounts of venture capital, allowing startup staff and valuations to grow. According to World Business Chicago, 8 local tech startups reached "unicorn" status in 2021, an industry term for companies valued over $1 billion. Let's take a closer look at some of the top technology companies headquartered in Chicago.
8 Technology Companies Headquartered in Chicago
1 N Dearborn Street, Chicago IL 60602
After its founding in 2003, this customer experience automation platform opened their first office in Chicago's Loop, but years later migrated to a 52,000 square foot building in downtown Chicago to accommodate for its growing successes. Not to mention, the ActiveCampaign headquarters has an on-site barista, "Smoothie Mondays", shuffleboard, and foosball.
222 N LaSalle Street, Chicago IL 60601
Enabling growth for financial institutions, this digital technology company empowers multi-product omnichannel retail banking experiences with a robust point-of-sale financing suite. Amount professionals recently switched to a fully-remote work environment beginning in early 2020, but they still have office space along Chicago's scenic riverwalk in the Loop.
180 N LaSalle Street, Chicago IL 60610
Co-headquartered in Israel and Chicago, this cloud-based platform company automates supply chain technology, people, and providers. This global brand also reached "unicorn" status this year, achieving a $1B valuation. Tech professionals can work here and enjoy the Chicago river just a block away from their office in the Loop.
400 N Aberdeen Street, Chicago IL 60642
Cameo is another one of the top Chicago based companies in tech. This first-of-its-kind platform allows fans to request personalized video shoutouts from their favorite celebrities, influencers, and athletes. Located in Chicago's trendy West Loop neighborhood, this tech startup creates personalized fan connections across the globe.
125 S Clark Street, Chicago IL 60603
Enfusion offers software as a service (SaaS) for the investment management industry. Also valued at $1B, this booming technology company is situated in the heart of it all in Chicago's Loop neighborhood.
100 S Wacker Drive, Chicago Il 60606
This tech marketplace has quickly become the hub for businesses to discover, review, and manage technologies, and their growing company is shifting with them. Their new office right along the Chicago river in the Loop was designed with bold branding, colorful graphics, vibrant furnishings, vivid textures, and more.
222 W Merchandise Mart Plaza, Chicago IL 60654
Born in Chicago, this fast-growing tech hub provides an advanced supply chain visibility platform for shippers and third-party logistics firms. Project44 has 600+ customers including Starbucks, Amazon, and Walmart, and is headquartered in Chicago's bustling River North neighborhood.
120 N Racine Avenue, Chicago IL 60607
Situated in the heart of West Loop Chicago, this cloud-based global logistics platform was designed for small to medium sized businesses to connect to a network of fulfillment centers and supply chains. In 2018, they opened their largest fulfillment center to-date with 105,000 square feet of space to bring next-day and 2-day shipping to ecommerce businesses.
Luxury Apartments near Chicago's Technology Headquarters
If you're on the hunt for a new luxury apartment in Chicago next to some of the top technology headquarters, be sure to check out these apartments:
330 S Wells – These luxury apartments boast modern design and in-demand amenities including an outdoor rooftop lounge with fire pits and grills, fitness center with yoga studio, indoor sky lounge with demonstration kitchen, and more. Nestled in the heart of the Loop, 330 S Wells is a prime location next to several tech companies based in Chicago.
Parkline – 60 E Randolph – Offering high-class living with spacious bedrooms and elegant design, these boutique apartments offer close proximity to Gold Coast and Streeterville neighborhoods with jaw-dropping views overlooking Lake Michigan.
MILA – 201 N Garland Ave – At the northeast corner of the Loop, MILA luxury apartments offer floor-to-ceiling windows with amazing views of Michigan Avenue, as well as upscale amenities like a bocce ball court, fire pits, fitness center, catering kitchen, garage with valet, and maid and room service.
Wolf Point East – 313 W Wolf Point Plz – Offering unparalleled views of the river and city from your apartment and many of the amenities, these brilliantly-designed apartments boast an unbeatable location with state-of-the-art amenities including an outdoor pool and hot tub, golf simulator, business center, river gallery and lounge, dog run, sky lounge, and more.
AMLI 808 – 808 N Wells St – With over 4,500 sq. ft. of ground floor commercial space and exclusive resident-only amenities, these River North apartments are a fantastic pick for those looking to be in the heart of it all near some of the top technology start-ups.
369 Grand – Apartments at 369 Grand offer modern design and finishes including integrated appliances, soaker tubs, private balconies, and floor-to-ceiling windows framing incredible views of the city. These apartments are also within walking distance to many of the city's best restaurants, entertainment, and shopping hotspots.
The Jax – 1220 W Jackson – Weaving together modern design with a vibrant life in West Loop, The Jax offers studios to two-bedroom apartments with contemporary finishes, premium walkability, and modern amenities including a rooftop terrace, fitness center, and resident lounge.
AVRA – 1125 W Van Buren – These brand-new high rises offer spacious apartments with thoughtful finishes and state-of-the-art amenity spaces including a rooftop pool terrace, elegant residential lobby, and 1,800 sq. ft. of retail space.
Porte – 855 W Madison – Situated in the heart of West Loop, these luxury apartments offer studios to three-bedroom apartments and townhomes with sought-after amenities including a fitness center, game room, working spaces, outdoor deck with a pool and cabanas, and more.
330 S Wells
330 South Wells Street, Chicago, IL, USA
Parkline
60 East Randolph Street, Chicago, IL, USA
MILA
201 North Garland Court, Chicago, IL, USA
Wolf Point East
313 West Wolf Point Plaza, Chicago, IL, USA
AMLI 808
808 North Wells Street, Chicago, IL, USA
369 Grand
369 Grand, West Grand Avenue, Chicago, IL, USA
The Jax
1220 West Jackson Boulevard, Chicago, IL, USA
AVRA
1125 West Van Buren Street, Chicago, IL, USA
Porte
855 West Madison Street, Chicago, IL, USA
Whether you're relocating to Chicago for a new tech job or are interested in finding an apartment closer to work, the Luxury Living Chicago team is here to help. Download our helpful relocation guide by clicking the link below or contact our team to start your personalized apartment search.

Follow Us on Social
Apartment Experts
Spend less time apartment hunting, and more time living. Luxury Living is a complimentary service to make your apartment search easier, and even fun. Whether you're new to the city or simply in need of a change, we are here to help.