A Resident's Guide to Living in Lincoln Park
July 14, 2018 | By Erin Gallagher
Reading Time: 6 Minutes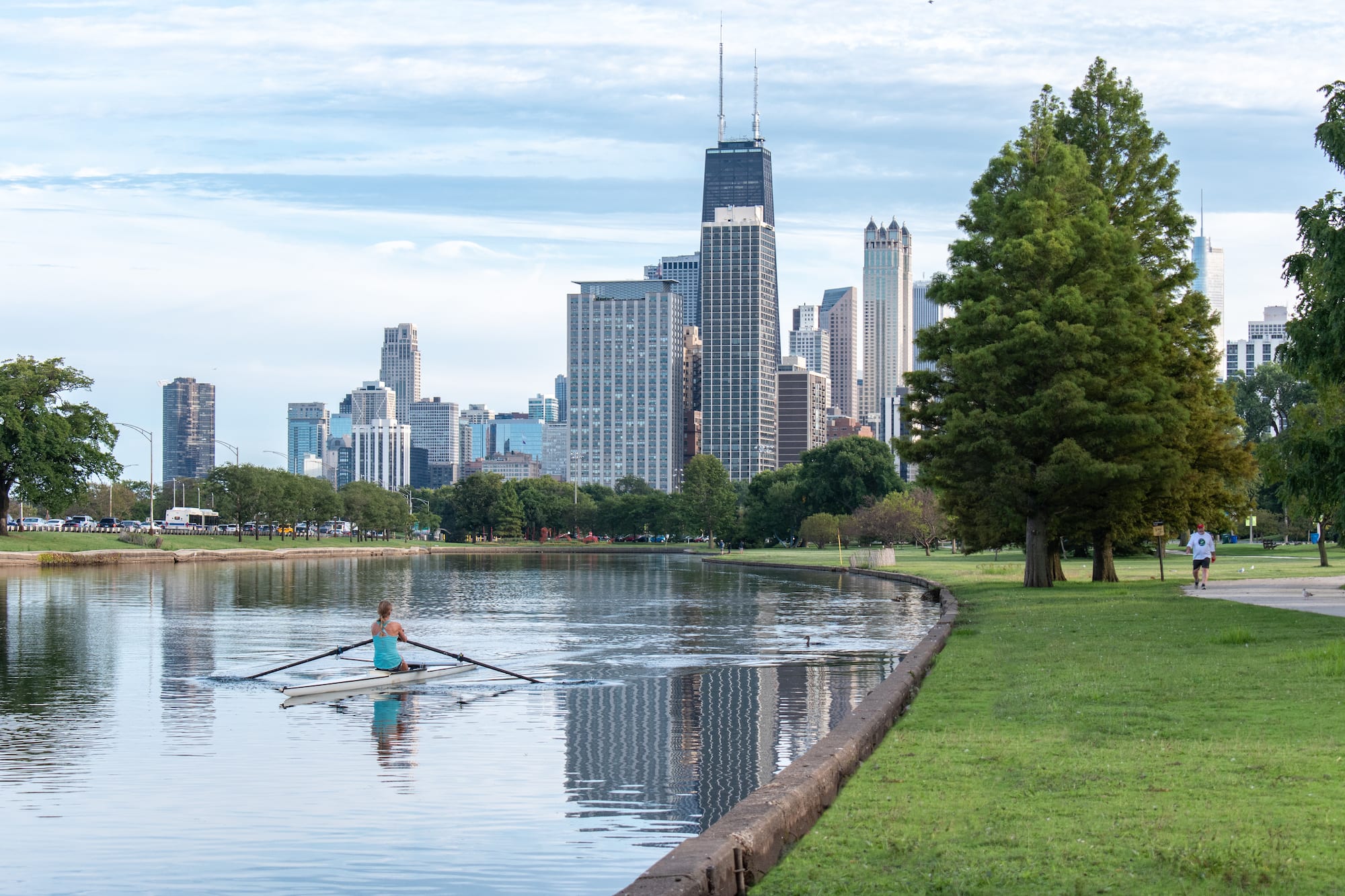 Situated north of downtown Chicago, the Lincoln Park neighborhood quietly sits along the shores of Lake Michigan. But don't let the hushed tone of this area fool you, Lincoln Park is Chicago's hub for some of the best dining, shopping, and entertainment. Here at Luxury Living Chicago Realty, we have compiled a resident's guide to the bustling Lincoln Park neighborhood.
Whether you're a resident of Lincoln Park, looking to move to the area, or just want to explore, planning your day in Lincoln Park can be exhaustive because of the array of activities present. Check out our guide for the best attractions in the Lincoln Park neighborhood and plan your next weekend!
Shopping 
In need of some retail therapy? Look no further than the Lincoln Park neighborhood. Start your afternoon off on Armitage Avenue where you'll find boutique stores that sell everything from homeware to high-end sneakers.
For the trend-setting man, head over to the Tie Bar for all things menswear. You'll be sure to make a statement from their collections of ties, cufflinks, pocket squares, belts, suspenders, and more.
Your next stop on Armitage should be Pogo Boutique. In the age of "shoe game", this creative concept store is a hidden gem for luxury sneakers. Check out the cool footwear collections from brands like Alexander McQueen, Nike, Adidas, Cotton Citizen, and more.
Finish up your shopping at Art Effect, a living Pinterest Board that is sure to fit your Instagram aesthetic. Here you can find products from S'well, Velvet, Lollia, and so much more. This boutique is your one-stop shop for gift giving!
For more shopping in Lincoln Park, check out our shopping guide (link).
Dining
The Lincoln Park neighborhood offers a diverse dining landscape that spans from cheap eats to fine dining.
Athenian Room offers cheap eats with a fine dining taste. It is said that when Tina Fey spent her days at Second City this was her favorite Chicago restaurant. We don't blame her as the vinegary Greek fries and the flaky spanakopita always have us coming back for more! Bring your dog and sit out on the patio or cool off inside this summer.
If you're looking fresh American flare, check out Summer House Santa Monica. The avocado toast with poached eggs, chicken and waffles, and fresh burrata are just a few of our favorites. The simple yet enchanting interior is the perfect setting to free your taste buds on some of this fresh fare. If Summer House Santa Monica has a wait or if you're in the mood for something heavier, check out Stella Barra Pizzeria, conveniently connected to Summer House. We love their extra thin pizzas, especially the Cacio e Pepe!
After having dinner, treat yourself to a dessert at one of Lincoln Park's delicious confectionary attractions. Head over to Floriole, a two-story bakery and cafe situated among an assortment of boutiques. Try their chocolate pudding or peanut butter and jelly cookies for a taste bud experience!
Another Lincoln Park staple for treats is Sweet Mandy B's. Indulge in some sweet eats while playing some classic board games. From cookies, to cakes, to brownies, there's just something about classic Sweet Mandy B's flavor that cannot be imitated or replicated.
Exploring
Besides the art of culinary, Lincoln Park also has a great selection of activities. There's nothing better than a summer day spent outside in the sun in this area!
You cannot do Lincoln Park without checking out the Lincoln Park Zoo. Open 365 days a year and completely free, this local zoo connects and educates the public on wildlife while providing the top level of animal care. In the winter, enjoy the Zoolights that illuminate the snowy zoo, making you forget all about the cold weather.
The North Avenue Beach is also a great option for a day in Lincoln Park. Lie in the sand, walk along the water or even jump off the iconic ledge lined with bright orange ladders at North Ave Beach this summer. You can also check out Castaways Bar and Grill for a mid-day snack and cocktail that is situated right on the beach.
What It's Like Living in Lincoln Park
From morning to night and no matter where you go, you will always be excited to return to Lincoln Park. Wake up in your luxury Lincoln Park apartment to the spanning views of the Chicago skyline. Mornings at ELEVATE luxury Lincoln Park apartments with a trip downstairs to the lobby level Starbucks machine. If you're looking for something different like a matcha latte, head outside and grab a finely crafted beverage from CityGrounds coffee bar. Finish off your morning by getting a quick workout at ELEVATE Lincoln Park's state-of-the-art fitness center.
If you find yourself needing to commute downtown, you're in luck as Lincoln Park located near several CTA lines. Residents at ELEVATE Lincoln Park are just a short walk to the Fullerton station which runs the Red, Purple, and Brown line. In just a 15-20 minute train ride, you'll find yourself downtown in no time!
Right after work, get your grocery shopping in at one of Lincoln Park's conveniently located markets. Well-known grocery store, Whole Foods, is located right next to the Fullerton station. Check out their extensive produce selection, baked goods, or grab a kombucha for the road. If you're looking to shake up your shopping routine, check out one of Lincoln Park's other unique super markets such as Treasure Island Foods or Green City market for a European market feel.
Lincoln Park Apartments
Your dream home is waiting for you in Lincoln Park. From eclectic shopping to fine dining to weekend activities, the neighborhood is not hard to love. You should feel the same way about your home. Check out these luxury Lincoln Park apartments and find your oasis.
Norweta is a Lincoln Park residential rental apartment development located at 2611 N Hermitage. The property offers a unique take on city living as it is part of an extremely luxurious development tucked away from the rest of the city.  Norweta features a courtyard and gardens, cozy fire pits, grilling areas, conference room, resort-style pool, 24-hour fitness center with on-demand virtual training, guest suite, sports court, climbing wall, solarium, hammock park, courtesy bikes, and underground parking
Two sleek towers house impeccably detailed residences, each with their own amenity spaces to offer an equally exceptional experience with individual style. Choose from luxury Studio, Jr. 1-bedroom, 1-bedroom, 2-bedroom, and 3-bedroom apartment homes and penthouses while enjoying elegant, modern features throughout. Building amenities include a fitness center and yoga studio, game room with arcade, shuffleboard and pool tables, sky lounge with entertainment kitchen, co-working lounge, rooftop pool, hot tub, sundeck, and dining area with seating and built-in grills, pet spa, and owner's lounge. What more could you be looking for?
At 2050 N. Clark in Lincoln Park, these new boutique apartments are now leasing for fall move-ins. Simplicity meets elegance in the luxury details and high-end finishes. Choose from spacious one, two, and three-bedroom floor plans that enhance every Lincoln Park life.
With only 53 apartments, residents will be treated to a one-of-a-kind living experience with private parking, penthouse units, and an amenity floor. The interiors are carefully thought out by Gary Lee Partners interior design and add an un-replicated touch.
Ready to explore living in Lincoln Park? Click the button below to browse luxury Lincoln Park apartments.
Follow Us on Social
Apartment Experts
Spend less time apartment hunting, and more time living. Luxury Living is a complimentary service to make your apartment search easier, and even fun. Whether you're new to the city or simply in need of a change, we are here to help.