Apartment Furnishing Ideas — Get Inspiration from Our Best Units
December 29, 2021 | By Lindsay Smith
Reading Time: 2 Minutes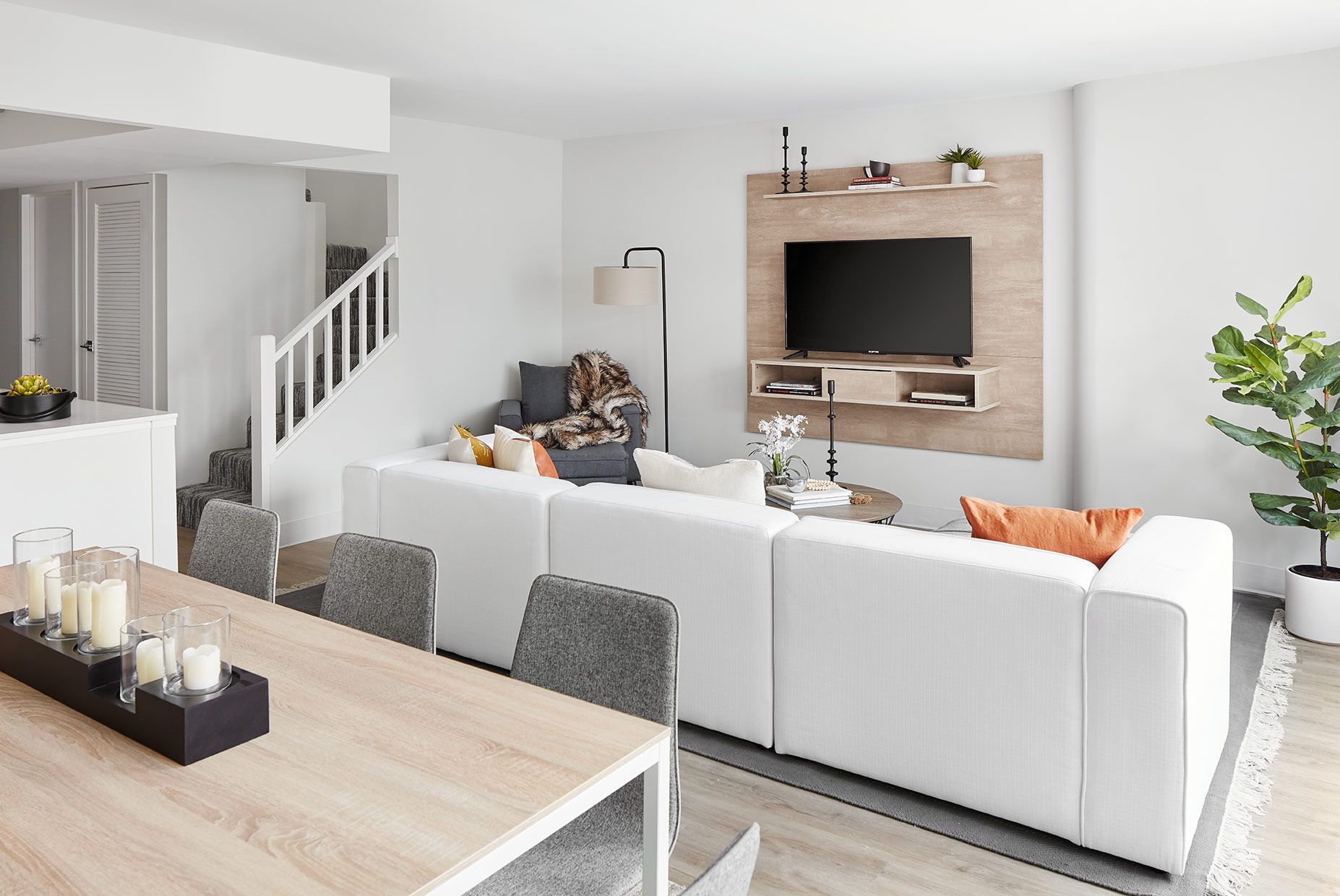 If you're on the hunt for a few apartment furnishing ideas, look no further than Chicago's staged luxury apartments.
Apartment Furnishing Ideas from Top Chicago Apartments
Beautifully designed by Devon Grace Interiors, River City got a complete facelift after their transition from condos to apartments. These South Loop apartments showcase brilliant apartment furnishing ideas for your own Chicago apartment.
Take a look at this living room for example. A sectional helps create ample seating for hosting and lounging, and also aids in creating a division of space between your living and dining areas. The floating media console is a fantastic idea if you're working with limited floor space. A cozy reading nook that also doubles as additional seating is a perfect addition to any home.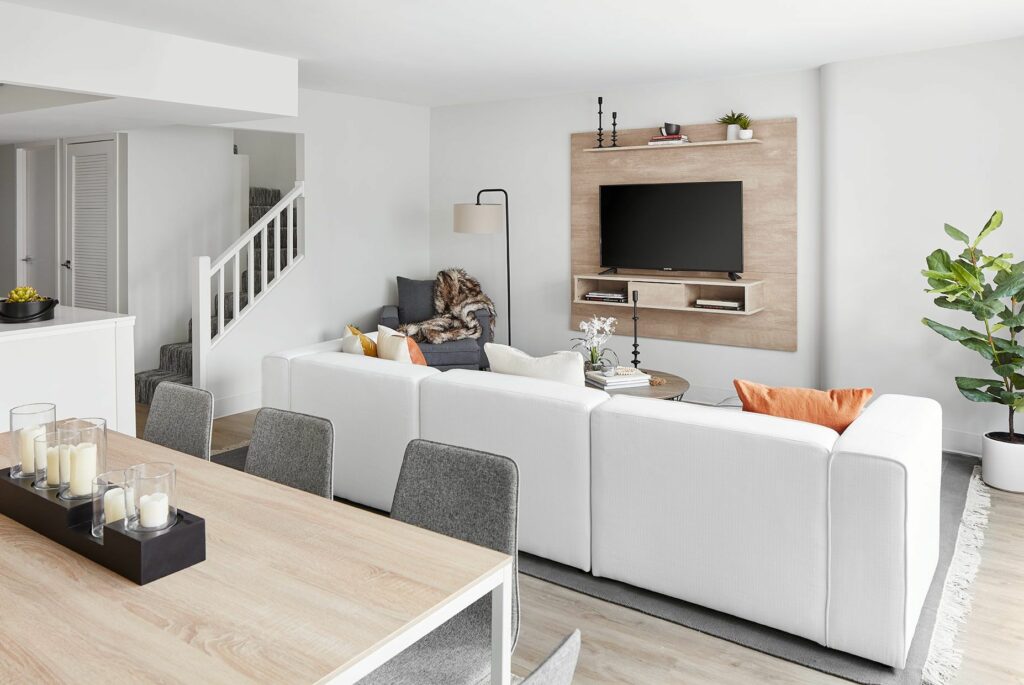 If you're on the hunt for some apartment furnishing inspiration for an apartment with floor-to-ceiling windows and views you just can't cover up, take note from this staged River North apartment – Wolf Point East.
When you have this many insane views, it's important to keep your furniture low so you can soak up as much of the cityscape and natural light as possible. Consider facing your sofa toward these views with a simple media console flanking right across from it. And if you're dealing with an awkward pole that you don't know what to do with, consider mounting your TV on it.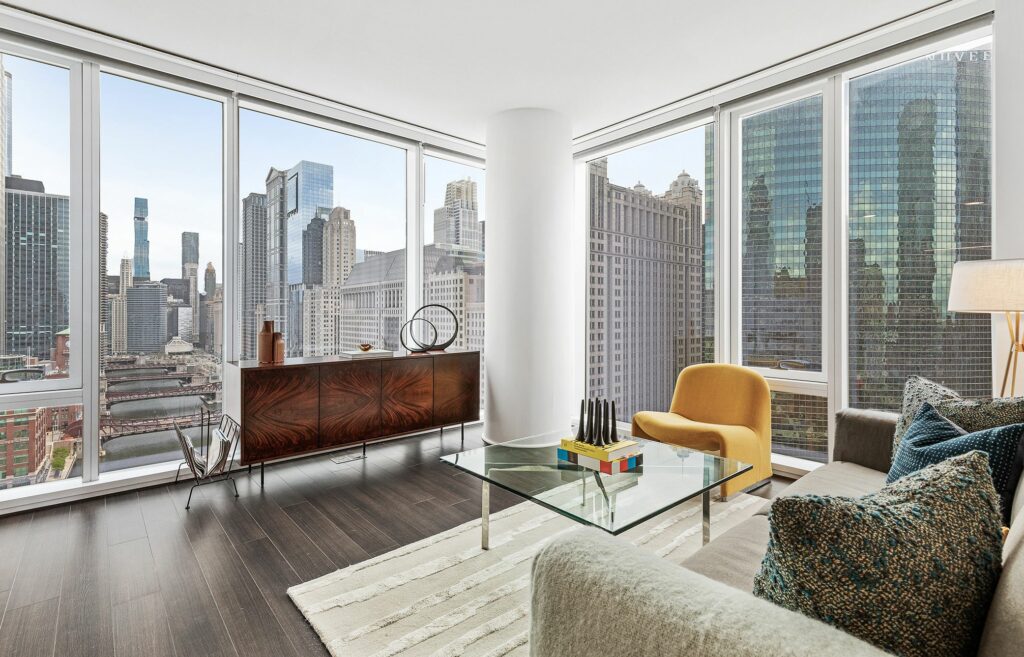 Need some small apartment furnishing ideas? Snag a few ideas from this convertible apartment at Panorama in Lakeview.
When you're living in a tight space, it's tough to fit everything you need in there. The key for small spaces is to stick with minimal furniture. Consider smaller sectionals, a bistro table for dining, and thin profile media console for your electronics. This stylish wardrobe acts as a divider for your space and serves as extra storage space for your clothes. Adding a large mirror helps reflect natural light in your space and makes your space feel larger, which is a must in a small space.
Now that you're well equipped with some inspiration and ideas from some of Chicago's staged apartments, it's time to get working on your own apartment. Reach out to the Luxury Living team today to explore more of these apartments or let us help you find a brand new apartment to furnish on your own.
Searching for more apartment furnishing ideas? Follow the link below!

Follow Us on Social
Apartment Experts
Spend less time apartment hunting, and more time living. Luxury Living is a complimentary service to make your apartment search easier, and even fun. Whether you're new to the city or simply in need of a change, we are here to help.