Best Brunches in Chicago
July 5, 2017 | By Hannah Amdur
Reading Time: 4 Minutes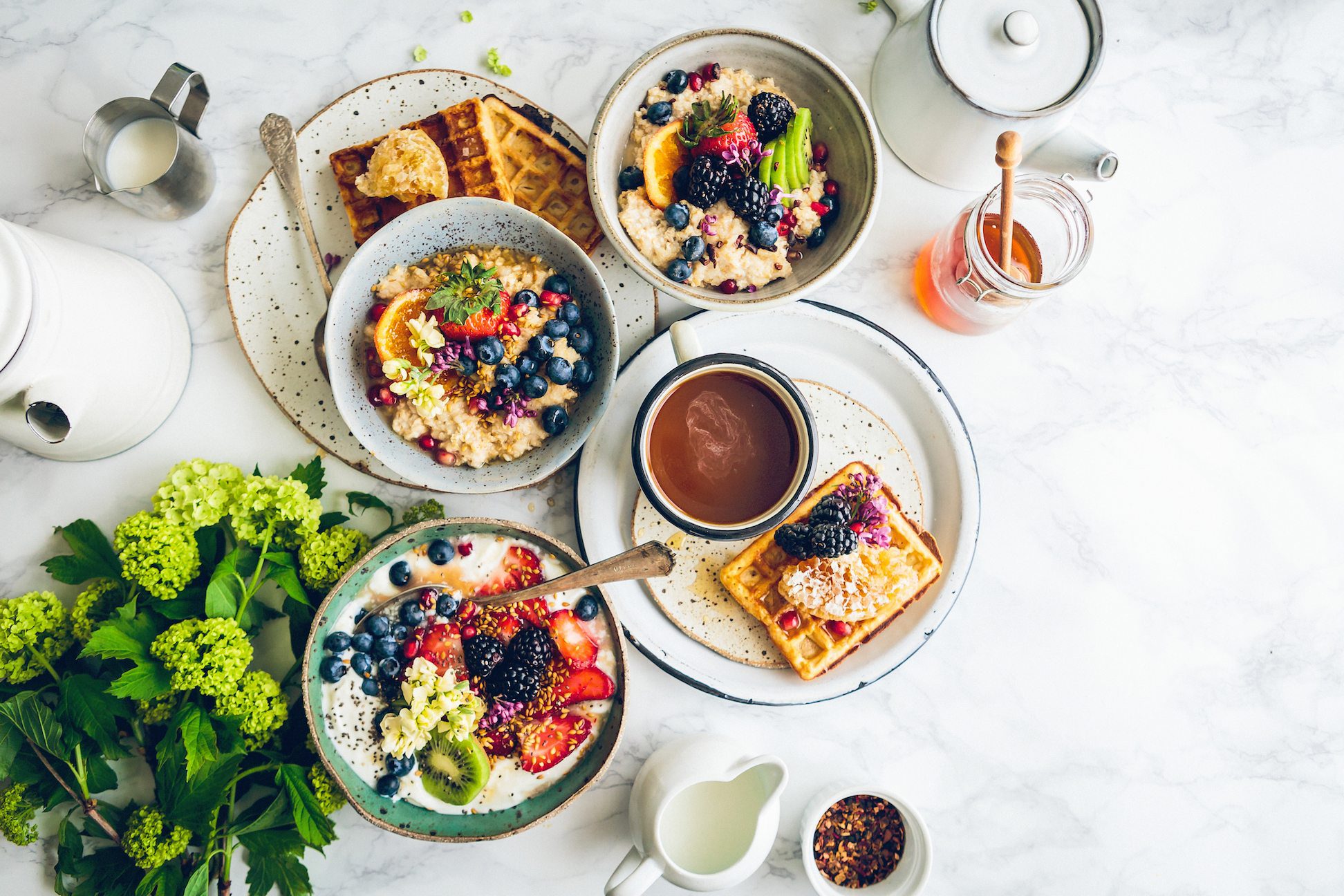 Brunch is arguably the most important meal during the weekends in Chicago. It's not a question of to brunch or not, it's a question of eggs benedict or waffles, iced coffee or mimosas. One of the best benefits of living in luxury Chicago apartments is the easy access to the best restaurants in Chicago, and more specifically the best brunches. We've rounded up five spots in Chicago that must be on your boozy brunch bucket list.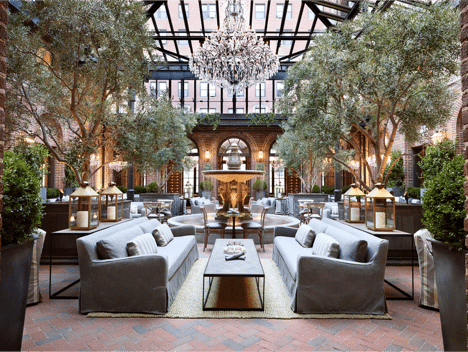 Throw on your Sunday best and head over to 3 Arts Club Cafe— the it destination in Chicago's brunch scene. Located inside Restoration Hardware's gorgeous Gold Coast flagship location, 3 Arts is very glam, hip, and happening. Although the menu is somewhat limited, if you want the most aesthetically pleasing brunch in Chicago, then 3 Arts is the spot .
Must Order: Snack on an ultra creamy RH scramble composed of farm Eggs, crème frâiche, avocado, chives and buttery Texas toast.For more of a lunch vibe, go for their delectable truffle grilled cheese made with house-made sourdough. Thirsty? If you're in the mood for a little bubbly, the RH Bellini is calling your name. Don't forget the (much) healthier Green No. 1 juice, made from fresh-pressed kale, spinach, cucumber, pear, and lime.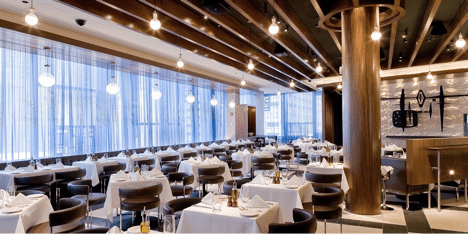 Freds is the penthouse restaurant in Barneys— the epitome of luxury and taste. The menu is divided into four sections: rosé, eggs, features, and brunch. So if you're a firm believer picking your rosé is as important as deciding between scrambled or sunny side up, then this is the place for you. Freds is very classy with a large dining space and quiet ambience— a blessing in the midst of chaotic Michigan Avenue.
Must Order: Freds is known for their breakfast style Margherita pizza with a baked egg on top, which many foodies claim to be the best pizza in Chicago. If you're on a health kick, sip on Fred's daily juice and have organic yogurt and gluten-free, house-made quinoa granola with mixed berries.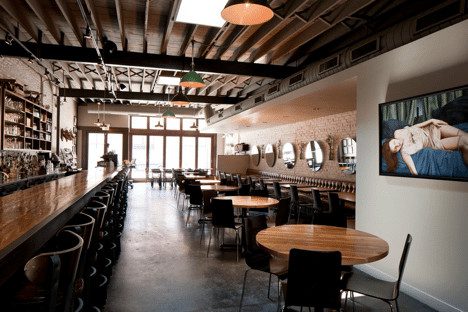 Mindy's Hot Chocolate is the Chicago spot for comfort food in the heart of Wicker Park. This hip space is decorated with rustic decor, and the entire front facing wall is a garage door that opens in the summer to virtually convert all seating to outdoor. If you're looking for a soul warming feel and stellar quality this is the place.
Must Order: Shocker… the hot chocolate! This hot chocolate is absolutely life changing, as it is rich and decadent but not too overbearing. Make sure to ask for an extra homemade marshmallow! The Caprese Avocado Toast is simply delicious with smashed avocado, sun gold tomatoes, mozzarella and a poached egg all on multigrain toast. The cinnamon sugar doughnuts will never disappoint, but to be honest nothing on the menu will let you down. The food quality is superb. The owner is a pastry chef and has been nominated for two James Beard awards.

Summerhouse basically teleports you to a beachy brunch in sunny Santa Monica. Located in Lincoln Park, Summerhouse is furnished with west coast beach house décor and boasts a gorgeous retractable glass ceiling. With a laid back L.A. vibe and baked goods to die for, Summerhouse should without a doubt be on your radar.
Must Order: The lemon cottage cheese pancakes are heavenly— airy flapjacks elevated with citrus, tenderized with cottage cheese, and topped with game-changing lemon curd. A trip to Summerhouse isn't complete without a stop at the bakery counter, which is filled with baked goods made fresh daily. Some of their most noteworthy goodies are the salted chocolate chip cookies, signature English muffins, and brown butter rice crispy treats. Mmm!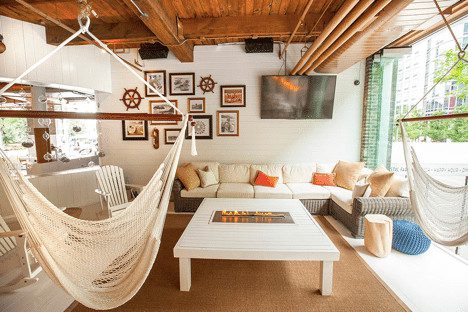 If you're longing for a weekend on the east coast, The Hampton Social on Hubbard Street is just what you need. Nautical white decor, oars, anchors, and a neon sign that reads "Rosé all day" graces this River North locale. Cozy up by the fire pit, lounge on comfy couches, or lay in hammocks by large glass windows which open up to Hubbard Street and let light pour in. Known for their seafood and rosé, if you're missing Montauk this boozy brunch will do the trick.
Must Order: One word… frosé: frozen rose blended with Titos. If you want to be more traditional, you can get a glass of their Rosé of the day, or be adventurous and try one of their specialty cocktails. Satisfy your sweet tooth with pretzel pancakes with a white chocolate glaze, or embrace the Hamptons with a crab benedict with spicy hollandaise.
When you try our go-to's, make sure to post a picture of your brunch on Instagram and tag us @luxurylivingchicago. Can't wait to see! If you love brunching outside, you'll love our list for best outdoor spaces in downtown Chicago.
Follow Us on Social
Apartment Experts
Spend less time apartment hunting, and more time living. Luxury Living is a complimentary service to make your apartment search easier, and even fun. Whether you're new to the city or simply in need of a change, we are here to help.