Celebrate Father's Day in Downtown Chicago
June 9, 2017 | By Luxury Living Chicago Team
Reading Time: 2 Minutes
Father's Day is just around the corner, have you made plans yet? From the best BBQ in the city, to spending the day by Lake Michigan, we've got the best ideas for celebrating Father's Day in downtown Chicago.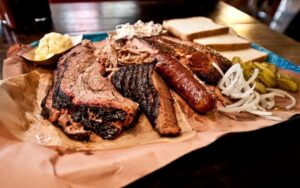 Take your father to a BBQ brunch with "Bloody Man-ly's" (complete with grilled shrimp, candied bacon, grilled cheese, fried pickles, hot links, olives, onion rings, and more) and "Man-mosas". Enjoy the Pork Belly with Grits or Smoked Brisket Hash while spending time with your old man.
If you want to fill your dad with beer and beef, look no further than the Bohemian House for lunch. The menu has a variety of hearty dishes including the Skirt Steak and Eggs, Smoked Trout Toast, and the Boho Burger.
Spend the day at the Bitter Pops brewery and learn how to brew one of the best IPA's around. The Northeastern- Style IPA was voted one of the best beers to enjoy this summer. Dinner will be catered by El Tapatio and your ticket includes two pints of your choice and a 4 pack of beers.
Head to Lottie's for an all-you-can-eat BBQ while watching the U.S. Open. Food includes BBQ, burgers, brats, mac n' cheese, and much more. You might even leave with one of the many raffle prizes.
If you already have brunch plans, spend the day on the lake paddleboarding or kayaking at Kayak Chicago's Lake Michigan or Chicago River locations. The company offers single and double kayaks, paddle boards and even electric boats if you would like to explore with your dad with the ease of an Electric Craig Cat. You can take a tour or go out on your own with this premier full-service company.
With so many options in the city, we hope you find the perfect way to celebrate your father. Whether you take him to brunch, the lake, or even a brewery, he will love getting the chance to spend the day with you in downtown Chicago. Have a Happy Father's Day!
For more ways to celebrate outside with your dad, click the link below for our pick of best outdoor spaces in downtown Chicago.
SaveSave
Follow Us on Social
Apartment Experts
Spend less time apartment hunting, and more time living. Luxury Living is a complimentary service to make your apartment search easier, and even fun. Whether you're new to the city or simply in need of a change, we are here to help.