Broker Round Table: EMME West Loop Luxury Apartments
November 20, 2017 | By Luxury Living Chicago Team
Reading Time: 3 Minutes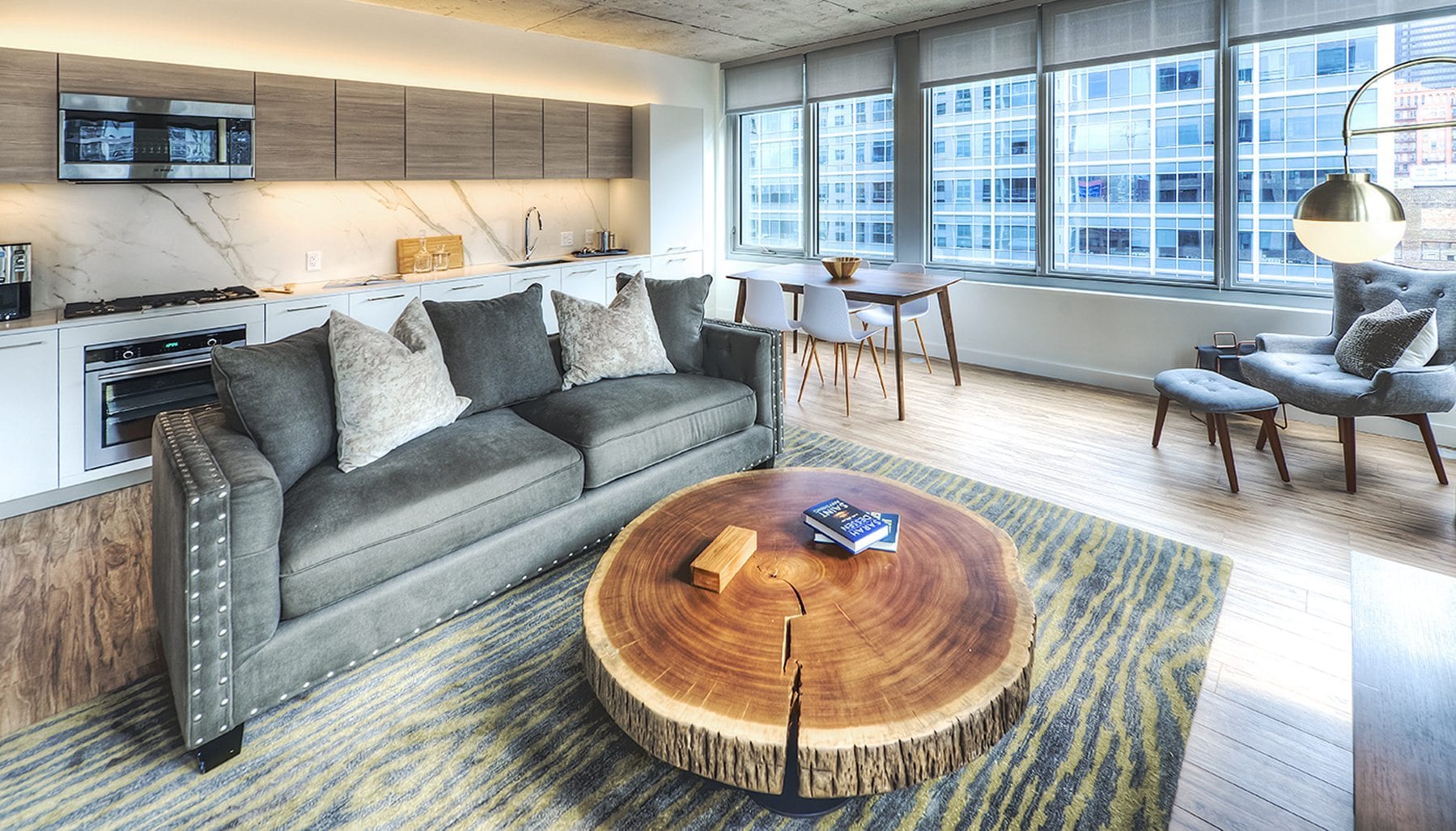 The Broker Round Table Series focuses on different luxury Chicago apartment properties in each post. The Luxury Living Chicago Realty team of proficient brokers has 85 years of combined experience in the downtown Chicago luxury apartment market. Since 2013, the team has rented 2500 apartments. The brokerage team provides best-in-class service for renters and buyers searching for a new home; each broker has a wealth of knowledge about every luxury property in downtown Chicago. The Broker Round Table series allows the team to play favorites and choose the best part of each edition's featured building.
EMME, 165 N Desplaines, is located in Chicago's West Loop neighborhood. 
The building has a strong focus on sustainable living that is driven by technology. EMME features many forward-thinking amenities including a rooftop urban farm with regular farmer's markets, workshops, and events for residents. The building also features co-working spaces, a library, a demonstration kitchen, an indoor/outdoor dog run, rooftop pool with cabanas, and a rooftop fitness center with a gorgeous yoga studio.
Emme West Loop apartment units feature Italian cabinetry and quartz counters, built-in Energy Star- rated appliances, stone vanities in the bathroom, engineered wood flooring throughout the apartment, Nest thermostats, and LED lighting throughout.
Here's what our brokers have to say about EMME: 
Sean Holland: From the color scheme in the hallways to the gentle apartment aesthetics and the rooftop garden, the building is all about zen. There's a lot of Chicago history related to the building site as well which gives it an extra dimension that other buildings don't have.
Travis Smith: What I am most excited for in EMME are the amenities. There is something for everyone! The building has a few different floors of community spaces. The rooftop has an outdoor pool and fitness center that overlook the city. The 3rd floor has some pretty unique features. There is an urban garden, outdoor terrace, demonstration kitchen and a couple of workstations. On top of all of these, the building being pet-friendly and has an indoor/outdoor dog run along with a wash station. EMME is going to be a great addition to the West Loop!
Jill Scott: Location, location, location. It's no secret the West Loop is booming, and EMME is the perfect addition to the trendy neighborhood.
Tristen Heimann:  EMME is Gerding Edlen's third building in Chicago. EMME balances contemporary progressive design with the cozy feeling of home.
Sam Kahn: Emme is the third Chicago building by the amazing developers Gerding Edlen. It brings amazing, high-end, luxury living to the West Loop at an affordable price. The units are all sleek/contemporary and is just steps from the desirable Randolph street.
Darrell Scott: EMME is a brand new building that has great natural daylight, well-lit hallways. There is a great use of space in the floor plans with an architecturally impressive lobby space. This features a glass skywalk, great use of materials and a beautiful piece of artwork imitating the sun.
If you are ready to learn more about EMME, click the link below.

Follow Us on Social
Apartment Experts
Spend less time apartment hunting, and more time living. Luxury Living is a complimentary service to make your apartment search easier, and even fun. Whether you're new to the city or simply in need of a change, we are here to help.