Tips and Tricks to Decorate Your Chicago Apartment
August 28, 2015 | By JD Eaton
Reading Time: 2 Minutes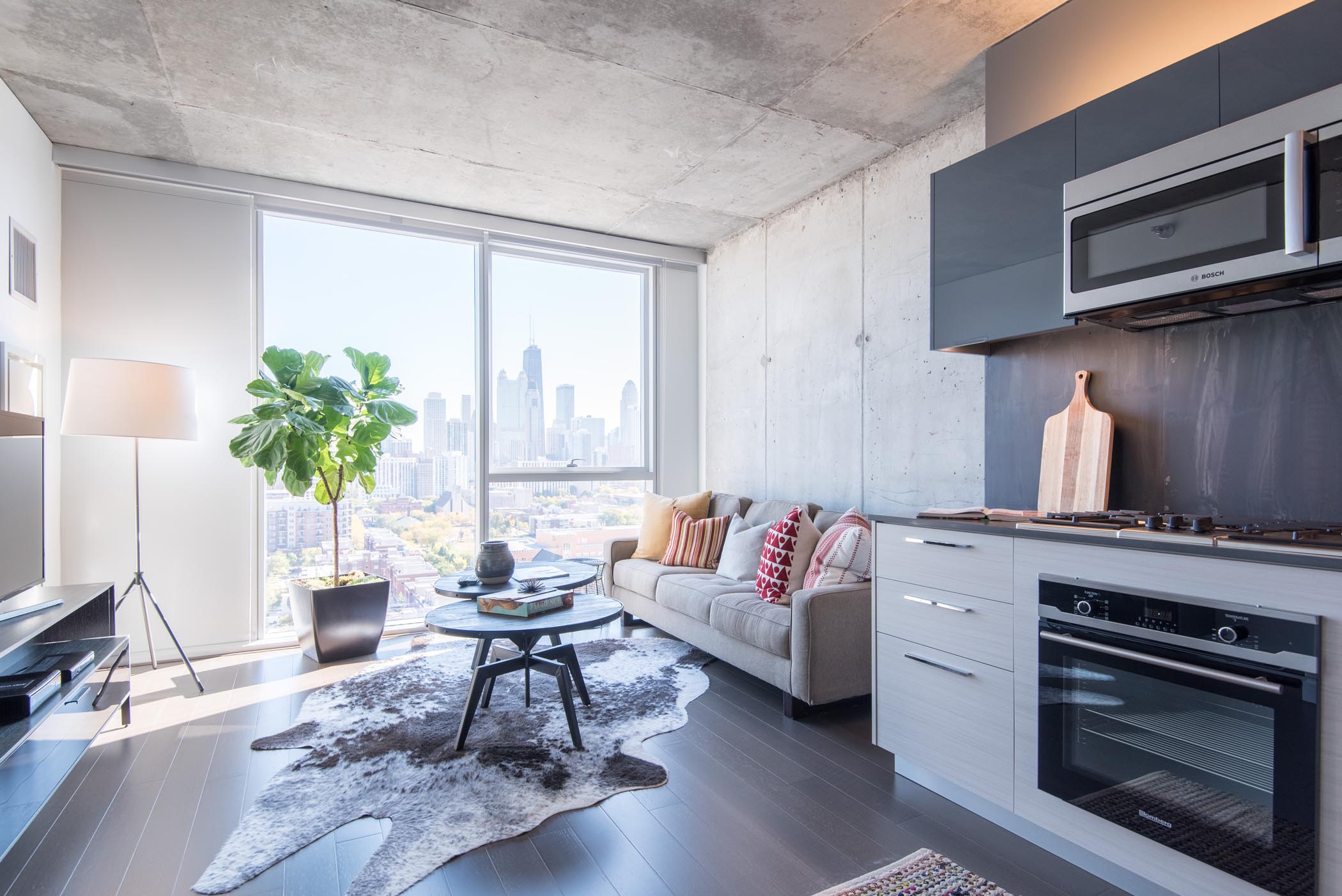 Once you've worked with Luxury Living Chicago to successfully find a new apartment in downtown Chicago, the next step can be more difficult. Arranging furniture and filling blank spaces doesn't need to be stressful.  Jill Casey, Account Executive, has some advice for decorating your luxury apartment with these four basic design hacks:
Create a Gallery
Transform your white rental walls with a personalized gallery wall. We all have pictures stored and waiting to be framed or displayed. Typically, the rule of thumb for hanging pictures is three inches separation. Rules can be bent for gallery walls, so don't limit yourself. Be creative! You can add art, posters, dimensional shelves, or mirrors to the mix of pictures. A gallery wall is the perfect way to epitomize your personality and make a statement.
Refresh
An inexpensive trick to consider is upgrading existing art. Often times art looks tired or aged simply due to the old frame or faded ugly mat. Reframing and rematting art is an inexpensive way to completely change the look. Consider lighter mats to really brighten the art. Or sometimes widening the mat can modernize the art as well. Don't waste good art, simply refurbish the look.
Brighten Up
Lighting, my personal favorite, is both decorative and functional! Lighting is important because it sets the initial mood to your apartment. A beautiful hardwired ceiling chandelier can make your new apartment the chicest on the block; however, it's not necessarily the easiest solution. I also suggest table and floor lamps. Table lamps and floor lamps illuminate dark space while also adding character and style. Pick the bold statement lamp and amplify the look of your apartment.
Add Color
Colored pillows or a well-patterned throw can be the perfect pop of color to your natural walls and furniture. Don't under estimate the power of small decorations to really brighten a room. In my opinion, having neutral furniture and relying on pillows or small accessories is the ideal situation. You're less likely to become bored of a neutral sofa than you are to become bored of a bold-patterned sofa. Instead, rely on pillows and throws for color. By replacing pillows you can change the design with the seasons, like a warm weather theme with sunny colors and a cold weather theme with velvet pillows and heavier throws. Also, when shopping for pillows and blankets don't overthink it. They're the easiest to switch and alter when you're in the mood for a new look!
Still looking for a new home to decorate? Contact Luxury Living Chicago today and let us find your next apartment in downtown Chicago, so you can focus on more important things- like throw pillows and gallery walls.





Follow Us on Social
YOUR INSIDE LOOK AT WHAT'S NEW ON IG
View on Social
About Us
At Luxury Living, we define "luxury" as a quality of life. Luxury living may mean having a home-office with breathtaking views from your apartment's floor-to-ceiling windows, or being within walking distance to your favorite restaurants and activities. Whatever luxury means to you, let us help you find it.
Learn More
Contact Us