Know Your Home: A Concise River North History
December 16, 2020 | By Lauren Bozarth
Reading Time: 3 Minutes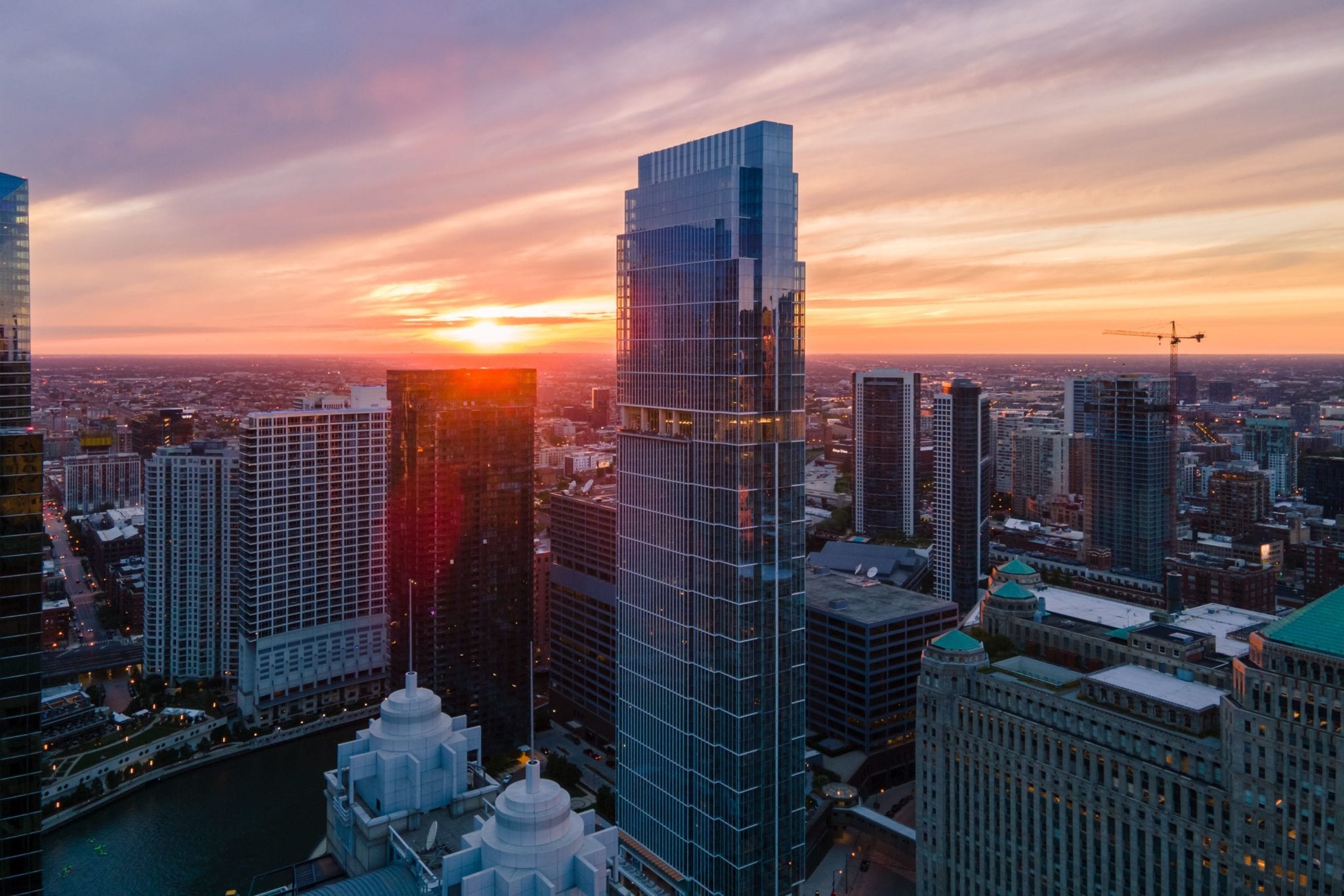 History of River North, Chicago
River North is a dynamic city with an equally colorful past. Residents and visitors alike can appreciate the River North history and how the area became what it is today.
Presently, the vibrant River North is a hub for young professionals, art lovers, and foodies taking advantage of the area's incredible dining, nightlife, galleries, and central location. In fact, River North is ranked as the fastest and largest growing neighborhoods in the Windy City.
River North truly began to evolve into the neighborhood it is today after the Chicago Fire of 1871. Following the catastrophe, River North quickly rebuilt and introduced municipal buildings, housing for workers, warehouses, shipping facilities, and railroad tracks. Eventually, the industrial area became a warehouse district, with the construction of the Merchandise Mart, a 25-story building storing many of the city's goods.
The Merchandise Mart opened its doors in 1930 as the world's largest building at 4,200,000 square feet and spanning two city blocks. Originally the Merchandise Mart was intended to consolidate wholesale activities. However, the Great Depression led to many shops closing their doors and the federal government leasing the vacant spaces.
In 1945 Joseph P. Kennedy revitalized the original commercial concept and gradually re-opened it to the public. Showrooms thrived with conventions and events, and the building became famous as a media center, hosting Chicago's NBC studios. The Kennedys eventually sold the Mart to Vornado Realty Trust in 1998.
Today the Merchandise Mart remains a hub for design in River North and houses numerous restaurants, companies, and the Illinois Institute of Art.
If you want to be a part of the ever-evolving River North history, here are some excellent apartments to consider:
Wolf Point East– 313 Wolf Point Plaza- Situated right on the Chicago River, these luxury apartments offer residents unprecedented views and world-class amenities. Building amenities include a business center/co-working space, full-floor fitness center, river gallery and lounge, outdoor pool and hot tub, golf simulator, dog run, club room, sky lounge, and more. Since the building sits on the River, residents can enjoy their own private river walk patio and access to restaurants and retail.
Hubbard221– 221 W Hubbard St- These contemporary apartments perfectly complement the urban living experience. Every unit provides a carefully curated collection of superior finishes, thoughtful and efficient floorplans, floor-to-ceiling windows offering sweeping views of the Chicago skyline. Property amenities include a Starbucks' coffee nook, meditation lounge plus yoga studio with Fitness On Demand, and an outdoor sun terrace with pool, hot tub, cabanas and a tv.
EnV-161 Kinzie Street- For an unbeatable location right in the heart of this booming neighborhood, consider these luxury apartments. Residents have access to a large media room, rooftop pool and grill area, a fitness center offering private classes, a dog run, and individual wine lockers. Each unit features granite countertops, stainless steel appliances, expansive ceilings, exposed ductwork, and an in-unit washer/dryer.

Don't miss out on the rich River North history, and everything else this happening place has to offer. Connect with one of our licensed brokers to tour one of these apartments and get one step closer to finding your dream home!
Follow Us on Social
Apartment Experts
Spend less time apartment hunting, and more time living. Luxury Living is a complimentary service to make your apartment search easier, and even fun. Whether you're new to the city or simply in need of a change, we are here to help.