Luxury Apartment Design Elements That Up the Wow Factor
June 6, 2022 | By Lauren Bozarth
Reading Time: 5 Minutes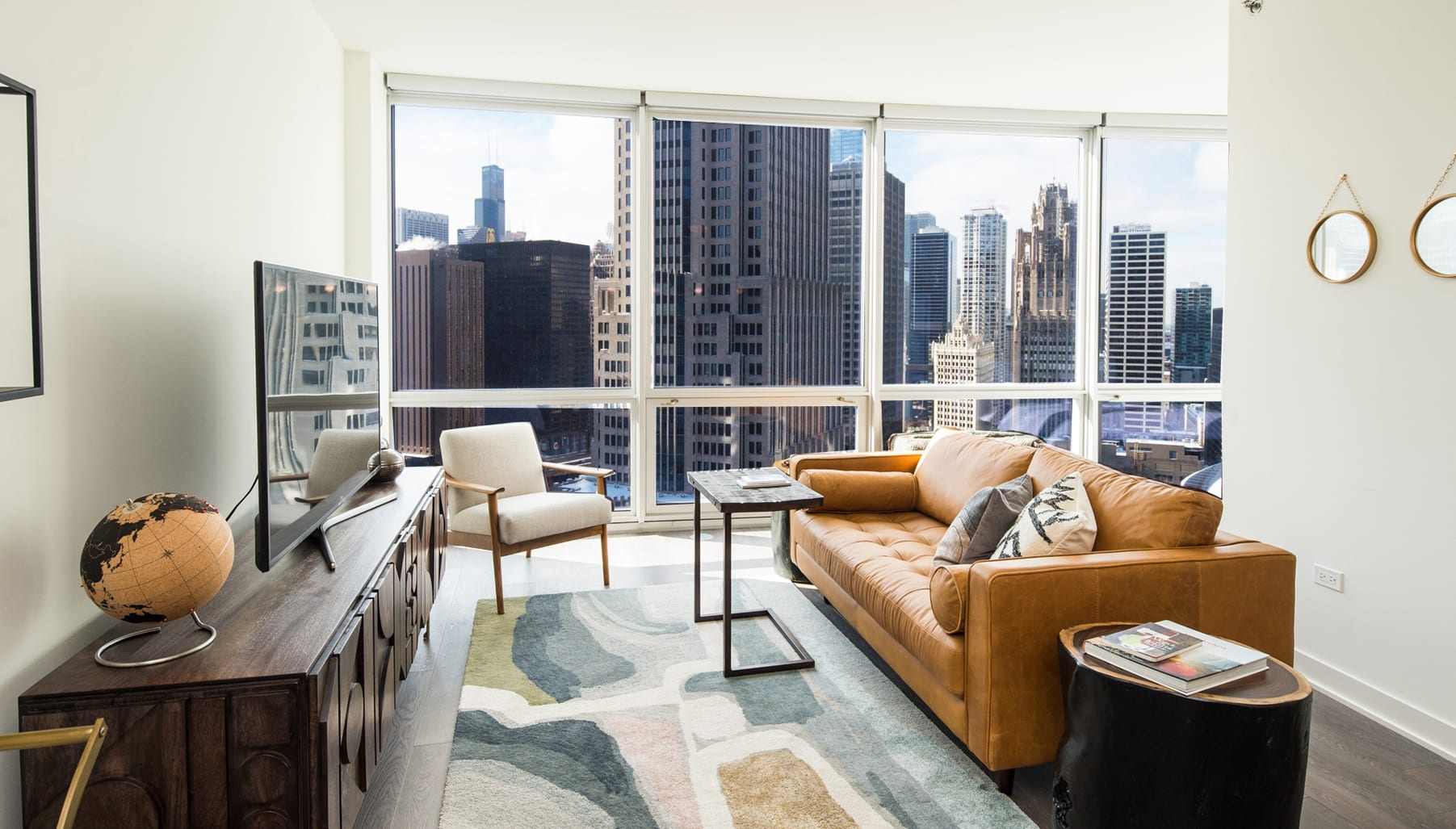 If you're looking to move to a Chicago apartment, there are a number of design elements that stand out and can help make your apartment feel truly luxurious.
Check out the luxury apartment designs that are sure to turn heads, drop jaws and create a home you love.
Vaulted Ceilings
Traditional ceilings are about eight-to 10–feet high, and they're often flat. Vaulted ceilings, on the other hand, provide more height and character.
While there are many variations when it comes to this style of ceiling to achieve different looks, all vaulted ceilings are constructed with a self-supporting arch and angle up past the typical ceiling height.
Vaulted ceilings provide an elegant and grand flair, really opening up a room. While they're commonly found in large, shared spaces, like an open kitchen, living, or dining room, this design can be found anywhere the apartment structurally allows.
Depending on the overall aesthetic of an apartment, these types of ceilings may also incorporate reclaimed beams or industrial cable to round out the look.
Additionally, vaulted ceilings can provide extra space for windows, enabling more natural light – which is always a bonus!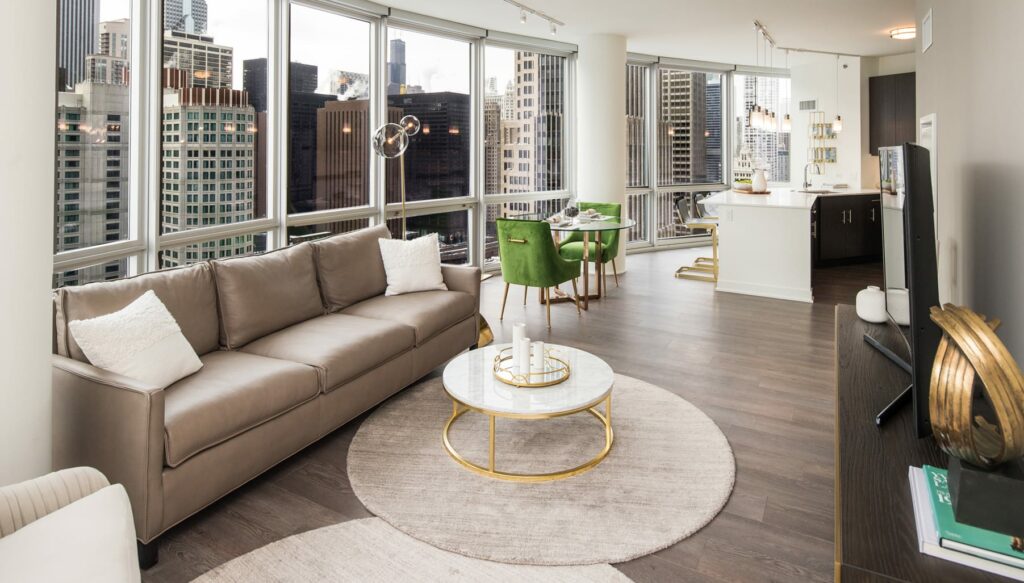 This design feature is one that is quite common among luxury properties in Chicago. It is widely agreed upon that expansive windows significantly upgrade a home. There are plenty of practical and aesthetic benefits to this design element.
Natural light may be the most obvious perk of large windows. This increase in sunshine is great for brightening your home and likely your mood as well.
When living in an amazing city like Chicago, the more views, the better. Wide windows throughout an apartment provide unprecedented sights of often the city, water, and other impressive views depending on what neighborhood and floor you find yourself in. There may be no better views than from a Chicago Penthouse featuring floor-to-ceiling windows and 360-degree views.
If you're someone who enjoys a nice breeze, more windows also allow for more fresh air. Not only that, but this design feature can save you money in the winter months. Large windows serve as insulators, cutting down the cost of your energy bill. They allow solar energy in year-round, which regulates indoor temperature by minimizing the circulation of cool air.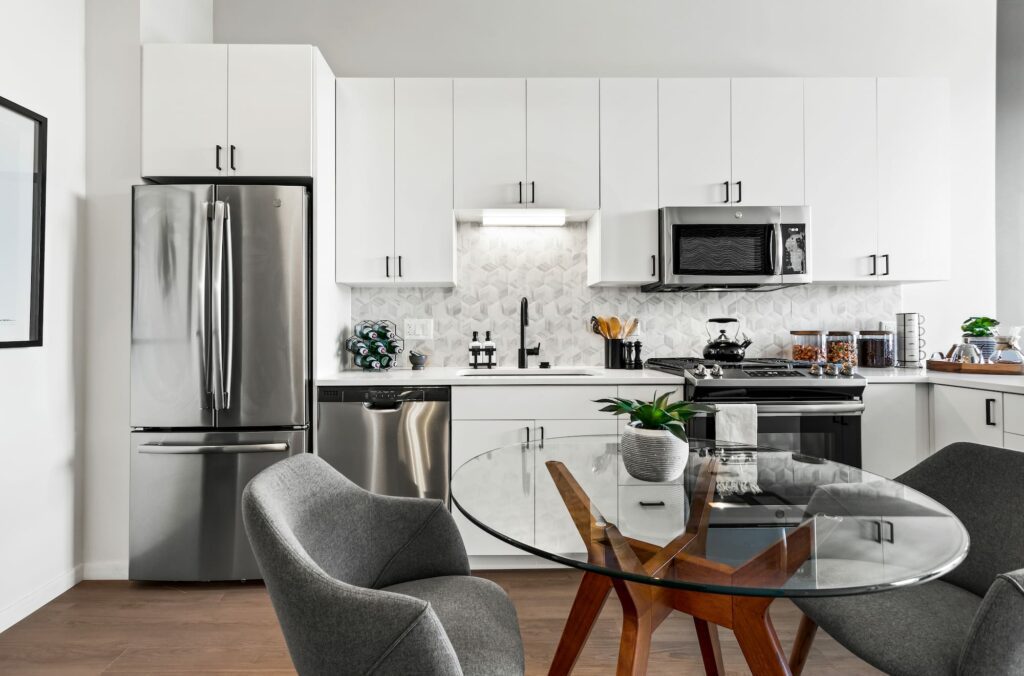 Once you've lived in a home with stainless steel appliances, you won't want to go back.
This design feature truly elevates the look and feel of any apartment kitchen.
From a functionality standpoint, there's no beating these appliances. They provide the most efficiency and ensure you get your money's worth.
These appliances are designed to last and hold the same appearance over time. Their durability is incomparable. Based on their design, these appliances are built to fight off rust, fire, and heat- all too common in the kitchen.
Stainless steel appliances also modernize a kitchen. They are standard in all new homes because of their clean, neutral design that goes with any kitchen layout.
The bathroom may not be the first room you think of when you think of luxury. But, you would be surprised by what a luxurious bathroom can do for an apartment and your own well-being.
These days, the features and finishes you can find in this space are incredibly impressive. From heated floors to inset bathtubs, many Chicago apartment bathrooms feel like their own mini oasis.
Plenty of these premier bathrooms also boast impeccable style and detail, like walnut veneer-line shelving, gold finishes, natural stone, and more.
Imagine not having to leave your home to relax and rejuvenate in a bathroom that feels like its own amenity? Besides your bedroom, this is the room you will likely start and end your day. It is worth finding a bathroom that goes above and beyond.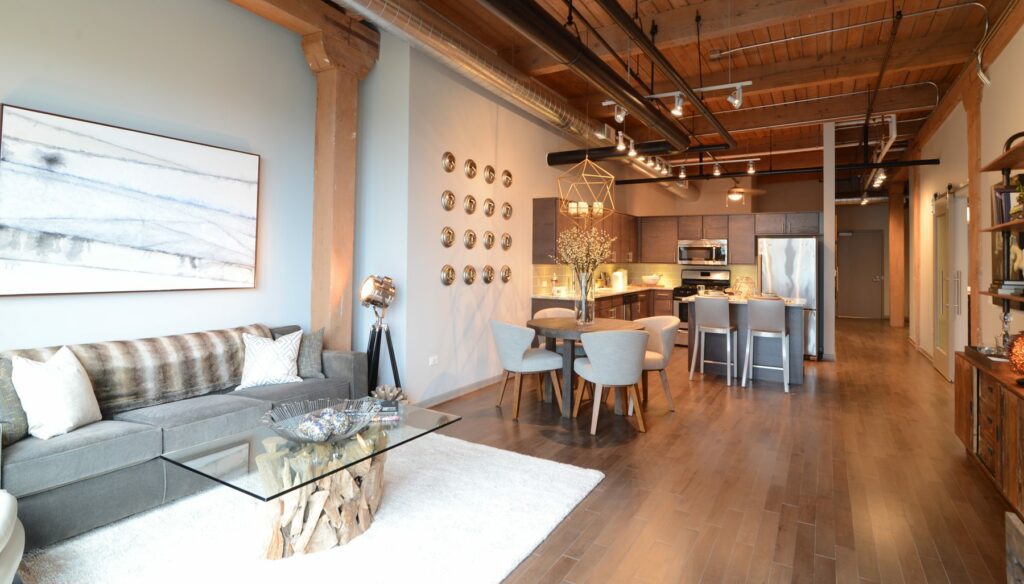 Nothing says timeless like hardwood floors. This luxury apartment design feature is stylish, practical, and a must-have in your new home.
For starters, hardwood floors are simple to clean- especially compared to an option like carpet. Whatever the mess is, you will likely be able to sweep, vacuum, mop, or steam it away.
If you have a pet or may acquire a furry friend while living in an apartment, you certainly want to find a home with hardwood floors. Not only are they easy to keep clean, but they are better for those with allergies. Carpet, on the other hand, may trap pollen, dust, and animal dandruff.
Along with providing easy maintenance, this flooring type is very easy on the eyes. It gives a more elegant appearance. Plus, it increases the value of a home.
Additionally, hardwood floors are extremely durable and provide better peace of mind. They will last longer and continue providing that luxury element in your apartment.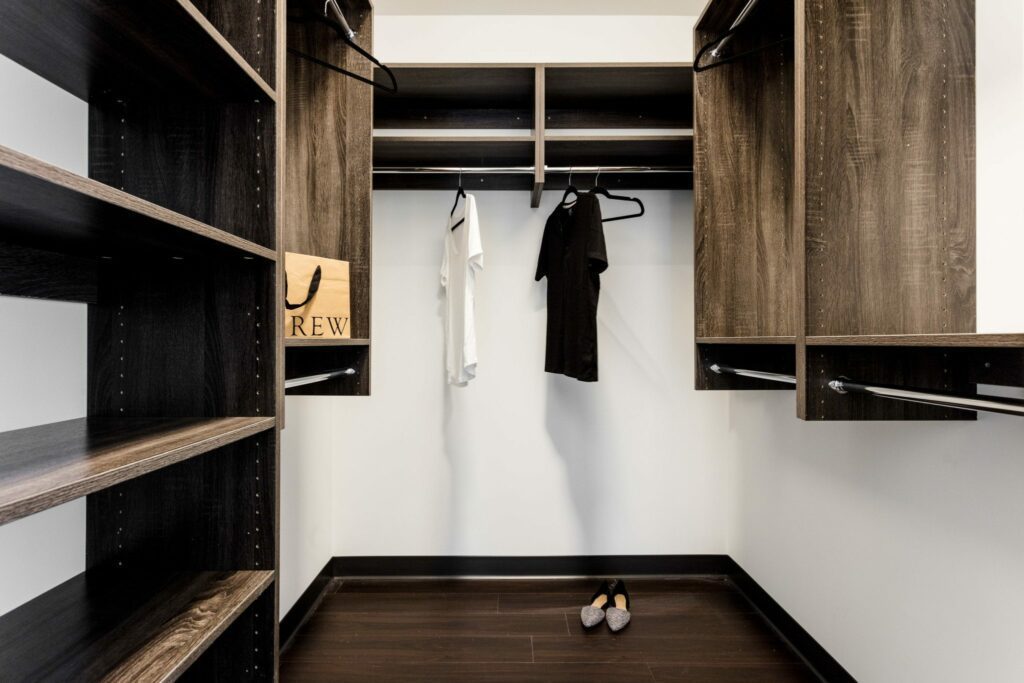 If you are a person with an expansive wardrobe, walk-in closets are synonymous with luxury. Almost all high-end apartments feature this type of closet, at least in the master bedroom.
This premier design element makes a space feel larger, making storage and daily life more efficient.
With a walk-in closet, you have the luxury of more space for both clothes and other items that you may not have room to store elsewhere. Regardless of size, walk-in closets ensure more-effortless organization than a reach-in closet.
If your closet is large enough, you may even be able to keep a mirror, armoire or vanity within the space.
You can also likely find it easier to dress quickly with a walk-in closet. This setup helps avoid going back and forth between your closet, dresser, or mirror in the morning. Privacy is also an element of luxury, which walk-in closets provide.
Every element of a home matters. If you are looking for ultimate luxury in your next apartment, be sure to find a space that incorporates these luxury apartment designs.
Ready to find your next new luxury apartment? Make sure to connect with one of our experienced team members. Our licensed brokers know all about luxury and will do what it takes to help you find your dream apartment!

Follow Us on Social
Apartment Experts
Spend less time apartment hunting, and more time living. Luxury Living is a complimentary service to make your apartment search easier, and even fun. Whether you're new to the city or simply in need of a change, we are here to help.