Explore Luxury Living Chicago's Lease-Up Results in Q1 & Q2 2018
July 19, 2018 | By Aaron Galvin
Reading Time: 6 Minutes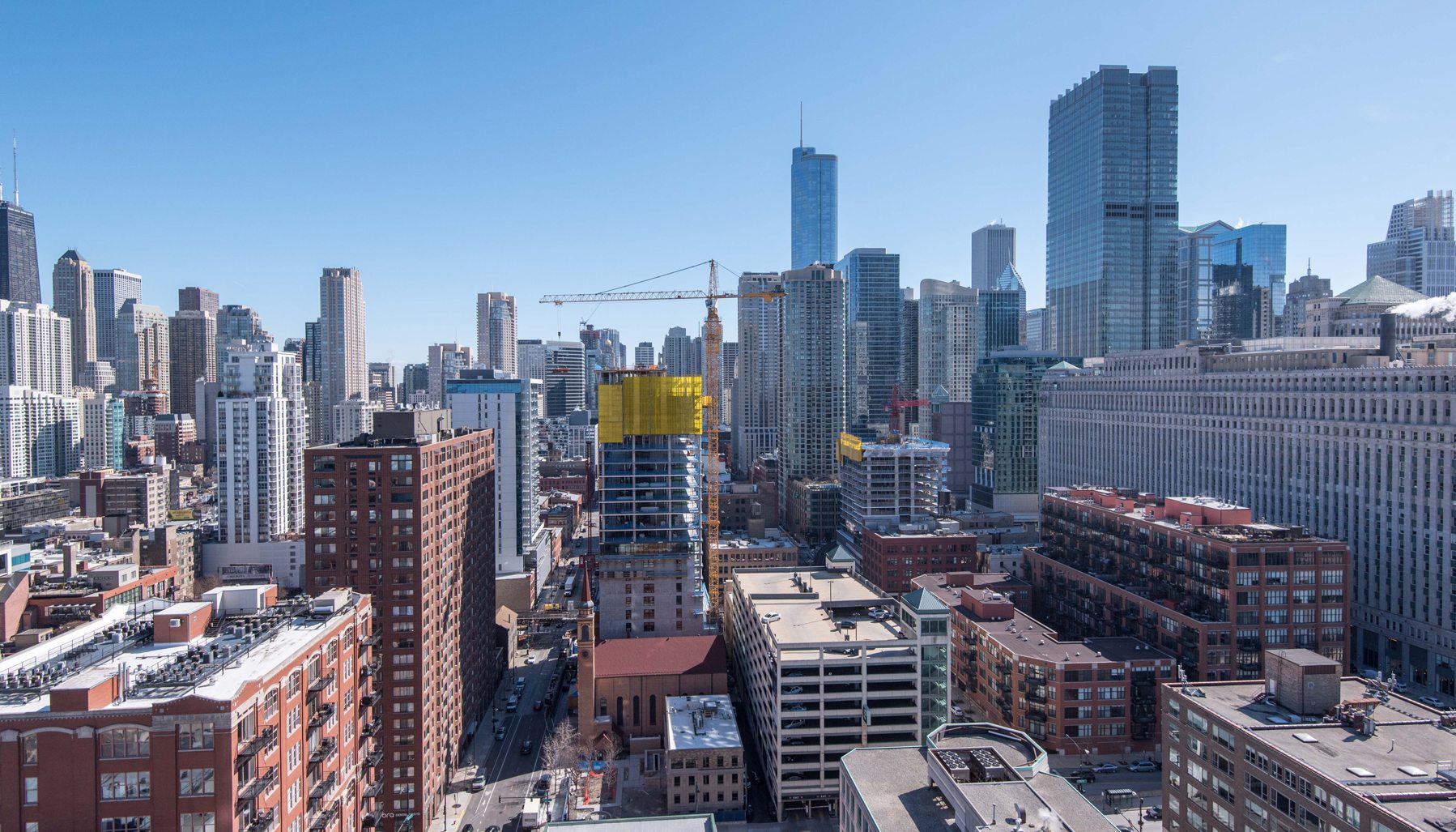 It's been a busy first half of 2018 for the Luxury Living Chicago Realty (LLCR) team. LLCR is a full-service real estate brokerage, consulting, and marketing firm. Our team consists of brokers, consultants, and marketing professionals with over 60 years of combined luxury real estate experience. In the past 10+ years, Luxury Living Chicago Realty has contributed to over $250 million in revenue for multifamily property owners and operators.
In the first six months of 2018, we have launched seven new lease-ups and stabilized two additional 2017 deliveries across nine different neighborhoods in Chicago.
Here is a recap of our brokerage's exclusive leasing and marketing engagements we have launched and leased in the 2018 year to date.
Developer: Outlook Development

105 Units

Neighborhood: River West

Launch Date: January 2018

First Occupancy: February 2018

Status: 100% Leased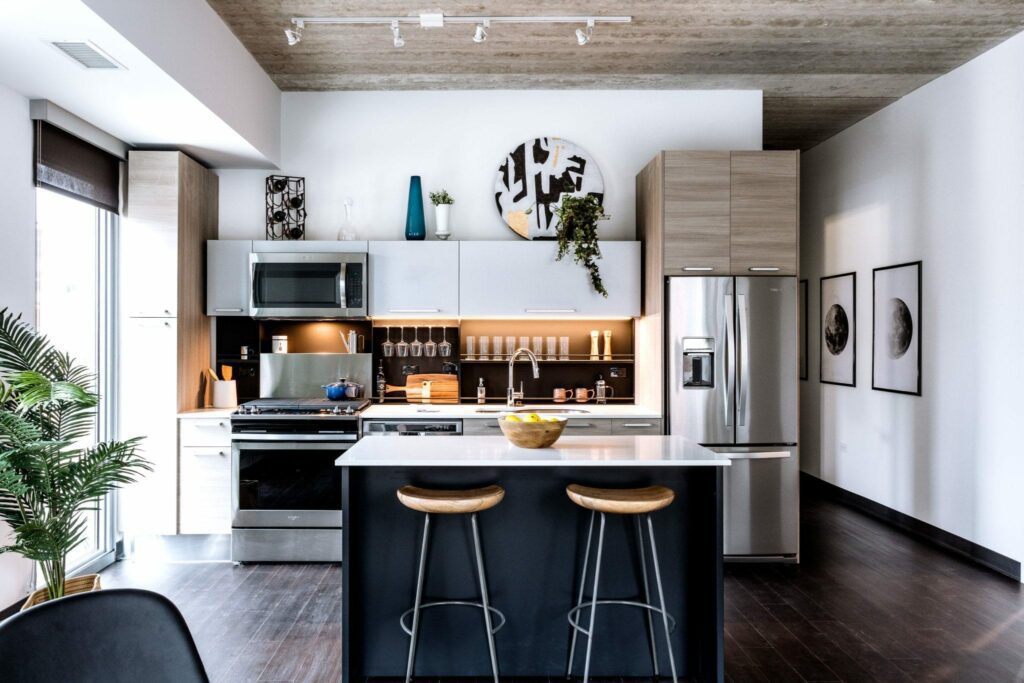 We were extremely excited about partnering with Outlook Development on these River West apartments. LLCR was engaged early in the project for our creative branding and marketing services. Our team named the building and created the logo, website, signage and other leasing collateral. The Seven 10 logo took direct inspiration from the unique grid-like shelving in the unit kitchens, as well as the patterned exterior facade. We believed the target demographic for this building would be renters seeking to live in River North, but priced just slightly out of this core Chicago neighborhood. We were correct. This property leased quickly reaching stabilization in May 2018.
Developer: Tricap Residential Group

17 Units

Neighborhood: Uptown

Launch Date: January 2018

First Occupancy: March 2018

Status: 100% Leased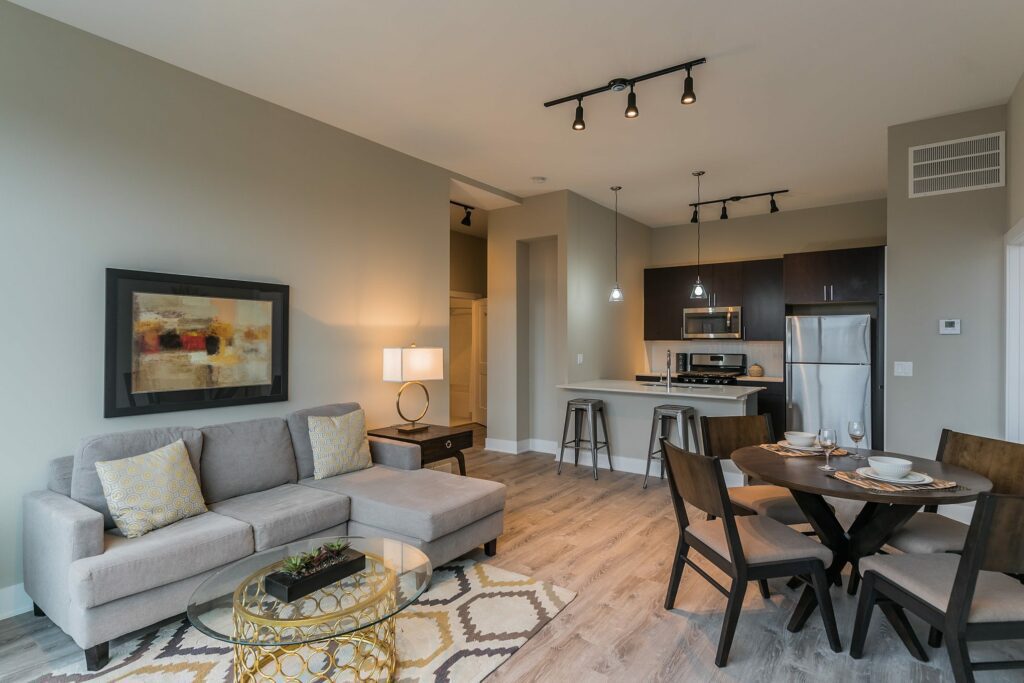 Tricap Residential tapped LLCR for our pre-leasing services for these 17 Uptown luxury apartments. The building was comprised of mostly two bedroom apartments. The demand was certainly there and the units rented quickly reaching stabilization by March 2018.
Developer: Baker Development

191 Units

Neighborhood: Lincoln Park

Launch Date: January 2018

First Occupancy: April 2018

Status: 85% Leased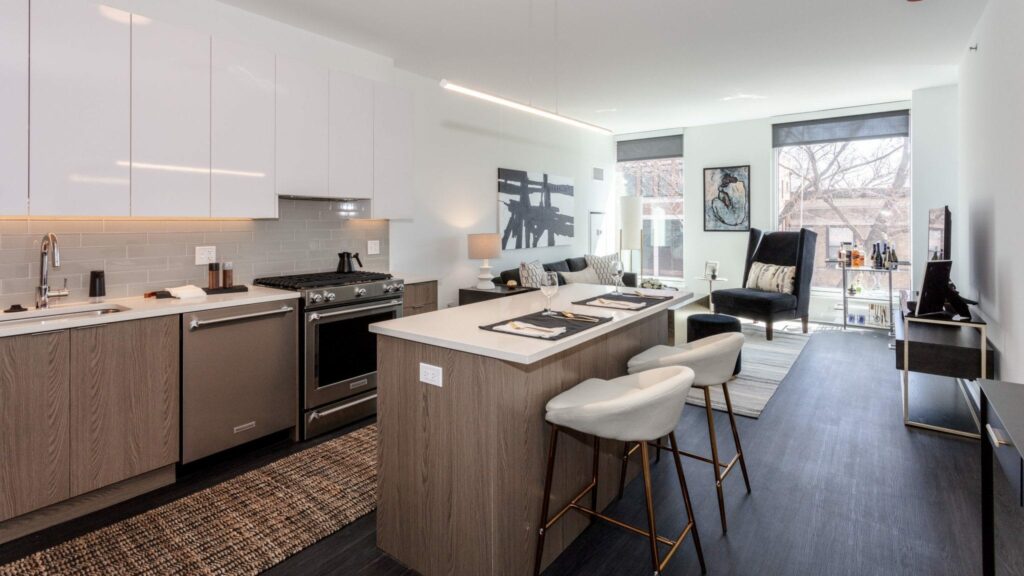 Baker Development engaged LLCR for our pre-development and leasing services in 2016, very early on in the planning stages of the project. LLCR was part of this project every step of the way. From interior and finish selection, to ground breaking to grand opening. We were excited to get started when pre-leasing efforts finally began at the start of 2018. ELEVATE was the first amenity-driven luxury Lincoln Park apartment development to open in the heart of the neighborhood for several years. The demand was high for this type of product as the LLCR team raced through 85% of inventory in a 90 day period a very high price per square foot for a neighborhood development. Remaining units consist of two and three bedroom penthouse level flat and duplex residences, as construction pushed availability for these top floor units into late summer/early fall.
Developer: Michigan Avenue Real Estate Group

120 Units

Neighborhood: West Loop

Launch Date: February 2018

First Occupancy: March 2018 (1050 West Monroe)/ June 2018 (33 South Aberdeen)

Status: 75% Leased
AND
Developer: Michigan Avenue Real Estate Group

47 Units

Neighborhood: West Loop

Launch Date: February 2018

First Occupancy: April 2018

Status: 51% Leased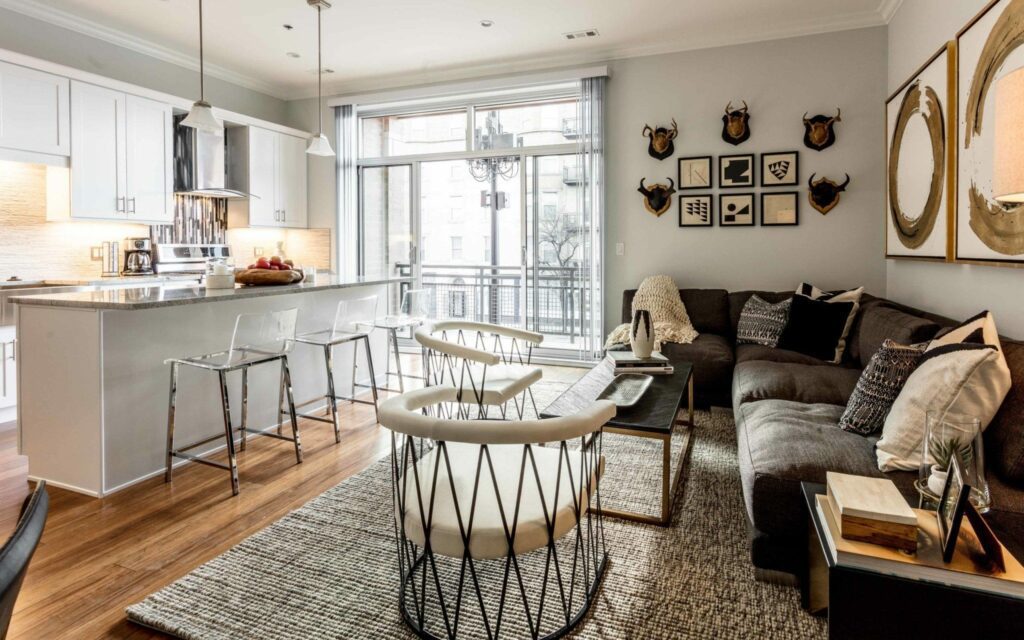 About the Projects: LLCR has been Michigan Avenue Real Estate Group's leasing and marketing partner since 2014. Monroe Aberdeen Place and Ashland Place were the two newest lease-ups in their West Loop luxury apartment portfolio. New for the LLCR team in 2018 was a centralized leasing office in the West Loop to help accommodate the scattered site nature of these projects, as our team was simultaneously actively leasing non-renewal units at Jackson Throop, Madison Throop and Warren Ashland Place. Our team had to balance the demand of brand new units, while also making sure that legacy inventory at the other properties was not overlooked. We worked closely with Michigan Avenue Real Estate Group to create strategies that maximized rents and effectively leased both new and older inventory.  
Developer: Vermilion Development

100 Units

Neighborhood: Lakeview

Launch Date: April 2018

First Occupancy: June 2018

Status: 34% Leased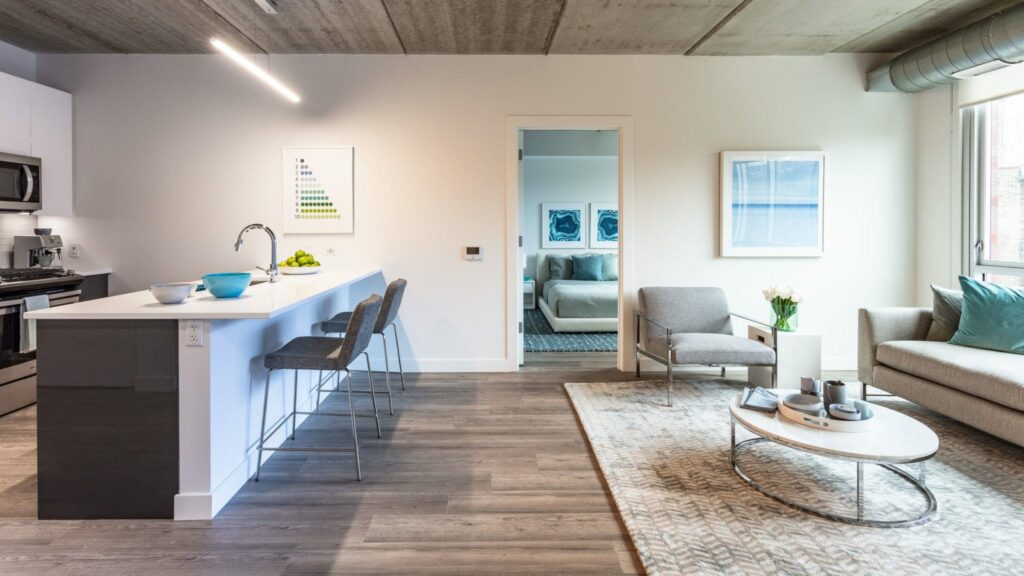 LLCR was contracted by Vermilion Development to provide branding and creative services, we named the building, designed the website, signage and all marketing collateral. When we are part of the branding of a development, it helps our leasing teams fully connect to the story of a building and that's exactly what has happened at Viridian on Sheridan. While still early on in the leasing stages of the building, this property has resonated with renters who are looking for luxury Lakeview apartments with stunning views of Lake Michigan. Now that the building has residents actively living at the community, the property has truly come alive.
Developer: Hubbard Street Group

146 Units

Neighborhood: Wicker Park

Launch Date: April 2018

First Occupancy: June 2018

Status: 41% Leased
Wicker Park Connection is our third project with Hubbard Street Group, having completed the lease-ups at Centrum Bucktown (2017) and Centrum Evanston (2018). Wicker Park Connection is part of a larger planned development in the Milwaukee, Paulina and Division area of the neighborhood. The high level of finishes and amenities, think rooftop swimming pool, have downtown renters flocking to these Wicker Park apartments. With a Target now open in the attached retail space, this area continues to become a strong residential location.
Finished Leasing in 2018
While a majority of our projects launched in 2018, there were two projects we started in 2017 and finished in early 2018.
Developer: Hubbard Street Group

101 Units

Neighborhood: Evanston

Launch Date: July 2017

First Occupancy: August 2017

Status: 100% Leased
This building took us longer to complete as we missed the Northwestern graduate student population, which is critical for leasing these Evanston luxury apartments. The property did not have any onsite parking, which was a challenge for families. However, we held firm, continuing our leasing efforts through the fall and winter. Once spring 2018 came around, we picked up momentum and finished out the project with multiple offers coming in on the remaining units.
Developer: CA Residential

102 Units

Neighborhood: River North

Launch Date: July 2017

First Occupancy: October 2017

Status: 99% Leased
8 East Huron is a luxury, boutique rental residence in the heart of River North. This was the first property where LLCR implemented a Virtual Reality (VR) pre-leasing program. Because of the very high-end nature of this property, we wanted to wait for all amenities and common spaces to be complete before allowing prospective residents to tour. We recreated the entire building in a VR format and conduct by appointment tours. Once the building opened, we found there was great demand for the larger two bedroom floor plans the building featured. We had no trouble finding renters for the two bedrooms that were over 1,200 square feet. We were also able to lease three out of the four, full-floor penthouse units during the main part of our lease-up engagement. One penthouse unit remains for rent, but the rest of the building is fully occupied at some of the highest rental prices in the city.
Condo Development
Developer: Vermillion Development

43 Condos & 12 Townhomes

Neighborhood: Wicker Park

Launch Date: May 2018

Status: Pre-Sale
In May 2018, LLCR launched our first condo sale development in partnership with On Collaborative, a division of Coldwell Banker. Vermillion Development, our client at Viridian on Sheridan, had purchased a piece of land and wanted to develop for-sale condos and townhomes. LLCR was brought in for our expert marketing and creative services and developed the brand, Alcove M.D.P. Pre-sales have just begun at the property.
This summary only details our lease-up projects and does not include the leasing efforts from our brokerage team. In the first two quarters of 2018, we leased an additional 600 units and sold 30 condos.   
If you're interested in learning more about working with Luxury Living Chicago Realty for exclusive marketing, leasing and pre-development services, click the button below.

Follow Us on Social
Apartment Experts
Spend less time apartment hunting, and more time living. Luxury Living is a complimentary service to make your apartment search easier, and even fun. Whether you're new to the city or simply in need of a change, we are here to help.