How to Maximize Storage Space in Your Downtown Chicago Apartment
October 24, 2016 | By JD Eaton
Reading Time: 3 Minutes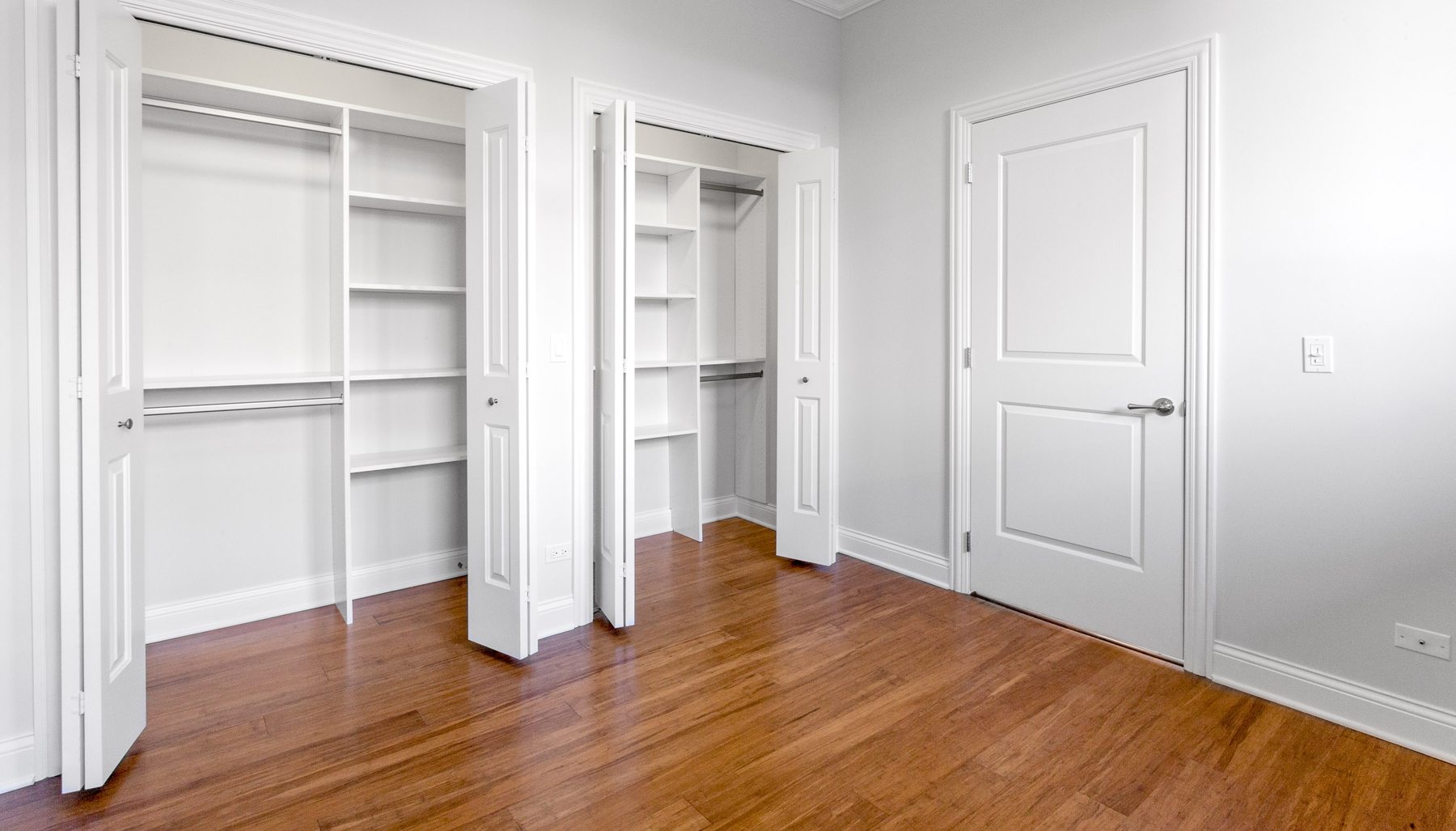 When you live in a downtown Chicago apartment, maximizing storage space is very important.
When clients first tour apartments in downtown Chicago, they often react to closet space the same way. Their eyes squint and brow furrow as they circle the apartment looking for an extra closet. After entering the apartment, checking out the front hall closet and looking in the bedroom closets, some clients still don't understand where all of their belongings will fit.
Chicago renters often dream of a giant walk-in, custom closet with built-in storage, pullout shoe bins, purse hangers for her, tie and belt racks for him and shelves already labeled for all their clothing and accessories.
Sorry to disappoint, but custom closets are hard to come by in a downtown Chicago apartment. Take a deep breath and don't panic. Downsizing is a must, but it's time to visualize a new type of organization for your home.
Exchanging seasonal outfits is a must when living in Chicago. Fortunately, rental buildings have additional storage cages, or lockers, that can be rented for approximately $20 – $40 per month.  When the summer season finally arrives, the last thing Chicagoans want to see is something as small and insignificant as a pair of wool socks, let alone big, puffy winter coats.  Put those sweaters in storage and get them out of your life for a couple of months! Bring out the sandals, shorts, and sundresses!
Additional tips:
Under the bed storage. People always forget they can buy containers to maximize storage for under their beds. It's easy if you have a platform bed, or it's an easy fix to add needed space under your bed by placing risers under the feet.
Adding closet systems.  The newer buildings like Warren Ashland Place, Luxe on Chicago, and OneEleven Wacker already have custom closets built in, but don't be afraid to add to it. There are a lot of closet systems out there from the inexpensive to custom-made, so just pick one that's right for you.
Use your furniture. Decorative dressers and armoires don't have to stay in the bedroom. Especially if you live in a smaller space like a convertible, don't be afraid to stick your sock drawer outside of your sleeping space, in a functional cabinet where the TV sits.
Yes, you have to get a little creative with your organization, but you're not moving to Chicago for large storage spaces. Living downtown Chicago is about a short commute, all of the newest restaurants, being in the heart of the entertainment, and living in downtown Chicago apartments that have amenities like hot tubs, state-of-the-art gyms, and movie theaters right in the building. And of course, being close to all the shopping – so you can buy more things!
One last tip! Always leave one winter outfit in your closet during the summer and one summer outfit in your closet during the winter. A true Chicagoan is always prepared for our city's unique and sometimes unexpected weather patterns.
Do you have any tips for maximizing storage space in your downtown Chicago apartment? Leave them in the comments below.

If you're looking for more insider information on moving to Chicago, then click the button below to read our post on tips for finding the best places to rent in Chicago.

Editor's Note: This post was originally published in October 2014 and has been updated for freshness, accuracy, and comprehensiveness. 
Follow Us on Social
YOUR INSIDE LOOK AT WHAT'S NEW ON IG
View on Social
About Us
At Luxury Living, we define "luxury" as a quality of life. Luxury living may mean having a home-office with breathtaking views from your apartment's floor-to-ceiling windows, or being within walking distance to your favorite restaurants and activities. Whatever luxury means to you, let us help you find it.
Learn More
Contact Us