MODE Logan Square Introduces Chicago to Robotic Furniture
August 11, 2017 | By JD Eaton
Reading Time: 2 Minutes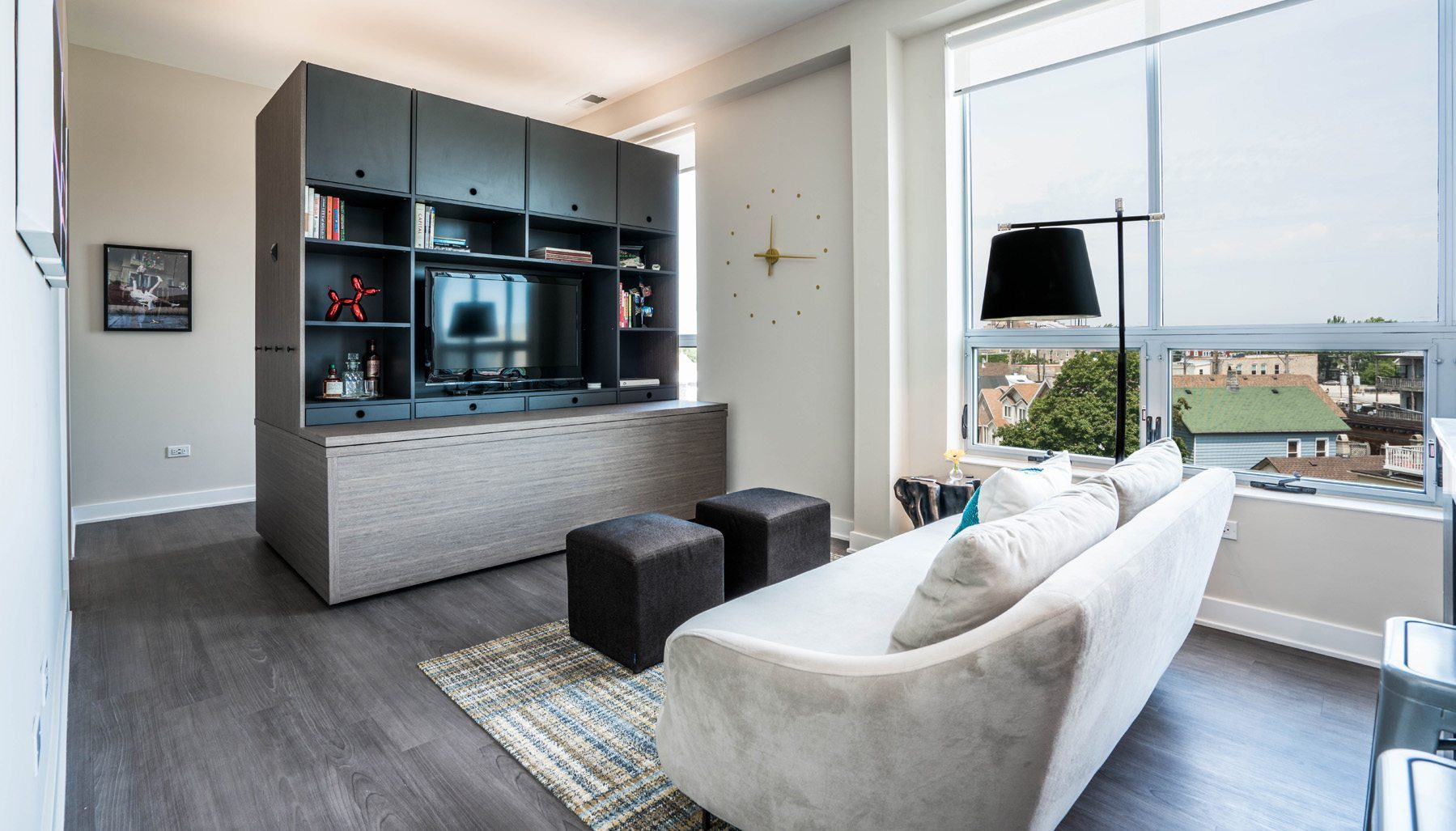 Chicago's First Robotic Furniture
With thousands of Chicago apartments coming to market this year, two of the largest trends in new construction have become more apparent– the competitive amenities race and shrinking floor plans. The two are correlated, especially with today's growing share economy, as developers believe that many renters are increasingly comfortable with utilizing the common area spaces more and spending less time in their own apartments.
Enter companies like Ori Inc., which creates robotic furniture designed to transform small spaces by increasing the different ways space is used. With the press of a button, the system will slide beds under wardrobes or convert desks into tables. Users can also control their system with the Ori smartphone apps or third party smart home eco-systems, like by saying, " Alexa, tell Ori to open my bed."
The modular furniture from Ori is currently only selling to large-scale development companies  and is not yet sold for individual retail. However, MODE Logan Square now has an Ori unit available on the rental market.
Unit #410N at MODE Logan Square
With wide-plank flooring throughout and modern features, this Logan Square convertible is available for August and September move-in dates.  The Ori system slides between the living space and bedroom space, providing ample room depending on the owner's preference or time of day.
"The most appealing part of this unit is the extra width and bright windows not typically found in a studio unit, coupled with an impressive walk-in closet/ample storage space, " said Jeffrey Hreben, Development Manager at Tandem Development. "These features, when added to the flexibility provided by the Ori, create a completely unique apartment unlike anything in Chicago."
If you're interested in leasing MODE's convertible featuring robotic furniture, follow the link below to see the full listing and schedule a time to tour.

Follow Us on Social
Apartment Experts
Spend less time apartment hunting, and more time living. Luxury Living is a complimentary service to make your apartment search easier, and even fun. Whether you're new to the city or simply in need of a change, we are here to help.