Spend a Day at the Lakeshore East Park
June 18, 2019 | By Luxury Living Chicago Team
Reading Time: 2 Minutes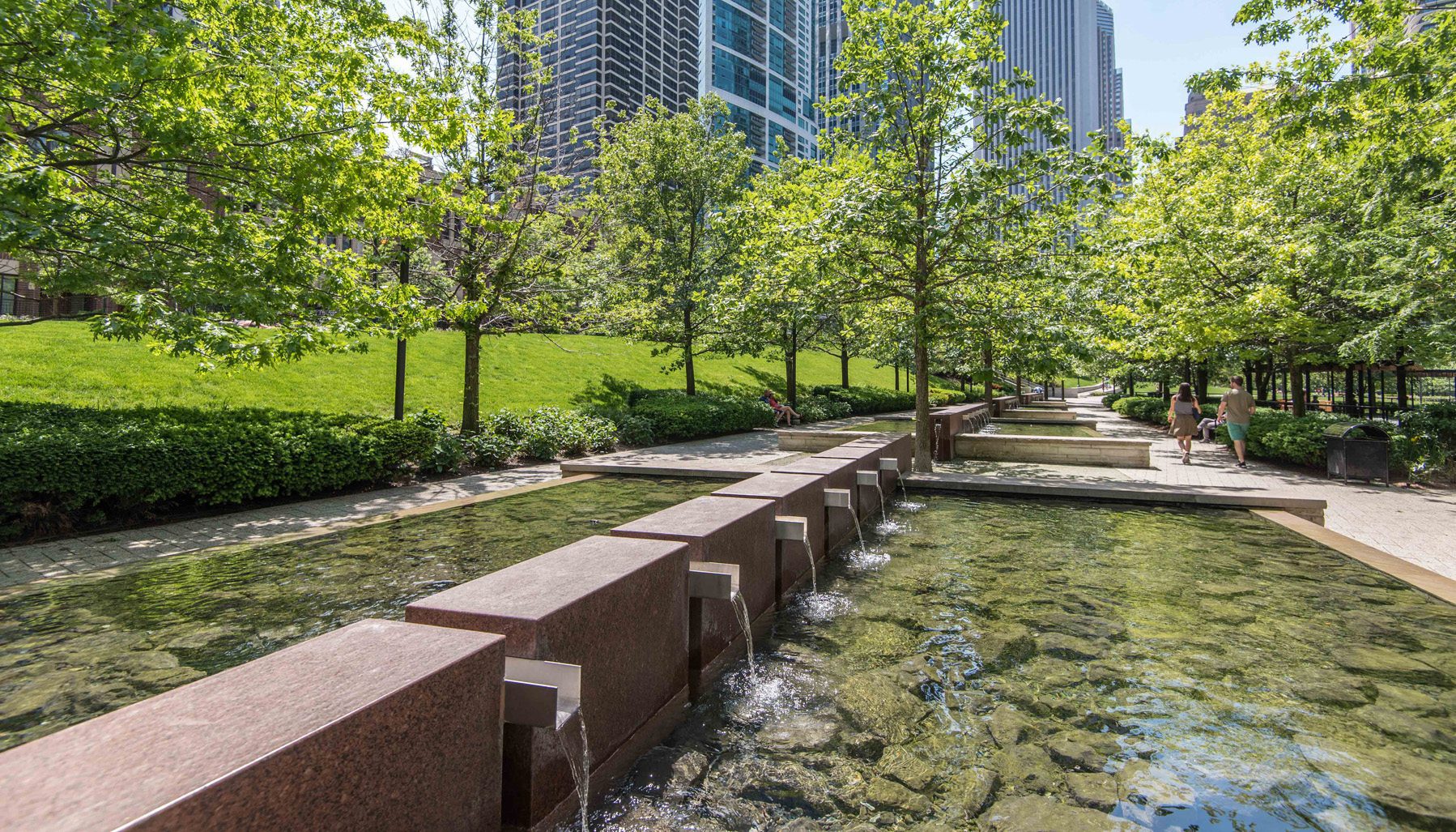 The Lakeshore East neighborhood is earning a reputation as one of Chicago's hottest spots to live. With an incredible location and stunning new development, it's easy to see why.

One of the major selling points that has helped set this community apart is the incredible Lakeshore East Park. Discover what a day at this beautiful park looks like.

Info about Lakeshore East Park
The Lakeshore East Park is a green oasis located directly below towering high-rises, providing residents a unique opportunity to live in the middle of the city and surrounded by natural beauty.
Sprawling over 6-acres, this botanical recreational garden sits in the middle of the Lakeshore East neighborhood and serves as the centerpiece of the 28-acre community.
This public green space claims the title as Chicago's first and only free wireless park and offers unlimited internet access to the public.
The park is open daily from 6 am until 11 pm.

What People Use the Park for
The Lakeshore East Park is truly a haven for anyone looking to enjoy the outdoors.
With residential high-rises, commercial and retail space, and hotels scattered throughout the neighborhood, it is no surprise that the Lakeshore East Park attracts a variety of visitors.
While many residents take full advantage of their nearby outdoor space, tourists and business professionals will also opt to soak up the sun and utilize the quick and easy escape this park offers.
Many people enjoy taking a scenic stroll or riding their bikes on the walking paths and trails, while others chose to lay out a blanket and picnic on the open lawn.
There are beautiful plants throughout the park, but the formal floral garden makes the perfect place to get your flower fix in.
Parents can also catch a break and let their kids roam free on the children's playground. Animal parents do the same at the pet playground, complete with a doggie drinking fountain.
Where you can Live Near the Park
If you are looking for the opportunity to enjoy the Lakeshore East Park right in your backyard, consider looking into Coast at Lakeshore East.
This sleek 51-story tower, located at 345 E. Wacker Drive, provides an urban beachside resort for its residents and offers competitive views of Lake Michigan, the Chicago River, and Millennium Park.
Along with claiming the title as Chicago's first smoke-free residence, Coast at Lakeshore East boasts an outdoor pool and landscaped deck, business center, spa area, and fully-equipped fitness center.
To schedule a showing and check out this property right on the Lakeshore East Park, get in touch with an experienced broker today!


Follow Us on Social
YOUR INSIDE LOOK AT WHAT'S NEW ON IG
View on Social
About Us
At Luxury Living, we define "luxury" as a quality of life. Luxury living may mean having a home-office with breathtaking views from your apartment's floor-to-ceiling windows, or being within walking distance to your favorite restaurants and activities. Whatever luxury means to you, let us help you find it.
Learn More
Contact Us