What it's Like Working at Luxury Living Chicago Realty
May 1, 2018 | By JD Eaton
Reading Time: 6 Minutes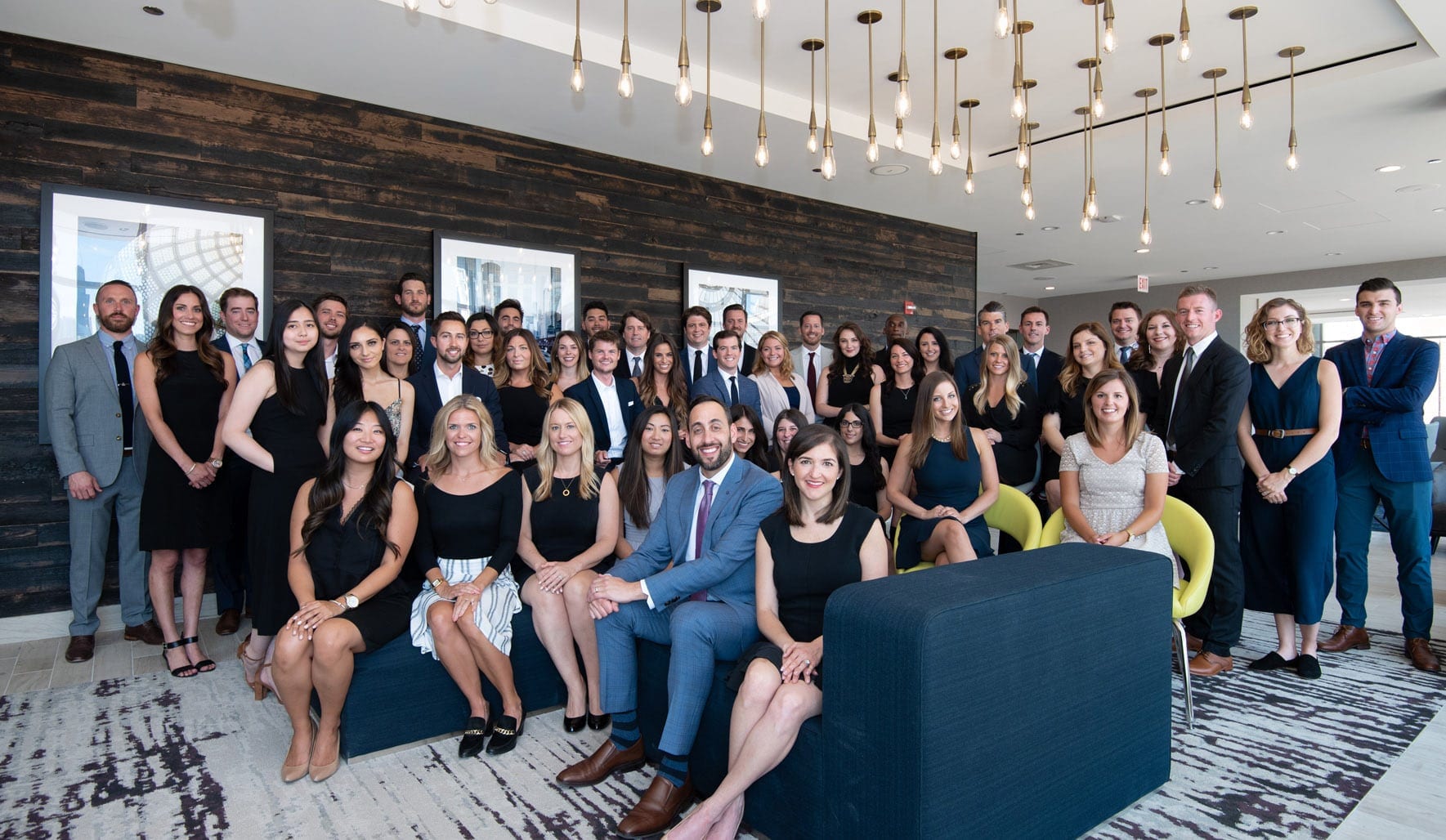 In order to understand what it's like working at Luxury Living Chicago Realty (LLCR) and how the team works together, it's best to start with an explanation of what exactly we do. LLCR began as a boutique, rental-focused brokerage that focused on providing best-in-class services for clients seeking a new luxury home in downtown Chicago. That business is thriving today; Aaron Galvin, CEO/Founder, has received the Chicago Association of Realtors Top Producer Platinum Rentals Award every year since 2012.
In recent years, the company has continued to evolve our services to also focus on partnering with real estate developers. Our wide range of strategic development services includes consulting on unit mix, amenity/interior trends, pricing, floor plans, and lease-up velocity plans. LLCR also offers a comprehensive suite of branding and marketing capabilities. In addition, our team is thoroughly equipped to staff both new construction lease-up developments and stabilized properties.
With all of these different areas of real estate expertise collected into one team, LLCR aligns renter insights, innovative marketing, and developer goals to deliver unbeatable results.
Our company's exciting growth and evolution means that we are always seeking new talent to join the LLCR team. Current job openings can always be found on our hiring site and we also encourage interested prospects to sign up for our industry newsletter, where we share real estate news, trends, advice, updates about our exclusive listings, and hiring opportunities.
Core Values
When our team began showing exponential growth, our leadership team decided it was important to formally define the qualities that all team members must have to create a successful, positive working environment. The core values were first introduced in 2015 and continue to be a cornerstone of our hiring process today.
Kindness
This seems like a simple quality, but is one that is often overlooked in the business world, especially in fast-paced environments. Working at LLCR means working with kind people, who strive to be positive and thoughtful in their interactions with each other and clients.
Team Player
In a commission-focused industry, being a team player is not always prioritized. All LLCR team members are encouraged to support each other in many ways; marketing team members won't hesitate to pitch in on a project that needs assistance, while our brokers have an internal client referral system and keep constant contact to stay on top of the rapidly-moving real estate market.
Investment in the Vision
LLCR is not a big corporation, which often creates a start-up business mentality and environment. We don't have endless resources or budgets to work with, but our team members are truly passionate about their work and are invested in being part of something larger than one project and one role. Having an understanding of our company's bigger picture and desiring to be a part of this  growth and successes is key for our team in order to tackle the challenges we take on.
Solution-Focused Communication
With both internal and external communication, our team members aim to interact thoughtfully. We try to avoid short-term fixes and discuss strategies to provide the best possible solutions for our business and clients. It's not the quickest or easiest way to work, but LLCR leadership strongly believes that solution-focused communication is integral to our success.
Dynamic Experience 
This core value is about what our team members choose to do with their time outside of work. Dynamic experience can be created by traveling, volunteering, learning, and trying new things. As an added bonus to a positive work/life balance, developing client relationships with clients is easier with a wide range of experiences to connect over.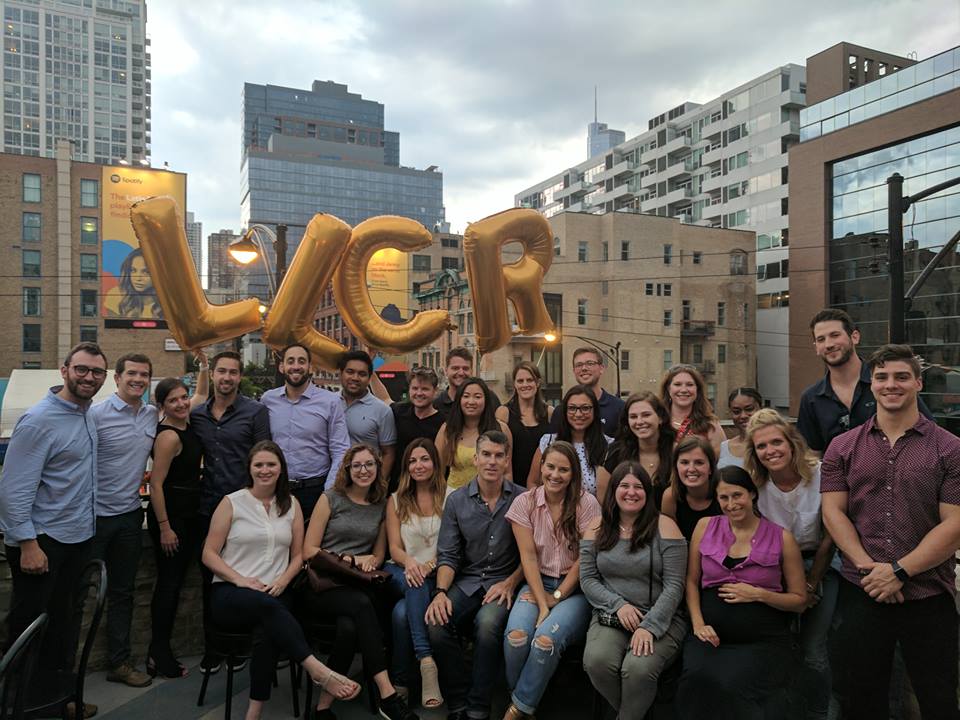 Luxury Living Chicago Realty's Culture
The LLCR team is made up of a variety of real estate, marketing, and business professionals with a wide range of background experience and education. This diverse collection of expertise leads to creative problem solving and innovative processes, with the goal of providing unbeatable results for all clients and customers.
Our office is located in River North loft building, where we host weekly events and happy hours for our team to relax and socialize with each other. Many of our sales team members are often out in the field working with clients, so LLCR strives to create frequent events for mingling and learning. Sales team members are given realistic goals that also provide a challenge, systems training with tools selected to make their process seamless, marketing support, and lead generation opportunities.
Employee Testimonials
What does our team have to say about working at LLCR? Check out some of our reviews from glassdoor:
"Great people and culture – your colleagues will feel like family. There is always a new project available, and you will never be bored. Be your own entrepreneur to work hard and be creative. You will also have many opportunities to work as a team. The more ambitious you are, the greater the potential compensation."
"The work environment is one that can't be beaten with an outstanding team. Company culture is highly valued, and the office is a pleasant place to work. The management is passionate and interested in your personal career goals… Everyone is smart, passionate, and the team collaborates instead of competing against one another. I often have peers tell me how envious they are of my job and that they hope to one day have the same environment at their employment one day." 
"Luxury Living Chicago Realty is such an amazing company. I've worked at several real estate firms across the Chicagoland area and I can honestly say I've never been happier. The company has an open door policy that truly wants the employees to be happy. They believe that a great working environment will create great employees for their customer. The customer is the number one priority and they go through lengths to make sure the client has the best experience possible. Definitely a company where you can build and grow at long term. Very well respected as a leader in real estate / fan favorite of clients across Chicago!"
Current Job Openings   
Available job openings can always be found on the Luxury Living hiring site. The broker associate role is the perfect opportunity for real estate professionals looking to join a brokerage that will invest in your future. There are our must haves:
You like going to industry events, open houses and being out and about in Chicago. You believe your calendar should be filled with opportunities to network and close business.
You are excited about representing a large growing portfolio of exclusive listings. The idea of generating a steady income from our company listings, while working your own sphere of influence has you seeing tons of dollar signs.
You are a professional and thoughtful communicator. You can write an amazing email (with proper grammar and sentence structure) and strive to offer your clients the BEST customer service.
You have a strong social media following and presence. Your social network knows you are a real estate professional and they are always watching your Insta Story to see the amazing listings you are viewing with your clients.
You consider a CRM to be an integral part of keeping you organized. You check and update it religiously.
You are a team player. Teamwork makes the dream work.
You want to work in an energetic space with fun people and think showing up to the office means fresh opportunities.
You are obsessed with Chicago real estate. You're always reading the latest industry blogs, you know every crane in the skyline and study your craft.
If these qualities interest you and fit your position requirements, apply for Luxury Living Chicago Realty's Broker Associate role. Explore all current job openings by following the link button below.
Follow Us on Social
Apartment Experts
Spend less time apartment hunting, and more time living. Luxury Living is a complimentary service to make your apartment search easier, and even fun. Whether you're new to the city or simply in need of a change, we are here to help.