Broker Round Table: Marlowe River North Apartments
June 27, 2018 | By JD Eaton
Reading Time: 2 Minutes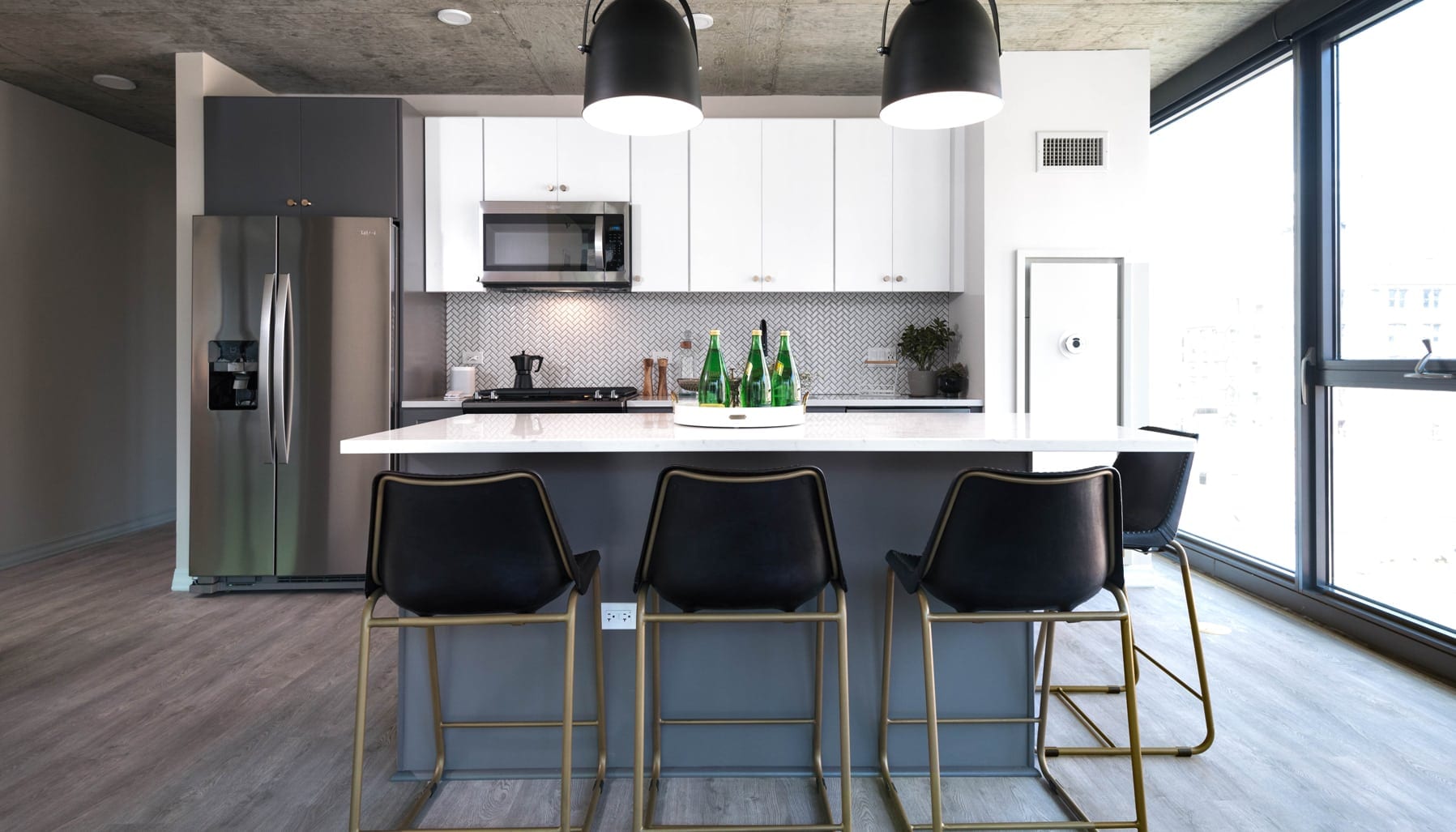 The Broker Round Table Series focuses on different luxury Chicago apartment properties in each post. The Luxury Living Chicago Realty team of proficient brokers has 100 years of combined experience in the downtown Chicago luxury apartment market. Since 2013, the team has rented thousands of Chicago apartments. The brokerage team provides best-in-class service for renters and buyers searching for a new home; each broker has a wealth of knowledge about every luxury property in downtown Chicago. The Broker Round Table series allows the team to play favorites and choose the best part of each edition's featured building.
Marlowe, located at 169 W. Huron Street, is a brand-new boutique building in Chicago's popular River North neighborhood.
Marlowe is a unique offering in a neighborhood filled with luxury apartment buildings. These brand-new River North floor plans feature wide-plank premium flooring, custom built-in nooks and storage, and high-end finishes. The modern kitchens at Marlowe are designer-inspired, with herringbone-tiled kitchen backsplashes, quartz countertops, and stainless steel appliances. Explore apartment listings by following the links below:
See what our expert brokers have to say about this brand-new building:
Robert Stephens: The Marlowe feels like an upgrade.  Even the mailroom … it's beautifully designed.  The balconies on the 4th floor are HUGE. They have the coolest convertible with a built-in breakfast nook.
Tristen Heimann: Marlowe: Restoration Hardware, meets French Industrialism with a boutique hotel vibe.
Jake Tasharski: Being a techie I love the integration between the smart lights and solar shades. I am also a sound snob so the fact that they are outfitting the units with Sonos Ones demonstrates they have not cut any corners. The units are very sleek and have a sophisticated metropolitan personality.
Riely Joosten: My favorite things about Marlowe are the unique floor plans and the different built-ins the apartments have. It's definitely not a cookie cutter rental building.
Madeline Sears: Unique finishes, design that really makes you feel like you're at home!
Travis Smith: The apartments and finishes are some of the city's best, but my favorite part of the building has to be the amenities. The rooftop lap pool and lounge space is unrivaled in the city!
Sean Holland: It's a boutique, technology forward building. If you like having your apartment obey the sound of your voice, you'll love the building.
Casey Miller:  The balconies are very large, which I always find appealing in downtown apartments. The mailroom/library is very aesthetically pleasing, and the entire building has a "Mad Men" vibe to it, which is something that we don't see often in this neighborhood. There's a lot of attention to detail – the smart shades are a nice touch.
Jill Scott: Not only is Marlowe's location fantastic, but Marlowe is the first rental building in Chicago to offer LMC Smart Apartments!  
Ready to schedule a showing and see Marlowe? Click the button below!
Follow Us on Social
Apartment Experts
Spend less time apartment hunting, and more time living. Luxury Living is a complimentary service to make your apartment search easier, and even fun. Whether you're new to the city or simply in need of a change, we are here to help.