Take the Family Sledding in Chicago at These Spots
December 13, 2017 | By Lauren Schechtman
Reading Time: 3 Minutes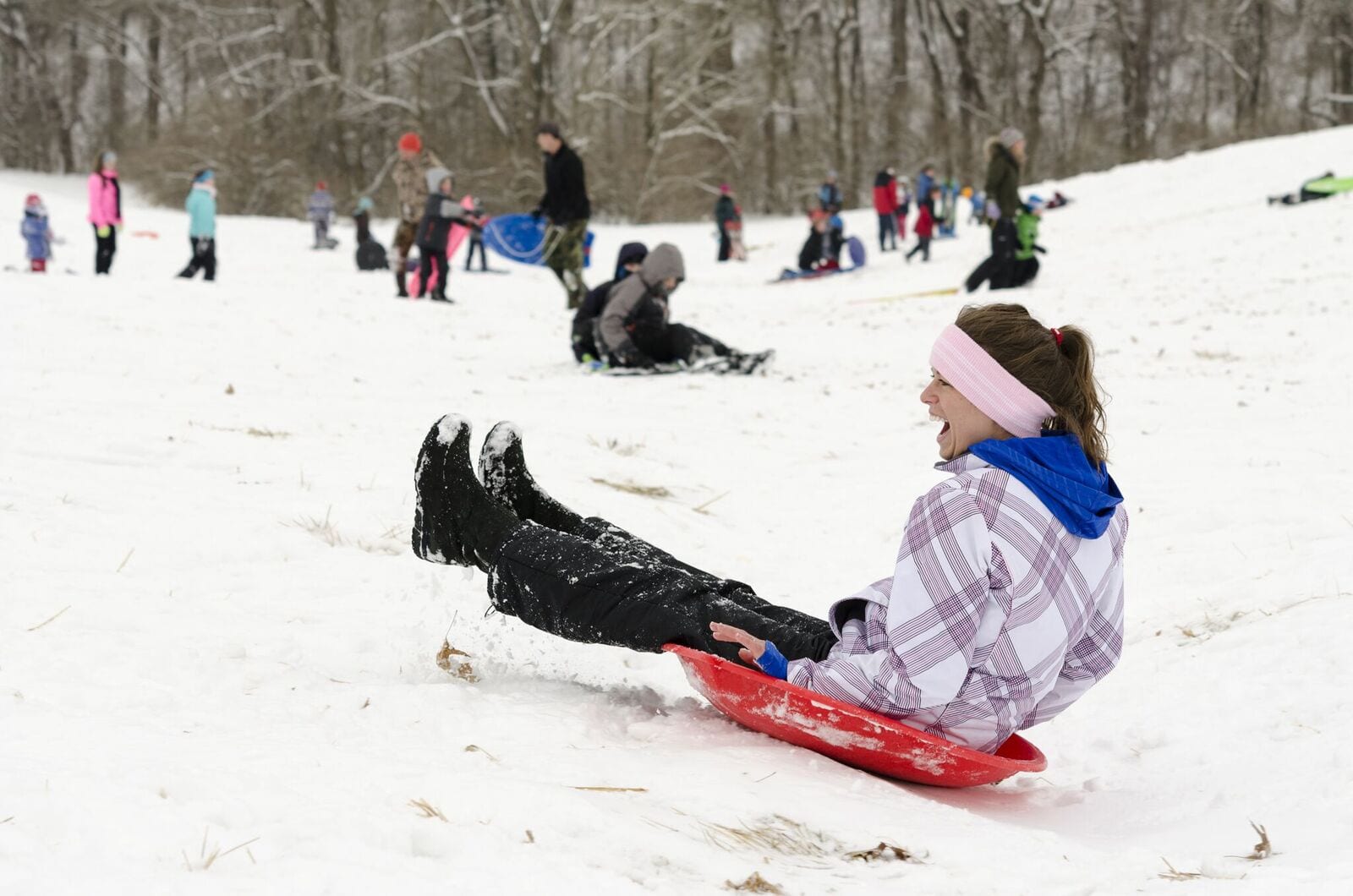 With over 10 years of experience helping our clients find homes, we confidently say Chicago is one of the best U.S. cities to live in!
Living in downtown Chicago around the winter is a fun and exciting time.
Grab your hat and gloves, it's sledding season! The Chicago area has many great sledding options for both novice and daredevils this holiday season. We've put together a list of the best sledding spots in Chicago for your family to try this winter season.
Humboldt Park
Bordering Wicker Park and Logan Square, this historic park has been around since the late 1800's and was designed by Jens Jensen in his classic prairie landscape and architecture style. The sledding hill at Humboldt Park is known as "Bunker Hill" and allows kids to speed down the slope while surrounded by the beautiful park landscapes.
If the family isn't too worn out after a few rounds of sledding, free ice skating is also offered in the park during the winter. Sitting in the historic Boat House in the park is The Boat House Cafe, a beautiful and easy place to eat after a fun-filled winter afternoon.
A. Montgomery Ward Park
A. Montgomery Ward Park is the perfect sledding location for families with small children. Centrally located in River North, this park borders the Chicago River and offers beautiful views of the frozen water in the winter.
The small hill is great for younger children just getting their bearings with sledding. Next to the park is a Peet's Coffee and Tea to keep you warm or venture further east into the heart of River North where some of Chicago's best restaurants lie.
Oz Park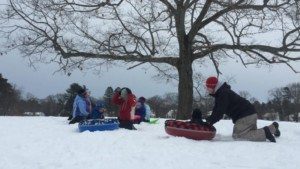 Perfect for newer sledders and smaller children, Oz Park offers a small hill to try out sledding for the first time. After testing the slope, take a walk around the park to see the wonderful Wizard of Oz statues such as Scarecrow, the Cowardly Lion, Tin Man, and of course, Dorothy and Toto.
The park has a field house open on the weekdays with restrooms and heating. Located in Lincoln Park, this sledding location is extremely convenient to grab a cup of coffee or hot chocolate afterward at CityGrounds Coffee Bar.
Cricket Hill
Another north side treasure, Cricket Hill is a wide hill that appeals to an older crowd than Oz Park. It is not the steepest hill in the Chicago area but provides enough space for every kid to have 360 degrees of sledding fun.
This slope offers views of Montrose Harbor and the city skyline making it one of Chicago's most beautiful sledding locations. Sitting just north of Lakeview, this sledding area has a metered parking lot. After an activity-filled morning, have a coffee or tea at the bright and cozy Two Hearted Queen.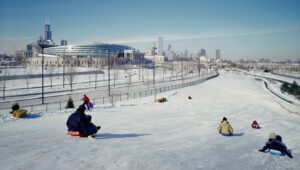 Soldier Field Sled Hill
Thought of one of Chicago's best sledding spots, Soldier Field Sled Hill in South Loop is the perfect place for the family daredevil.
This 220-foot slope stays open throughout the winter even without heavy snowfall as the city provides artificial snow to keep the fun alive on this slope. Sled down the large hill with views of the city skyline and then afterward, head to The Spoke and the Bird for a rustic bistro lunch.
If you're in the market for a new Chicago apartment or condo and want to enjoy our city's best slopes, click the link below!

Follow Us on Social
Apartment Experts
Spend less time apartment hunting, and more time living. Luxury Living is a complimentary service to make your apartment search easier, and even fun. Whether you're new to the city or simply in need of a change, we are here to help.