The Best Coworking Spaces in Chicago Apartment Buildings
February 9, 2021 | By Lindsay Smith
Reading Time: 2 Minutes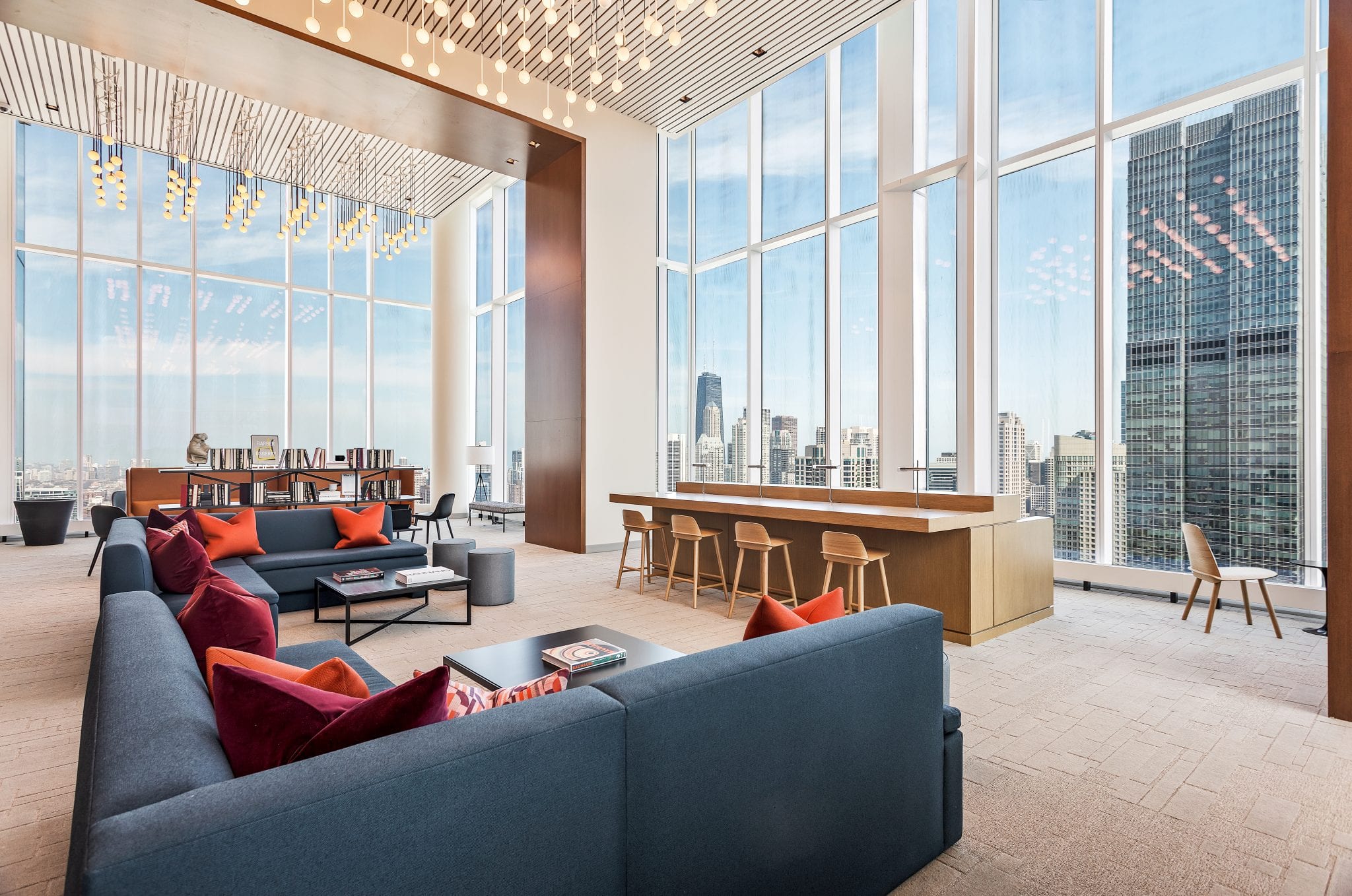 The shift to remote work seems to be the new normal for many of us, so it's all the more important to create a separation between your work and personal life. From re-decorating your office space to trying all the work-from-home tips in the book, sometimes you just need to get out of your apartment for a while even if it is just for work.
When you need a little extra space to get some work done, consider looking for an apartment with coworking amenities. This could include anything from a little extra shared lounge space to quiet study areas and conference rooms. And don't worry, apartments across Chicago are prioritizing the health and safety of their residents through various protocols for coworking amenities and beyond. Keep reading to discover some of the best coworking spaces in Chicago.
The Best Coworking Spaces in Chicago
If you're moving to or within the city and looking for a little extra workspace, look no further than these apartments: 
Wolf Point East in River North truly knocks it out of the park when it comes to coworking amenities. Located at 313 W Wolf Point Plaza, this apartment building offers a wide array of coworking areas in their 40th-floor coworking lounge including small and large study rooms, ample seating space, and immaculate city views.
Logan Apartments is the ultimate spot to be when looking for a trendy coworking space. Right in the heart of Logan Square at 2480 N Milwaukee Avenue, this home base offers various co-working areas including revamped telephone booth style study rooms, as well as lounge seating and private coworking areas.
River City is an ultra-modern South Loop building with a newly renovated coworking space. Situated at 800 S Wells Street, their lobby and coworking space is full of color and textures to let your creativity run wild. From comfortable lounge seating to secluded study rooms and nooks, River City has the best of both worlds when it comes to coworking amenities.
Wicker Park Connection blends high-rise city living with the quaint neighborhood feel and has all the work-from-home space you need. Located at 1640 W Division Street, this Wicker Park building boasts two different resident lounges to set up your laptop. And if you're in need of some quiet space, Wicker Park Connection also has a conference room perfect for meetings.
If you're looking for great coworking amenities in your new Chicago apartment, consider one of these buildings. And if you haven't made the move to a new Chicago apartment yet during these unprecedented times, rest assured because we listed everything you need to know about moving during COVID-19.
For more tips and tricks for life at home, check out our recent guide for all there is to know about staying at home.

Follow Us on Social
Apartment Experts
Spend less time apartment hunting, and more time living. Luxury Living is a complimentary service to make your apartment search easier, and even fun. Whether you're new to the city or simply in need of a change, we are here to help.