5 Apartment Kitchen Decorating Ideas
February 4, 2021 | By Lindsay Smith
Reading Time: 3 Minutes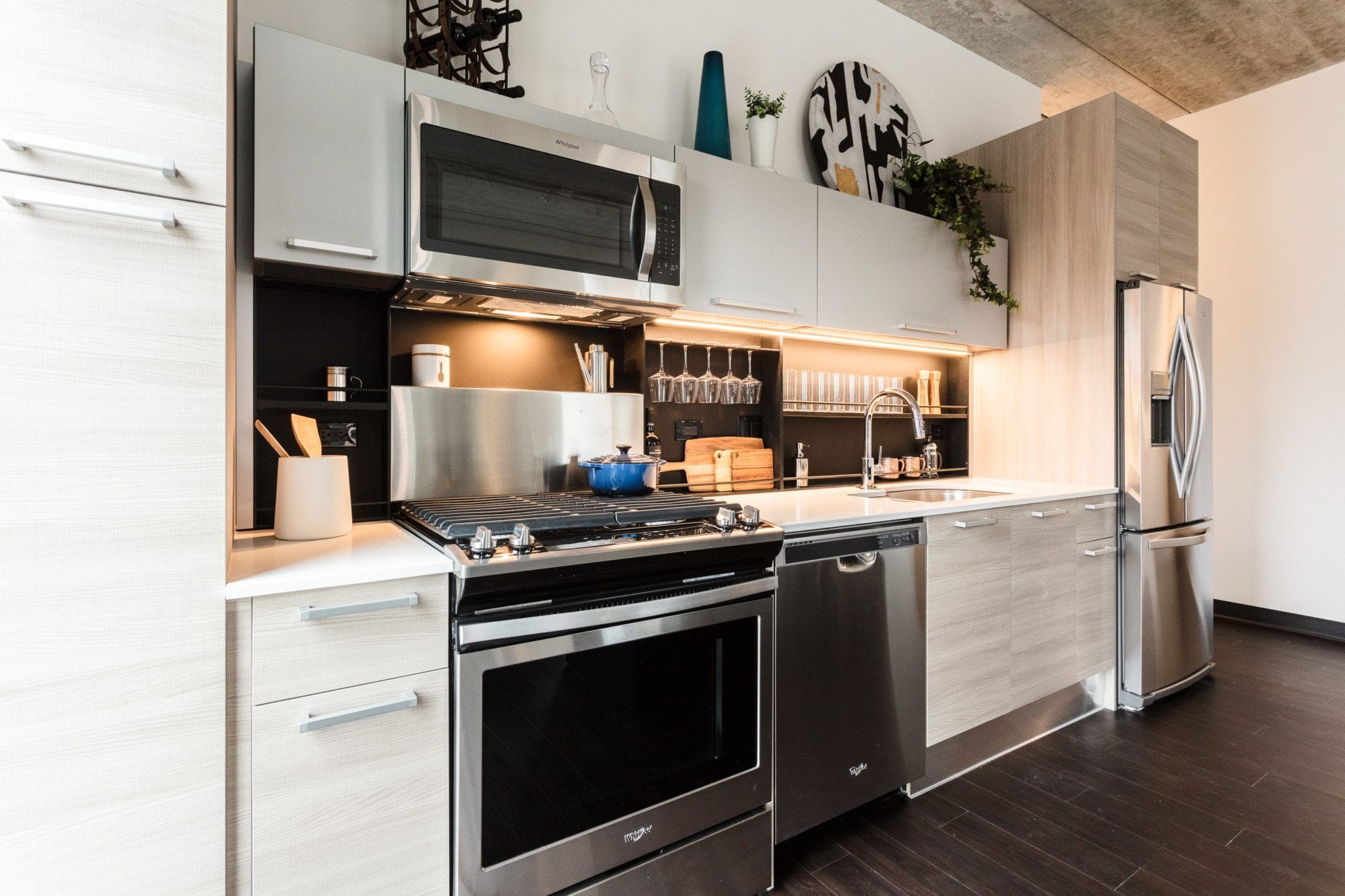 If you're feeling tired of your kitchen after a year spent mostly at home, read on to discover a few apartment kitchen decorating ideas.
Tips for Refreshing the Aesthetic of Your Apartment Kitchen and Maximizing Space
When living in an apartment, you may be wondering how you can upgrade your kitchen space following the rules and regulations set by your apartment building. Thankfully, there are many apartment kitchen decorating ideas and hacks you can use to create a kitchen space you love that's also 100% renter friendly.
Peel-And-Stick Backsplash Is Your Friend
If you're living in an apartment with a backsplash you just can't stand (or none at all), consider investing in some peel-and-stick faux tile or removable wallpaper. These easily removable sheets are an easy clean-up when it comes time to move out, plus bringing in some color and texture to your otherwise drab kitchen can really help brighten the space.
Upgrade Your Hardware
Another kitchen decorating idea for your apartment is to upgrade your cabinetry hardware. When living in an apartment you don't have the option to paint the cabinets themselves, but you can replace the hardware for the time being (as long as you keep the originals). There are so many places to buy cabinet hardware online and the options are endless, but you can find some of our favorites by perusing Etsy, Restoration Hardware, or Anthropologie.
Add a Punchy Rug
Looking for a quick and easy way to breathe life into your apartment kitchen? Invest in a rug. This will help add a punch to the space and also helps to section off the space a bit better as well. Plus, adding some comfy cushion for your feet when you're crafting a fine cuisine is an added bonus too! 
Floating Shelves For The Win
If you're out of storage space in the kitchen but you have a little extra wall room, consider adding some floating shelves. Here you can store some of your best dishware, cutting boards, wooden utensils, or recipe books. And, if you're a green thumb, you can also incorporate some natural elements by adding a few kitchen-friendly plants along the shelves as well.
Bring in The Bar Cart
If you're a coffee or wine aficionado, this tip may be perfect for you. Amp up your kitchen space by adding a bar cart, coffee cart, or other space-saving storage cart to an area in your kitchen that needs a little something extra. Dress it up by hanging a fun print, gallery wall, or mirror above it to help section off the space for all your daily must-haves.
How LLCR Can Help You Find an Apartment That Checks Off Your Kitchen Priorities
Staying at home in your Chicago apartment has led to all of us re-thinking the spaces at which we live. From redecorating your apartment kitchen to designing your new home office, there are plenty of ways to keep you busy while staying at home. For more ways to navigate living and working at home in your Chicago apartment, check out our recent stay at home guide.
If you're just ready for a little extra space or in need of the latest appliances and finishes, Luxury Living Chicago Realty is here to help find your perfect place. Connect with our experienced team of leasing professionals today to get a peek into some of the best apartments with exquisite kitchens by clicking the link below.
Follow Us on Social
YOUR INSIDE LOOK AT WHAT'S NEW ON IG
View on Social
About Us
At Luxury Living, we define "luxury" as a quality of life. Luxury living may mean having a home-office with breathtaking views from your apartment's floor-to-ceiling windows, or being within walking distance to your favorite restaurants and activities. Whatever luxury means to you, let us help you find it.
Learn More
Contact Us