The Best Views in Chicago from the City Skyline to the River
June 1, 2021 | By Lindsay Smith
Reading Time: 7 Minutes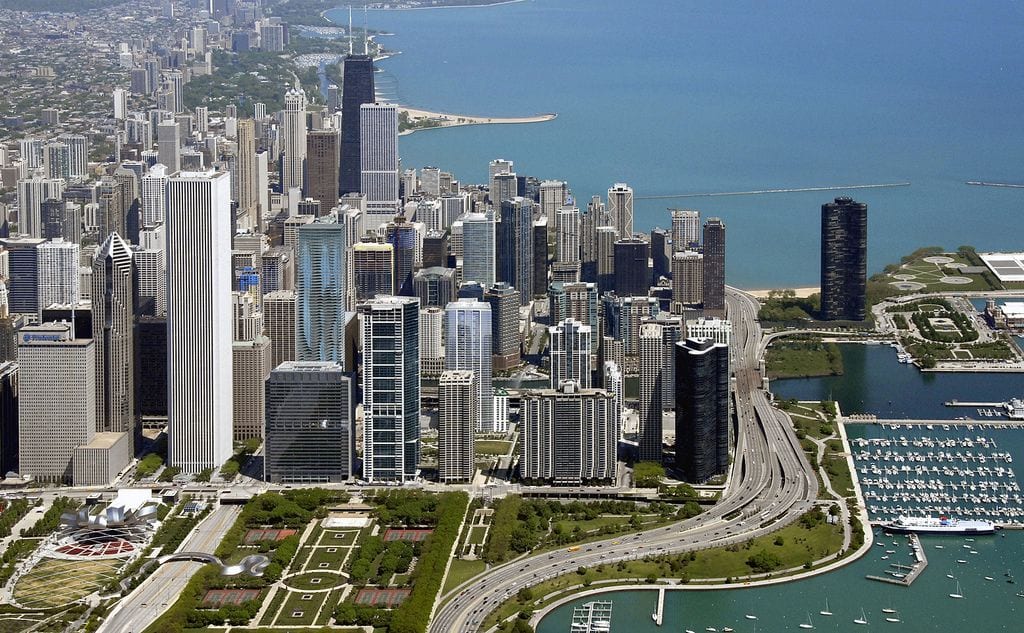 From the city skyline to Lake Michigan and the Chicago River, the Windy City has tons of killer views all throughout its core neighborhoods. Whether you're moving to Chicago or just visiting, this is our guide to the best views in the city.
Where To Find: Chicago River Views
The Chicago River is the hub of the city, as it runs throughout Chicago and spans 156 miles. Not only is it the hub of the city, but it is also the forefront of many stunning views, from restaurants and coffee shops to apartments and attractions. Check out some of the best spots in the city with breathtaking lake views.
If you're on the hunt for a bite to eat along the river, there are many options to choose from. River Roast, a New American joint, features a twist to upscale British food with stunning riverfront views. Chicago Cut Steakhouse is a stylish steakhouse with a patio overlooking the river, so you can enjoy the magnificent lake views outside on a warm summer day. Beatnik on the River is another great pick that offers global eats and tropical cocktails with river front seats and exquisite interiors.
When looking for a place to call home with Chicago River views, Wolf Point East is a prime spot. Located at the intersection of River North, Fulton Market, and the Loop, these luxe homes feature premium finishes and in-demand amenities. Admire the river and skyline views from your private balcony or out at the indoor/outdoor pool with a south-facing terrace and sundeck.
If you're on the hunt for a downtown home with river views, check out OneEleven. Here, the Chicago river is right outside your front door with all the fun to be had in The Loop just steps away. Units at OneEleven feature carefully selected features and finishes for an unparalleled living experience.
In the heart of Streeterville sits Northwater apartments. Made for lavish high-rise living, these posh homes boast the proximity to the Magnificent Mile and Lake Michigan, as well as stunning in-unit finishes with balconies framing exceptional river views.
Where To Find: Chicago Skyline Views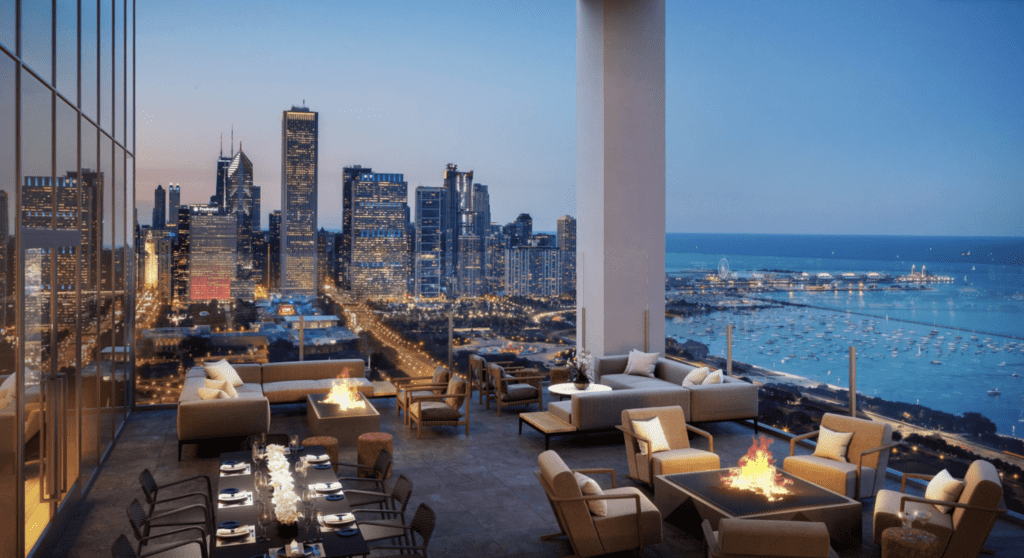 Everywhere you look, you're bound to get a glimpse of the infamous Chicago skyline. But if you're looking to take that view to the next level, check out some of these restaurants and apartments with breathtaking views of the city skyline.
The Signature Lounge at the 96th is an upscale joint with American fare and a fantastic ambience with stunning city views. J. Parker offers New American grub with handcrafted cocktails in a swanky restaurant with incredible views of Lincoln Park and the skyline. Cite is a romantic upscale American restaurant with French influences and a beautiful nighttime skyline view to top it all off.
Need a spot to call home with exceptional city views? Check out Wicker Park Connection. Located in one of the coolest neighborhoods, these apartments boast contemporary finishes and brag-worthy amenities, including a rooftop lounge with panoramic city views.
Nestled in South Loop, NEMA is a premier apartment community with smart residences and modern amenities. Enjoy the skyline views from NEMA at the rooftop lounge or rent an exclusive apartment from their Skyline Collection, which includes dedicated amenities and unobstructed views.
Old Town Park ll & lll are where unrivaled design meets exceptional living. Admire the spectacular 360 views from your private balcony or kick back and relax at the pool with cabanas to enjoy the cityscape.
Located in Lincoln Park, ELEVATE is elegantly designed with sophisticated amenities and unparalleled living experiences. The floor-to-ceiling windows are where you'll see the gorgeous city skyline, but you can also enjoy the views from the poolside cabana.
Where To Find: Lake Michigan Views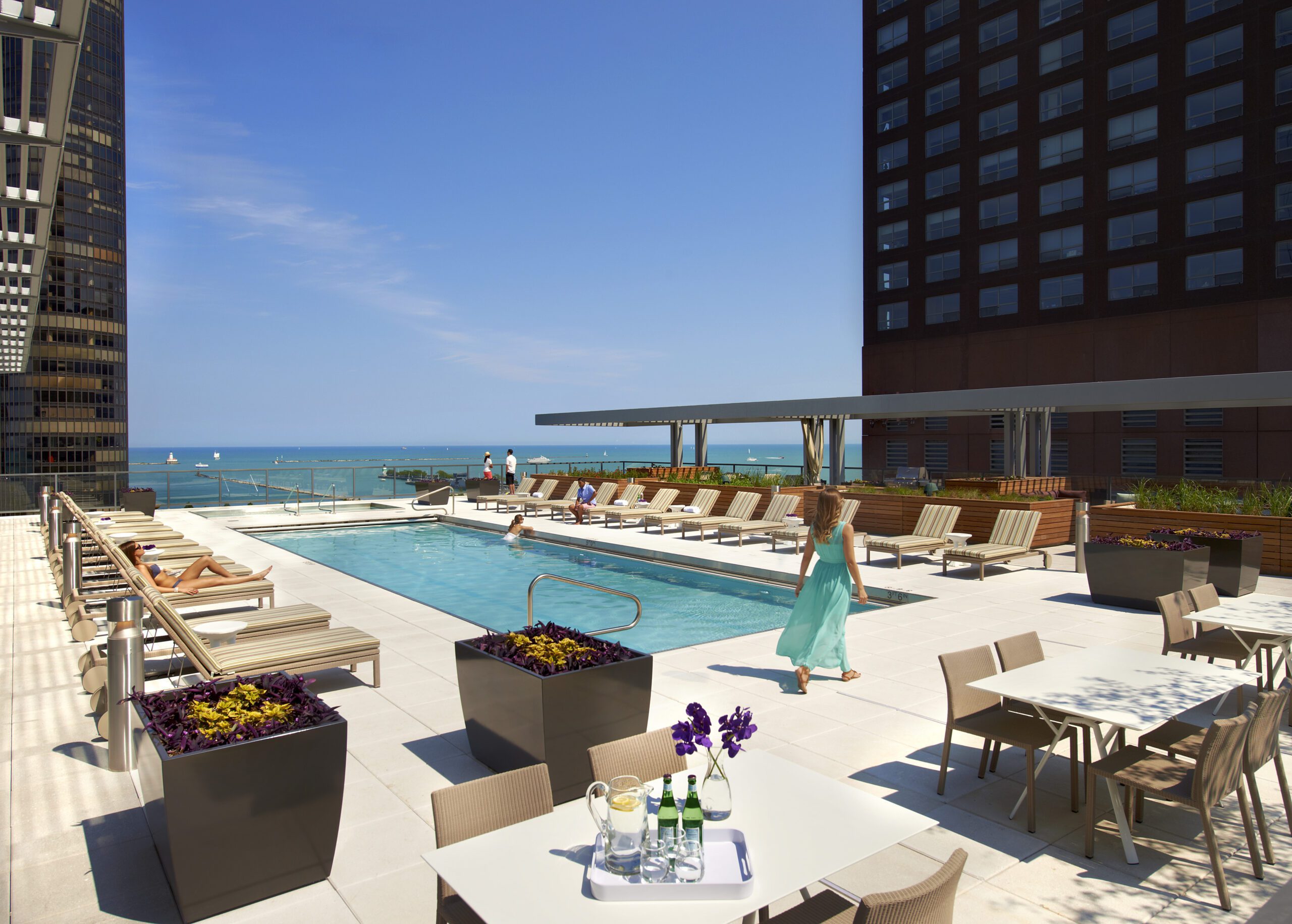 One of the best parts of Windy City is the proximity to the lakefront and all there is to do and see there. Aside from lakefront walks and beach relaxing, Lake Michigan is another prime Chicago background for photo ops, too.
Need a spot to eat with Lake Michigan views? Try Cindy's Rooftop. This hip and stylish rooftop bar boasts seasonal fare and fantastic views of Lake Michigan. Another great pick is located inside Park Hyatt. At NoMI Kitchen, you can enjoy inventive New American food with a modern French twist and admire the views of Lake Michigan, Michigan Avenue, and the Magnificent Mile while you're at it. Shore Club is another fantastic place to eat, serving New American fare and cocktails with incredible views of Lake Michigan.
When looking for a luxury apartment with Lake Michigan views, stop by 500 Lake Shore in Streeterville. These well-appointed homes feature iconic skyscraper views with unrivaled amenities. Experience the Lake Michigan views along the poolside or in your apartment with floor-to-ceiling windows.
Lincoln Common is a sleek, two-tower building with cinematic views in historic Lincoln Park. Soak in the skyline and Lake Michigan views out on the rooftop lounge or from your very own apartment at Lincoln Common.
Stylish, convenient, and luxurious, MOMENT is a Streeterville gem in the heart of it all. Just steps from Lake Michigan and Navy Pier, this convenient building boasts some of the greatest Lake Michigan views from multiple vantage points.
Essex on the Park in the Loop boasts extravagant spaces with refined design and sweeping city and lake views. Enjoy the unobstructed views from their 4-story winter garden oasis or kick back and enjoy the cityscape in your home at Essex with oversized windows and high end finishes.
Chicago Restaurants with Views
In need of a restaurant that has some of the city's best views of the skyline, river, and lake? Check some of these out.
London House is a chic hotel rooftop with sweeping city views and delectable drinks. This beautiful spot is a great place to unwind with some of the best views of the city. With an expansive outdoor area, a nice assortment of liquor and wine, and amazing architecture all around you, London House is a must-try.
Z Bar is a posh lounge with creative cocktails and tapas with stunning views of the city. Located above the Peninsula Hotel, this classy spot features fantastic drinks and creative bites.
Raised is a hip hotel lounge with craft cocktails and plenty of small plates to share. Aside from their unique drinks and tapas, this summertime patio has unbeatable skyline and river views.
Offshore offers Californian cuisine with creative cocktails, tasty tapas, and vivid views. Enjoy an upscale entree while you bask in the ambience of Offshore and admire the spectacular cityscape. This classy spot is great for ladies night or date night, and is the ultimate warmer weather must-try.
Best Places to Watch the Sunrise in Chicago
Watching the sun rise above the Chicago skyline is something truly spectacular. Here are just a few of the best spots to watch the sunrise from in Chicago.
On the near north side, North Avenue Beach is a prime place to be for sunrise views and relaxing on the beach. Aside from the gorgeous sunrise views, North Avenue Beach is where you can enjoy an afternoon picnic, find people playing volleyball or swimming, or take a refreshing evening stroll along the beach.
Grant Park is surrounded by Chicago's top iconic places and is also one of the best spots to watch the sunrise from. This large urban park has the lake on one side and skyline on the other, so this place is the ultimate spot to watch the sunrise from.
You may not have thought to go here to catch the city's sunrise views, but Adler Planetarium is another great spot with a beautiful background of the city. When not admiring the sunrise views from here, this public family-centric museum is perfect for pursuing all things astronomy and astrophysics.
Montrose Beach near the Uptown neighborhood is another prime spot to watch the sun rise from the water on a warm summer day. With so much open space, locals call this "Chicago's hidden gem", as it's a perfect getaway from all the hustle and bustle of the city.
Chicago Observation Deck and Sightseeing Views
If you're new to the city or just looking for a new vantage point of Chicago, check out these top observation decks and sightseeing views.
On the 103rd floor of Willis Tower sits Skydeck Chicago. This observation deck features clear observation boxes with views of 4 states. From way above the city, you'll get stunning views in all directions. Pro tip: go early to beat the crowds and spend more time soaking up these views.
360 Chicago is another top Chicago sightseeing spot on the 94th floor of the John Hancock building. With a tilting glass lookout 1,000 feet up, you get immaculate views of the city. And don't worry, even if you're scared of heights many reviewers feel comfortable on the tilt.
The Centennial Wheel (aka the Navy Pier ferris wheel) also has some of the most beautiful views of the city skyline and Lake Michigan. If you're in need of a great nighttime view, definitely try this one.
Now that you're well equipped with all of the best spots with stunning views of Chicago, it's time to make the move to a new home with some of these views.
If you need help with your Chicago apartment search or navigating which view is right for you, our experienced team of leasing professionals can help answer any questions you may have. Get in contact with us today to start your search!
Follow Us on Social
Apartment Experts
Spend less time apartment hunting, and more time living. Luxury Living is a complimentary service to make your apartment search easier, and even fun. Whether you're new to the city or simply in need of a change, we are here to help.