Tour North Wells Street in Chicago's Old Town
January 26, 2018 | By Lauren Schechtman
Reading Time: 4 Minutes
With over 10 years of experience helping our clients find homes in Chicago, we can say confidently it is one of the best cities to live in the country!
North Wells Street is the central hub of Old Town, home to the best dining, fitness, and entertainment options within the neighborhood. We've put together a tour of North Wells Street to show you the best that Chicago's Old Town neighborhood has to offer.
Fitness:
Old Town has some of Chicago's best boutique fitness gyms and is the perfect place for staying in shape.
SoulCycle is the cycling class that spread the cycling craze across the US. SoulCycle is known for the powerful and uplifting experience it provides to all class-goers. With loud music pumping and motivational instructors, it's easy to see why SoulCycle has gained such fast popularity. The Old Town location on North Wells Street is easy and convenient for those who live in the neighborhood.
Ever envy the lean strength of a ballerina? Pure Barre is for you, standing as one of the best low-impact, high-intensity workout classes around. Using ballet barre form, Pure Barre uses small movements to tone and strengthen isolated parts of your body. Through these movements, you burn fat and gain lean muscle.
Orangetheory is one of the most popular circuit training classes. This high-intensity fitness class switches off between treadmill work, strength training, and rowing machines to allow a perfect mix of cardio and muscle building exercise. Orangetheory is unique because of the afterburn science of their classes. The workout stimulates your metabolism in a way which allows you to continue burning calories for up to 36 hours after a class.
Restaurants and Bites:
North Wells Street has a wide assortment of dining options for whatever your palate is craving.
Old Town Pour House is an upscale pub offering craft beer on draft and classic American fare. This pub has one of Chicago's best beer selections with over 90 craft beer options on tap. Decorated with a dark mahogany bar, Old Town Pour House is decked out with flat screen TV's, making it the perfect place to grab buffalo wings or a burger and the next sports game. Don't forget about the late night menu that begins at 11 PM and is served until closing.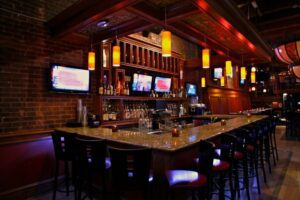 For a more casual dining experience, check out The Fireplace Inn for a great barbecue dinner. Known for their BBQ baby back ribs, this restaurant offers a wide assortment of rib combination meals and other great options such as steak, chops, burgers, and sandwiches. Don't miss trivia on Wednesdays at 8 PM where you can try out the changing beer selection!
If you're craving sushi, Kamehachi is the place for you. Opened in 1967, Kamehachi is Chicago's first sushi restaurant. The upscale interior decoration is complemented by a great menu with many creative offerings. Highlights of the sushi menu include the Chicago Crazy, Blazing Red Dragon, and Crouching Tuna-Hidden Crab rolls. Kamehachi also offers a good assortment of hot and cold appetizers and soups.
Shops and Boutiques:
Sara Jane is a contemporary women's clothing boutique with an eclectic selection of dresses, tops, jeans, and accessories. The boutique is full of smaller designer labels, making this the perfect store for a casual Saturday afternoon shopping trip.
For fans of vintage wear, Mercy Beaucoup is a stylish and fun resale store off North Wells Street offering used men's and women's designer labels. The store operates on donated inventory and the proceeds of purchases go to the Mercy Home for Boys and Girls, a home for at-risk youth in Chicago.
Greenheart Shop is a fun and friendly fair trade store that supports people and communities from around the world and the environment. As Chicago's only nonprofit and fair trade store, the Greenheart Shop offers a range of organic clothing, handmade jewelry, fair trade chocolate, and many other fun crafts, with a collection of products that do as little harm as possible and support a social mission.
For Those with a Sweet Tooth:
La Fournette is a traditional French bakery that serves delicious pastries. Signature treats include croissants, chocolate chip brioche, macarons, sweet kouglof, and hazelnut pound cake. The chef, Pierre Zimmerman, is from the Alsatian village of Schnersheim in France, where he operated a family bakery before moving to Chicago.
For the chocolate and candy lover, Fudge Pot is the place to be. This fudge shop has been a Chicago staple for over 50 years. In addition to fudge offers, there are many other chocolate selections such as chocolate almond bark and chocolate covered apricots.
Now that you're familiar with North Wells Street, it's time to explore more of Old Town. If you're in the market for a new Chicago apartment or condo and want to explore Old Town more in depth, click the link below!

Follow Us on Social
Apartment Experts
Spend less time apartment hunting, and more time living. Luxury Living is a complimentary service to make your apartment search easier, and even fun. Whether you're new to the city or simply in need of a change, we are here to help.