What's it Like Living in River North Chicago
December 7, 2018 | By JD Eaton
Reading Time: 5 Minutes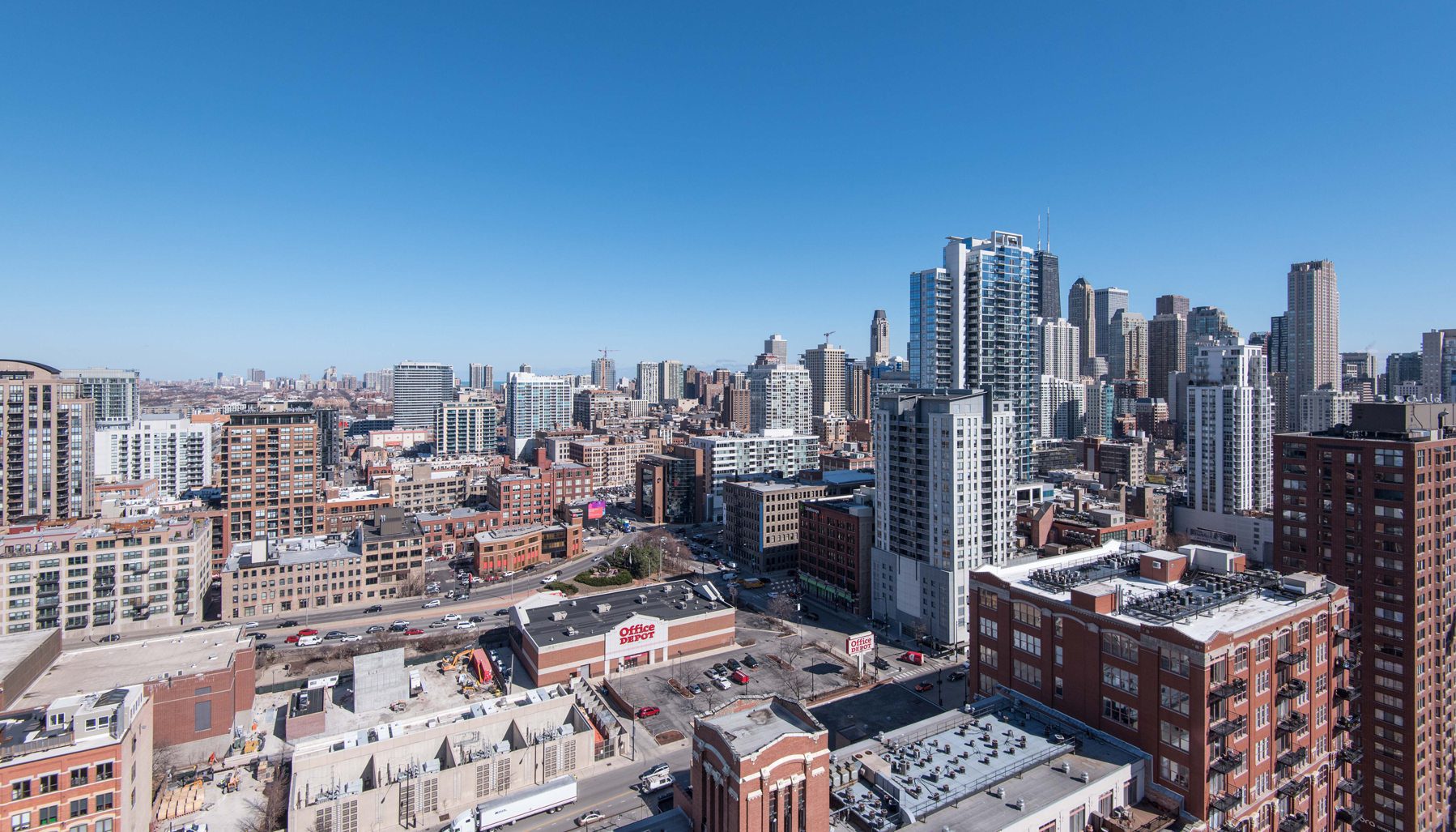 The River North neighborhood in downtown Chicago is north and east of the Chicago River branches, west of Michigan Avenue and south of Chicago Avenue. With many residential towers, River North apartments offers residents the opportunity to live in the heart of it all. The neighborhood is full of restaurants, shops, and within walking distance of the business district in the Loop.
Living in River North Chicago provides endless options for residents. From art galleries and furniture design showrooms to some of the city's best dining, there is always something to do in the neighborhood. The River North neighborhood is known for its: architecture, such as the historic Merchandise Mart, shopping, and nightlife, much of which is centered around Hubbard and Clark Streets.
History of River North
After the Chicago Fire of 1871, the area north of the river was rebuilt and became known as Smokey Hallow due to the number of factories and forges filling the air with smoke. With railroad tracks (still under the Merchandise Mart today) and water-front access, the area was a major transportation hub, which led into its next focus as a warehouse district.
Construction on the Merchandise Mart began in 1928 and when the 25-story building opened in 1930, it was the largest building in the world at 4,200,000 square feet and spanning two city blocks. Built by Marshall Field & Co., the Merchandise Mart was intended to consolidate Field's wholesale activities, from being scattered throughout the city into a single place where both consumers and retail managers could shop. During the Great Depression, shopping was mostly closed down and space was leased to the federal government. Then in 1945, the Mart was sold to Joseph P. Kennedy, who revitalized the original commercial concept and gradually re-opened it to the public. While the Kennedy family owned the Mart for over 50 years, showrooms thrived with conventions and events and the building became famous as a media center, hosting Chicago's NBC studios. The family sold the Mart to the Vornado Realty Trust in 1998. Today the Merchandise Mart continues to be a hub for design in River North and also houses many restaurants, companies, including the tech start-up, 1871, and the Illinois Institute of Art.
Starting in the 1960's, the River North neighborhood had a downturn with many families moving to the suburbs. The neighborhood hosted Chicago's red-light district into the 1970's. River North officially got its name when real estate developer, Alfred Friedman, started to buy, build, and restore property. Friedman found artists, galleries, and ad agencies willing to rent the low-cost spaces, which was the beginning of the River North Gallery District.
In the last 20-30 years, River North has seen an incredible amount of real estate development, including both apartment and condo high-rises. The neighborhood has become a top destination for nightlife and attractions in the city.
River North Restaurants
River North is home to some of Chicago's best restaurants and many famous chain restaurants. From seafood and white tablecloths to counter-service tacos, there's something for every occasion. If you're looking for an impressive steak dinner, there are countless options in the neighborhood, including: Bavette's Bar & Boeuf, RPM Steak, Chicago Cut Steakhouse, Kinzie Chophouse, and Harry Caray's Italian Steakhouse.
For more casual dining options, there's always Portillo's with hot dogs, chocolate cake shakes, and Italian beef sandwiches. The River North location of Big & Little's is known for its delicious tacos, po'boys, and fish and chips. Since the city's first Shake Shack opened in the neighborhood a few years ago, it's been a huge hit. Rick Bayless' most convenient River North location is Xoco, featuring Mexican street food.
Some of our favorite River North Chicago restaurants include Sienna Tavern, shout out to their mouth-watering bombolini, and Beatrix, a versatile stop for brunch or date night. Located across the street from our office, 3 Greens Market is a combination of coffee shop and market with hot/cold food bars, Small Cheval burgers, and top-notch pastrami sandwiches. With Mediterranean cuisine and an awesome rooftop patio, Bernie's is one of our favorite spots for happy hour.
River North's most popular bars and restaurants are always packed, no matter the day of the week. We've rounded up a few that are worth the wait or planning ahead for, starting with Sunda, an Asian fusion spot that won't disappoint. The specialty cocktails are impressive, especially the "Sumo Mary" at brunch- a Bloody Mary topped with crispy pork belly, tocino grilled cheese, steamed duck bao bun, and more. Over on Wells Street, GT Fish & Oyster has a menu meant for sharing and is our pick for approachable seafood. Last but not least, we have to mention Eataly, an Italian marketplace with an array of cafes, counters, and restaurants. The two-story emporium transports you far away from Chicago and sells many of the fresh ingredients used to make your dinner.
River North High-Rise Apartments
Chicago's River North neighborhood has seen an influx of new construction apartments in the last few years. There are many River North apartment options that may be the best fit for your search criteria, depending on location, availability, features, and amenities. Here are a few of the best high-rise apartment buildings now leasing:
Completed in summer 2018, Marlowe offers unique floor plans with custom built-in nooks and high-end finishes. From the stunning mailroom to the rooftop pool with skyline views, all building amenities are thoughtfully designed. Each River North apartment features wide-plank premium flooring and modern kitchens with herringbone-tiled kitchen backsplashes, quartz countertops, and stainless steel appliances.
On the bustling corner of Hubbard and Clark Street, AMLI River North raised the bar for downtown rental living. The building staff has an on-site concierge, who will help buy show tickets or make reservations. Residents are pampered with a private library, theater room, yoga and Pilates studio, fitness center, and a rooftop deck that spans over 22,000 square feet
The apartments of Wolf Point West are the first of three towers on the west bend of the Chicago River. The building offers one-of-a-kind views of the city and water, with an expansive range of amenities from the indoor dog run up to the fitness center and resident lounge on the 46th floor. Residents have easy access to the riverwalk and quick commutes to the business district in the Loop and Fulton Market.
At 220 W. Illinois, Jones Chicago was the first development from Gerding Edlen in the city and is named after Chicago's first Fire Warden, Benjamin Jones. These modern River North apartments are LEED Gold certified and feature NEST Learning thermostats. With 9.8 foot concrete ceilings and floor-to-ceiling windows, Jones Chicago apartments offer dark hardwood floors, high-gloss cabinetry, and sleek, cabinet-fronted appliances.
Ready to make River North your next home? Our experienced team is ready to guide you through all of the apartment options based on your preferences and search criteria. Click the button below to view apartment listings in the neighborhood.
Follow Us on Social
Apartment Experts
Spend less time apartment hunting, and more time living. Luxury Living is a complimentary service to make your apartment search easier, and even fun. Whether you're new to the city or simply in need of a change, we are here to help.